[To frame this diary in history, it helps to trace Elinor's matrilineal ancestry. We know that according to Massachusetts births marriage and deaths list, in 1759, a Gad Pomeroy (inferred Sr.) was born in Southampton, Massachusetts, near the middle of the state over 130 miles from Plymouth Rock. In 1782, at 25 years old, he married Lucy Herring(1761-1838). He served in the Revolutionary War(4/19/1775-9/3/1783) as a private in 1780 in the Continental Army authorized by Washington. He lived to 2/14/1834 and died in Southampton. Gad and Lucy had Titus and Otis and possibly Rusell Pomeroy. Titus was born in 1784 (Titus later married Sally Snow), and Otis Pomeroy(1807-1884) married Maria Sabin in 1831. Otis and Maria would have had Everett Titus Pomeroy(1835-1879) in 1835. By 1859 Everett Titus marries Ella Louisa Van Winkle(1834-1900). In 1862 there is a death record (dysentery) of Rufell(?Rusell) Pomeroy, a widower, 81 years old, so he is inferred to have been born in 1781 in Southampton, and his father is listed as Gad Pomeroy. So this may show indication of him also being a son of Gad and Lucy Herring. But also in the Beckett Marriages the listed parents of Gad are Alanson S(earle)Pomeroy and Mamre E Chanter, married 1/1/1833. The parents of Gad's wife are listed as Amanda & Chester Johnson, married 11/24/1819. Alanson shows up in many references as a man who lived 1811-1891 and married 4 times. There is an article in the Pittsfield Berkshire County Eagle newspaper showing him being elected as "selectmen & assessors" 3/9/1863. In the1870 census he shows up married to Anna 59. He is 53 and they have a sizable farm with animals and crops listed, and children Edwin(18), Anna(77), and Lillia F(18). His marriages show up as to Mamre Chanter 1833, Mary S Wilber 5/11/1838, Anna (no maiden name) in 1865, and then Olive Smith of Blandford in 1878, married in Washington City Massachusetts in Berkshire County. Gad Jr. is listed there in the Beckett Marriages and it appears Gad Jr. finds his wife in Becket, Berkshire County. One other interesting finding is that Alanson's namesake (Alanson B.) dies at the age of 63 of Bright's disease (renal failure).
In linking this complex web to Elinor we do find that Gad Pomeroy Jr. (1784-1863) and his wife Joanna Harris(1787-1856) have children Emma Charity(1805)at Joanna's age 18, Sibyl(1808), William(1810), Nathan(1812), Lucy(1814, Brewster Harris(1817), Erastus(1824, Clara(1828) and Simeon(1830), Joanna then would have been age 43. In the 1810 census Gad is listed with just a count of his family in Beckett, Mass. In the 1820 census Gad is similarly listed with a family count of 5, back in Southampton. It is possible that this is Gad Sr. in Southampton. In 1830 he is again listed, with a household of 7 in Southampton. By 1840 we find Joanna and Gad having moved to Litchfield, Medina County, Ohio. which certainly brings them closer to Elinor. In 1850 we find them still in Litchfield, Medina County with Gad at 67 years old and Joanna at 66 years living with what appears to be their oldest daughter Emma Charity, now 36 who has married Beloris (?Valoris) P. Wheeler (Ohio U.S. County Marriage Records 1744-1993), 2/25/1842, now 42 with at least 2 of their children, Porter Wheeler age 4 and Charity Wheeler age 1 (meaning Emma Charity had them at 32 years of age and 35 years of age). There is another child listed "Electa Well" as 6 years old (? parentage, possibly also Emma Charity and Valoris). The grandmother, Joanna Harris dies in 1856 and Gad, as widower, moves to Wesford Wisconsin and marries a widow Severine Jenson to live out his last 3 years.
Charity and Valoris therefore are already in Oho by 1830. They are living under the roof with Charity's parents and siblings and they already have children 4 and 1 year old, Porter and Charity. By 1810 Charity's brother William is born. By 1850 there is a William F.P. Pomeroy living next door. He is married to Clarissa (? maiden name) and children William L.(7), Miles D.(6), and Gad(1). Over the next 10 years (1860 census) either the boundaries of the counties change or they actually move to the city of Penfield in Lorain County close by. Joanna Pomeroy dies in 1856 and her widow, Gad Pomeroy Jr. moves to Wisconsin. Valoris and Charity (53 and 46) are living on their own with children Porter(14), Isabel(8), William(6), and Martha(2). They are also living with 2 older women, listed as Ambrose Chapman(65, b. Mass) and Pheobe Chapman(60, b. N.Y.).
By the 1870 census Charity(65, b. N.Y.) and Valoris(62, b. Mass.)are again listed in a slightly different location, Rochester Ohio, within Lorain County (again there may have been city or county border changes). But they are living with 3 older children Edith(18), William(16), and Martha(13) and the two older women Thankful Cliferer(?) 78), and Thankful Chapman(95). Also by that time the child, Porter Wheeler(24) is living next door to his parents on his own property with his wife Emily(19) and their son Leon(1 1/2). Next door there also is a Lewis Wheeler(53, b. Pa.) living with George(20), Julie(18), Frank(17) and Eva(15) all born in Ohio. By 1880, Valoris and Charity are living only with William(26) and Martha Jane who is listed as Martha Bonney, apparently after marrying Harvey D. Bonney. We find from Elinor's memories in her diary that when Harvey D. married Elinor's mother, he went alone to Cherry Grove Michigan to homestead a new property, next door or close to Martha's brother William Wheeler and his family. We know that both Harvey D. and William Wheeler move back to Ohio and live near each other (with families) at Harrison Street, and one other address and then finally on Georgia Ave. Martha's other brother Porter (73) who in 1870 has his own place next door to his parents, dies 4/23/1918 of epilepsy and apoplexy declared dead by the coroner. But at that point he is living in Cherry Grove Michigan and that is where he is buried in Wexford County Michigan. So this does bring us to Elinor being born in Cherry Grove Michigan before being brought back with her brother Elbert to Georgia Ave on the Black River.]
[Elinor Diary Pages 1912-1915 & gap to 1920 Introduction
[So Elinor was living on Georgia Ave on the Black River in Lorain and her parents (Martha Wheeler Bonney and Harvey Bonney, Ma and Pa) owned Bonney's Boathouse. She lived with her siblings Nellie, Ruby, Gertrude "Gertie" Audrey, Elbert, Fred, and Frank at least part of the time. Her sister Audrey was married a year earlier to George Carlisle and in 1912 they had the first niece to Elinor whose name was Martha Carlisle. Audrey's marriage was a difficult one and later ended, with Elinor attending the court proceedings around child custody and alimony. Her brother Frank married Ruby in 1911 and they had a child Evelyn the next year. The military and the flu and other illnesses brought the family members back together to live at the Georgia Ave homestead during times of personal or community crisis. Not to confuse things, later in the 20's Elinor was to marry another Frank, Frank Babcock who bought the Huron/Hahn Rd homestead but died 10 yrs later. When that happened, her brother Elbert moved in with Elinor at the Huron/Hahn Road homestead that is at the center of most of Elinor's 3000+ page diary. Her brother Fred married Ethyl Noderer. Her sister Nellie was to marry John Mckinley Harnish and they eventually moved from the Georgia Ave home to Vincent, Ohio, and then to West River Rd. in Elyria, Ohio. Nellie and John had Elinor's nieces and nephews Bonita, Bonney Bell, Ella Jane, and Johny (John Malcolm Harnish) John Mckinley was involved in WWI. John Malcolm was involved in WWII). John Malcolm married Marcella Gremore and they have the children who have been at the center of creating this website. However, it was John Malcolm who collected, labeled and archived all the photos. To do that he also interviewed his mother Nellie about the photos. Its easy to tell when John has labeled the photos which he does in script in black magic marker on the front of the pictures. He did get some argument from others about "defacing" the photos but he kept that trademark and labeled every single picture and placed them in large 3 ring binders by taping them together. Even the earliest ones were well preserved through the years. The transcription of the diary is true to Elinor's text including (mis) spelling and (odd) formatting and (very little) punctuation. There are bracketed notes throughout to clarify the content (not in original diary entries). Pictures have been inserted of people and places mentioned in the diary but the pictures are sometimes from a different year or decade.
Elinor was born in 1885. Her brother Elbert, the oldest sibling, was born 3 years earlier. Both Elinor and Elbert were born in Michigan where her father had purchased a plot of land in the middle of nowhere to build a home/homestead. If we are to rely on Elinor's memories of the home she was born into, it is clear that she comes from an atmosphere of abuse. Her parents were married in 1879. According to Elinor's memories, her father was sexually, physically, and emotionally abusive to her mother and to the children. He also left them alone for long periods and her mother had to help them all survive dangerous (wilderness) surroundings. Her mother bravely left that home to come to Ohio, to the home of Elinor's aunt. Edith Wheeler. Again according to Elinor's memory, that aunt eventually went to convince Elinor's father to abandon the Michigan site and join the family in Ohio. A tiny house was built there in Lorain. Audrey, Elinor's sister, lived over the next year with the aunt but the rest of the family moved into the small house. It burned down in 1897, when Elinor was 12 years old. Another very small house (which started out as a barn built by Edith's husband) was moved and updated by Elinor's father. All of this is based on intermittent entries in the diary when she relayed poignant descriptions of her past. ]
There is a picture of the original small house on Georgia Ave (1900) that burned when Elinor was 12. It does not show the proximity to the Black River which was to become the families source of income and the center of the family's wealth. There is a photo of a shack at the riverside that is labeled "Bonney Hill" showing how close Elinor's childhood home was to the Black River.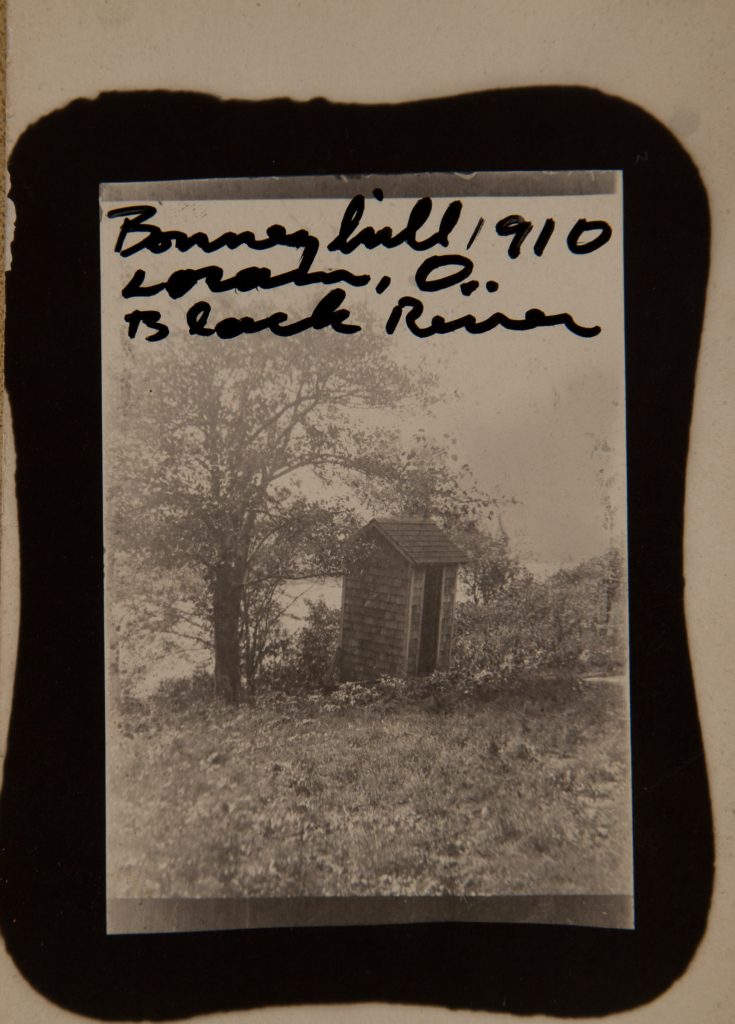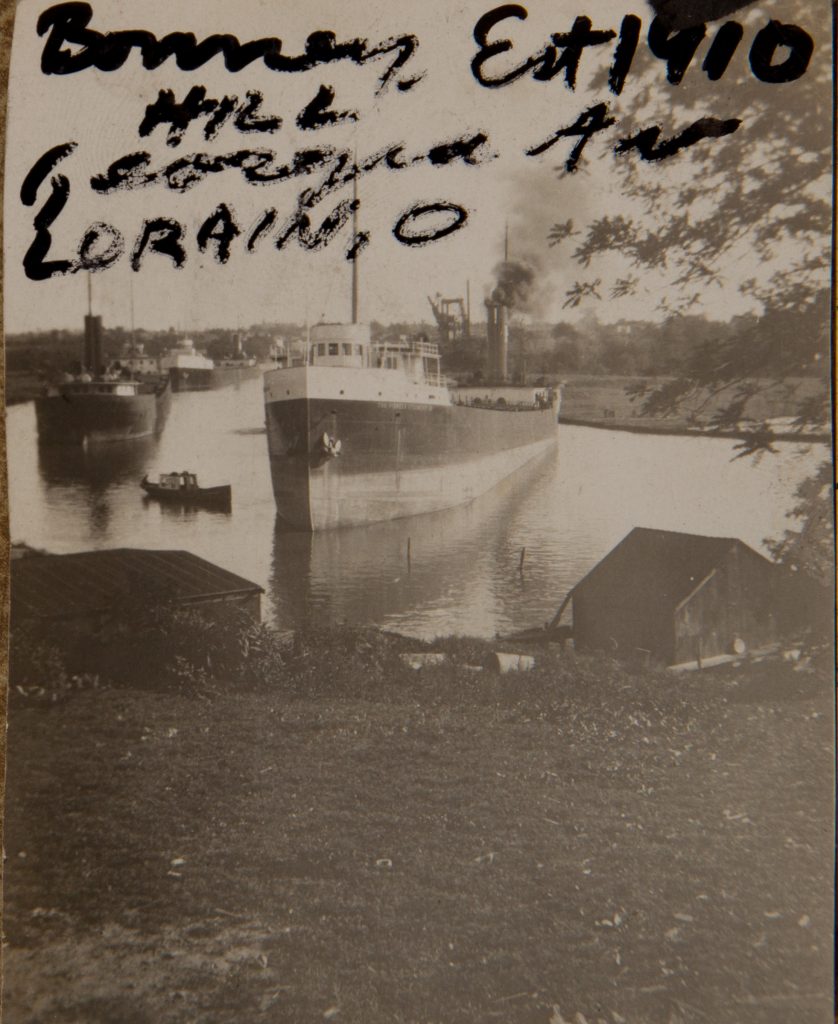 The boat house "business" apparently provided pleasure boats for outings or extended vacations on a particular boat. Some of the boats were owned by the Bonneys and some were privately owned and just docked nearby. The private boat folk used the access to the Georgia Street home for water, mail, and companionship. Customers include "The Krantz's" and others. The Bonneys provide docking and repairs for river travelers. The large boathouse barn side provides advertisement "Bonney's Boat House GAS Launch & Row Boats to Let" followed by phone numbers.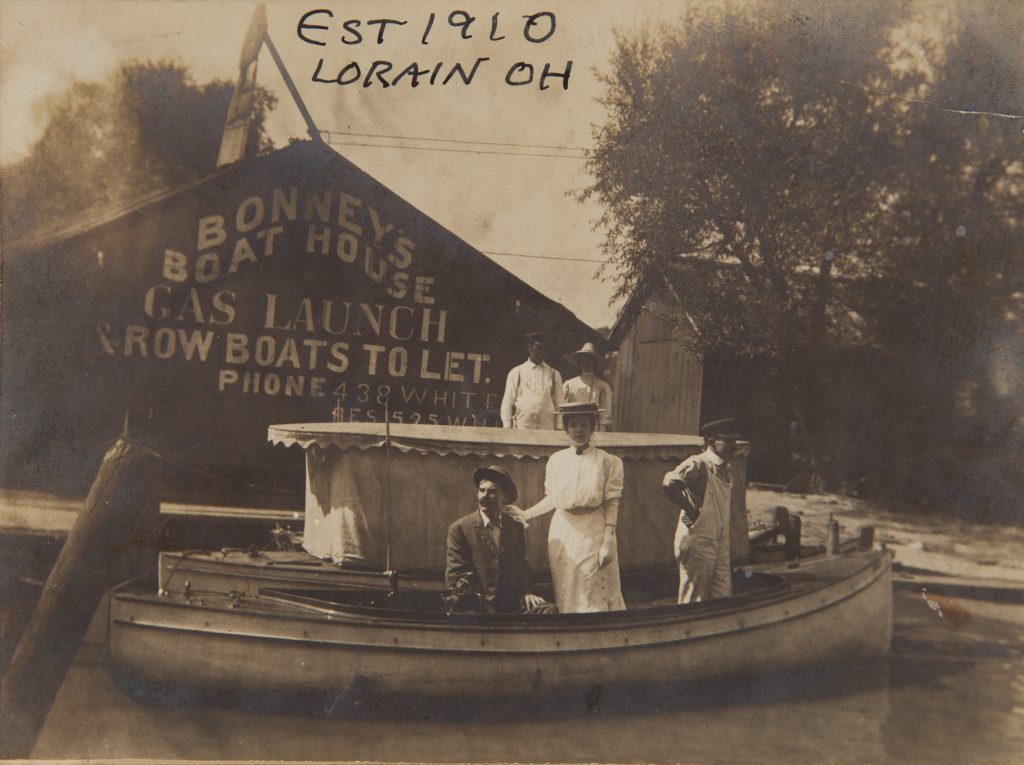 The Bonney owned covered launches or boats include the "Bonita" and the "Not-So-Bad" The hard work of the business and outside work on Lake Erie is done by "the boys" which includes her father and brothers who for example seasonally drag out and put in the launches "The boys launched the Winynyah today & she ready to run Boys dreadfully tired to night"; "Fred took a party out for ride in the launch" ; (Elinor) "helped pa.. block up a launch & get it ready to go in the water" Both the boating business and the location create a community that centers in the Bonney homestead kitchen. "Pa gave me an interduction to Mr. Merbalgh & Mr Jones of Elyria today. M. had bought the yacht Solace of Harry A & he & Jones are repairing her they scraped her hull & put new canvas on her deck & painted the deck blue. sky blue" Many of the people lived on their boats. Sometimes "the boys" took groups of people for 3-4 day holiday's at Put-In-Bay on Lake Erie. "Pa, Fred, Mr. Krantz. Jr & Senior & their wifes & Miss Kenidy & Mr & Mrs. Prince, left here this after noon for Put-In-Bay on the Not-so-bad….Not-so-bad came back this after noon all O.K. "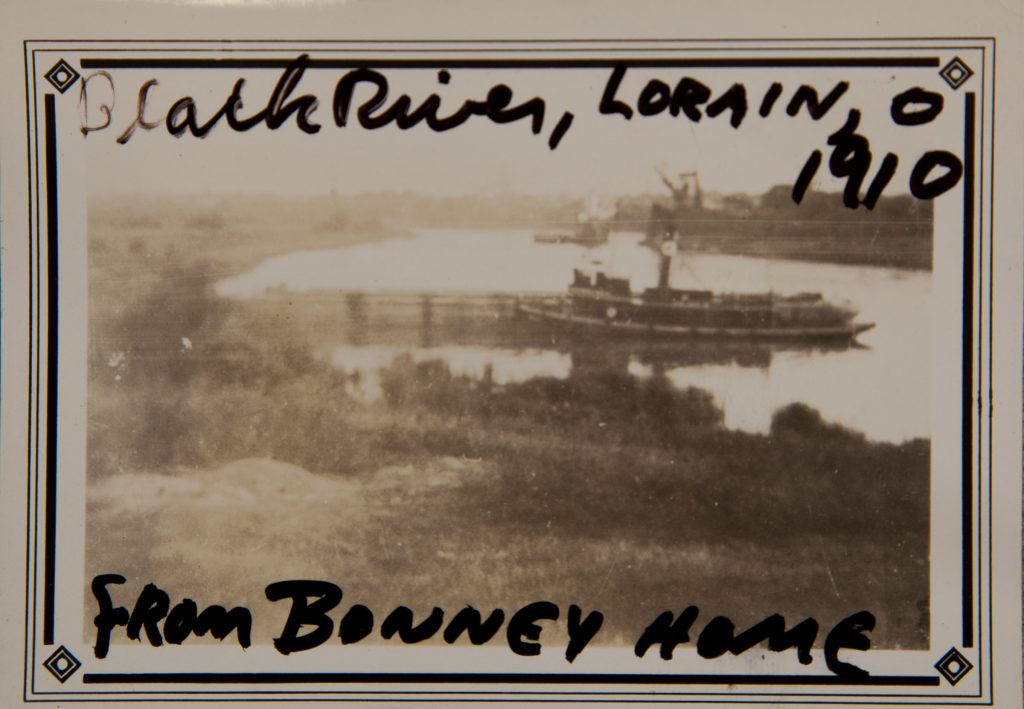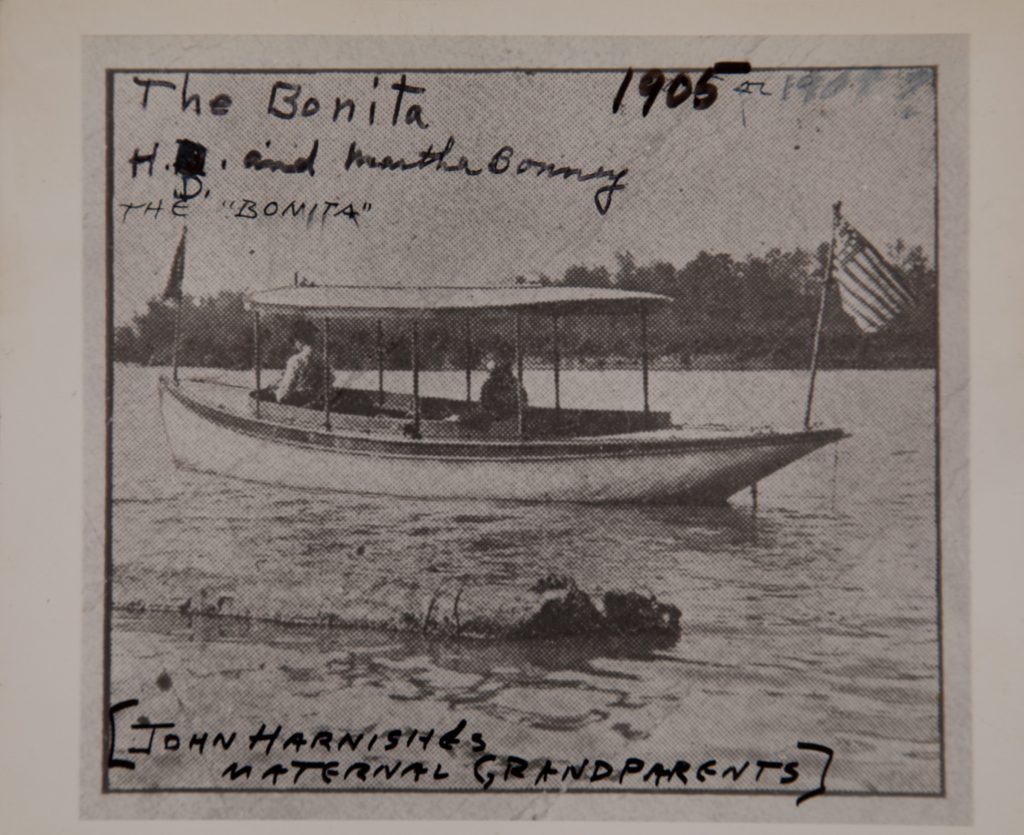 There were commercial boats that took people to Put-in-Bay from nearby cities at that time so the Bonney's were cashing in on an established type of enterprise. There were already many hotels lining the shore of the island which has a rich Lake Erie history, often a refuge for boats confronting storms in Lake Erie. Probably more common was one of "The Boys" taking a family on the river for a picnic with some adventure involved "Elbert took Colord Brown & his children & relatives up the river for a picnic & at 3-30 he went to bring them down & saw two boys drwn, he could reach them soon enough to save them so came home & I called the Life Saving Station & they had them out in 30 min, after they went down." The business also taxied or rented launches on one way trips up the lake or up the river that required "The boys" to retrieve launches. Weather and wind always presents a potential hazard with "the wind have been blowing a gail for the past three days" meaning Frank & Elbert cannot retrieve the Bonita from Vermilion.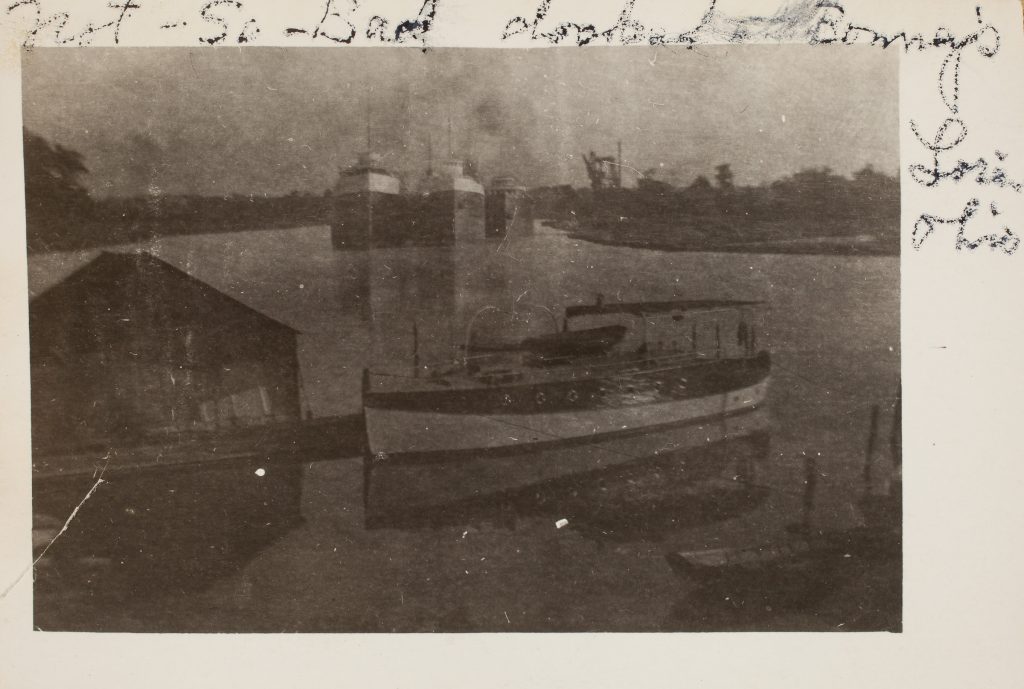 [Page 1-22 of the diary all entries are from memory regarding March 1912. They were written in a -"Standard Notebook" Then she restarts another installment with page 1-177 Sept 1912-April 1915. Apparently in February 1912, age 27, Elinor became ill enough to be taken to the hospital. It is not clear what her illness was. But it was after this hospitalization that she started to record the diary, starting with descriptions of her time in the hospital and the three women in their 20's who worked there]
[Tue. Mar. 19. 1912.]Tue.19 March 1912 Well, its just two weeks today [March 5, 1912] they brought me home from the hospital. While there I became acquainted with the two nurses and the cook; All three were bright young girls. The day nures was quite a pretty blond of twenty-two years, whom every one seemed to love. she had an attracktive pleasent little smile and a cheery word for one and all. Something in her appearance call-ed my attention and I desided to study the characters of the three girls. Now my room was the third room from their dining room, but I could hear every word of their conversations when they were at dinner. This would help me to study much better, And I often heard them relating there past
[Tue. Mar. 19. 1912.] Page 2 experiences both joys and sorrows and hear them laugh and jest, just as plain, as though they had been in my room, this for two weeks afford-ed some amusement for me. The night nurse had dark hair and little black eyes, an oval shaped face & sallow complection a very nervous little body of twenty-four years. She seemed ever on the alert for the least sound; when alarmed (she crossed out) reminded one of a wild animal, when cornered by hunters. She moved about with a quick noiseless tread, her presence would awaken me from a sound sleep With a feeling of fear. but when I opened my eyes (it was crossed out), she would say its only I, & sometimes ask, why I didn't sleep more sound. I told her she looked tired and I believed need rest more than I, to which she answered, Oh, I'm
[Tue. Mar. 19. 1912.]Page 3 so tired I feel like jumping up and down and yelling or screaming, and everything has went wrong today & I don't believe anything good will every come my way I'm an orphan & every one seems to be more ready to give me a kick or knock than to help her in anyway, she and the day nurse couldn't get along for some reason, and there seems to be nothing but trouble and sorrow for me and I just feel cross every day. Now I told her the day nurse never said anything against her to me but often said, she though you were not strong enough for the work & that she felt sorry for you & and I am sure
[Tue. Mar. 19. 1912.] Page 4 if you watch and study her you will think better of her. Well I feel sorry for her, She is so nervous, she gave up her work to go to her sister's home to rest, the day before I came home, she took my address but haven't heard from her as yet. The Cook was stout & round face rosy cheeked girl of twenty and one years. Who was neither brunette nor blond. She swept & dusted the patients rooms each day a jolly good natured appearing person but two.sided. I gave her an apron pattern for which she was to have given me one of hers, but I never have gotten it yet.) and shirt pattern to be used for a laun-dry bag & a thimble holder crocheted on a chickens wish
[Tue. Mar. 19. 1912.]Page 5 bone, they were made of pink silk with white ribbon drawn around the edge & tied in bows with a loop to hang them up by. the nurse phoned to me yesterday & thanked me for hers & reminding me how carefull I must be, not to catch cold and bidding me come back to see her as soon as I were able. She said there were to be three operating cases for this week; that will mean 24 hrs with out sleep three times this week for her al-though she didn't mention it.
[Wed. Mar. 20. 1912] Wed.20th A week ago to night I took a relaps & haven't been gain-ing as rapidly as before. But God teaches to Ask and receive Trust and believe,
Page 6 Mar.Wed.20. and I know He doeth all things well. Received a card from Pa, and one from Audrey today, and wrote five to mail in the morning. Dr. Smith phoned saying he would call tomorrow. Well I'll be glad to be able to work again.
[Age 27, discharged from Hospital to the Georgia Ave, Black River Homestead, instructed by Dr. Smith to rest and take prescribed medications. Her first try at "journaling" or writing a diary suggests she might be mimicking writers, perhaps with a dictionary at her side. Her sister Nellie was much younger and apparently was afforded the freedom to focus on being a student. Elinor had been pulled from school in 8th Grade by her father who was critical of the education of women, particularly "his" women. For some reason, his dominance did not keep Nellie from graduating high school and taking courses to certify as a teacher at Kent State University. Elinor prides herself in supporting Nellie by staying up with her countless nights to keep her company while she studied. At one point they are reading David Copperfield aloud to each other so Nellie can write a "theme" about it. Elinor probably benefitted through association with Nellie's studies. Later in life, Elinor grows to resent Nellie for not paying any tribute to Elinor's sacrifices. Audrey was in school with cousin Tessie Wheeler daughter of William and a Arizona Lockridge who was the out of wedlock daughter of Ella Ione Baker (James Vance Harnish's wife who was John McKinley Harnish's mother). Audrey, Tessie and Arizona were all in the same era with children of Martha Jane and H.D. Bonney.
To night the sleet and snow pelt the windows with such terrific force that it seems almost deafening, while only yesterday morning as I dressed before the open west window I could see the woods nearby and hear the birds twitering and larks singing, the sun was shining warm and bright and all the out door world seemed to have awakened to the call of Spring, but today a cold March wind
[Wed. Mar. 20. 1912] Page 7. Mar.Wed.20. with sleet and snow causes the earth to groan and shudder. I'm wondering what the poor little birdies will do to keep warm, for I have most all day beside the fire.
[She seemed to burden herself with expected "proper" activities (sewing, crocheting) and to always helping her mother and to always providing nursing care to family members. Her schedule seems to be erratic, getting up "late" frequently. She starts giving gifts at a young age (for weddings, birthdays, anniversaries) usually gifts involving sewing or cooking. and through that practice, following a script or lifestyle she has learned]
[Thurs. Mar. 21.1912]Thurs.21. Dr. came this after noon. He said he would have to send me back to the hospital if I didn't take life more easy. I wonder. Well let me see, all I've done today has been a little reading, sewing, crocheting and take pills, Oh yes, I took care of my own room and helped ma do dishes, doesn't seem as though that ought to hurt me, it is raining tonight
[Fri. Mar. 22. 1912] Fri.22. Everything is a glare of ice out of doors this morning. Didn't get up untill ten
[Fri. Mar. 22. 1912]Page 8 oclock, for I sit up with Nellie, and read or write while she does her school work. she doesn't like to be alone. I crocheted on the pillow top, I have been mak-ing for Audrey and George for there weding present I have croched a pillow top for Frank and Ruby. I crocheted a square with a wreath of roses in it and in the center I put. (Wed July 27th. 1911) For Frank and Ruby & for Audrey and George I put in the center (Wed Oct 6th. 1911.) I made a pillow tick of white muslin & filled it with cattail down, then made a plain pillow cover of old rose poplin, with hem of ruffle
[Fri. Mar. 22. 1912]Page 9 Mar.Fri.22 []rier stitched with No.50 white thread, the same as I use to crochet with, then I fasten with needle and thread the rocheted square to the top of plain cover thus forming a pretty wedding Gift. I have felt stronger today, but had my nerves shook into a volcanic eruption the last thing tonight by accidently answering the phone, Yes, I a fright late this after noon and now I think I'll go to bed and try to quite my nerves, And may God watch over and take care of me His humble servant girl. The sun has shone all day and everything glitters and sparkles, the branches
[Fri. Mar. 22. 1912]Page 10 of the trees, the weeds and bushes look as though they were full of stars. Tonight we have a pale moon, throw- out a flood of shimmering light, making a picture to behold.
[Some of her descriptions are naïve. Even in her late 20's there is not much to write about. She frequently describes herself but overall sounds like a much younger girl exaggerating emotions (nerves shook into a volcanic eruption), and giving minor aspects in her life more descriptors and detail than warranted. Some of the events relayed are directly copied from advertisements or news articles.
Fred and Gertie have gone to a St Patricks social given in the Delaware Ave M.E. Church Sun. school
Mar.Sat.23. rooms this evening. Oh, me. Games, Music & Refrishments were enjoyed by
the young folks last night, Miss Marry Snyder's Art Gallery being of great interest, having placed a Blarny Stone at the en- trance, to which kneel make a wish and kiss before entering the gallery. First glance one beheld, The Horse Fair not a picture but a dish of shell-ed corn. Next. Cast Up By The
Fri. Mar. 22. 1912]Page 11 Sea. A pretty sea shell ans-wered this. After a bath, this inscription, written on a slip of paper was laid on A Bath towel, as were all others. The Swimming Match, represented by a glass of water, where up on a match was swim-ming. A Bit of
Old Ruin in China, was an amusing sight. An old china plate with the decoration partly worn off and a crack china cup with out a handle. The Aurora A Bronzed Loin Penny Bank, Tax on Tea. Tax laying on dry tea in a saucer. The charge of a light brigade, A little heap of powder a match near by. Washington's Bust, shown on a two cent stamp. The Seasons . A little salt and pepper. The
[Fri. Mar. 22. 1912] Page 12 Trapper. A Mouse Trap. Sweet Hearts. Two heart shaped cookies hid together. The bust of a Great Commentator. Was a large potatoes broke half into. The Last chord, A Book. Pleasant Reflections. A Looking Glass. The Acrobat. A glass tumbler. Deer in Winter. Straw Berry. This was a more elaborate Art Gallery than the young folk expected to see, or at least one that proved very fasinating. And I believe I have enjoyed it as well as the most of them.
Well I done my duties today but have felt any thing but well. Didn't get to sleep until three oclock this morning, and have been having nervous chills all day, Ma and Nellie have gone to town to meet Pa. Gertie took
[Fri. Mar. 22. 1912] Page 13 cold and is ill today. Fred has a boil on his neck. Frank came home this morning and he and Elbert went duck hunting up the river. Frank shot and brought home three ducks. Snow and ice have been thaw-ing fast today. A bit of news from our evening paper: Mr Green was seeing his lady friend home from church last night, when a dog bit him on the Public Square, and that Mr. Jones, while harnesing his horse was kicked just south of his corn crib. A boy threw a tin can and cut Mr. Pike in the alley. Mr Jelly fell from the roof of his house and bruised him on his piazza. Great is it not. Eight oclock Fred and Gertie have gone to bed, and I'm
[Fri. Mar. 22. 1912]Page 14 waiting for the folks, ten oclock, the folks have come, I have a lunch with hot coffee and tea ready for them,
Sun. Mar. 24. 1912] 2012.March.Sun.24 they brought sausages for lunch. and fruit,
[the flow of social and family life suggest that most of the family lived together until Frank got married and moved to a property very near the Black River homestead, and Audrey got married and moved to Ashtabula with George Carlisle. It's as if Pa is not a permanent fixture in the house. He brings news of relatives who likely are living in Michigan. When Audrey's husband becomes ill with "Typhoid" she begs her parents via letter to help. "Audrey has been up day and night & hasn't had her cloths off for a week, Poor Audrey this is the first real expierence she is only nineteen and Geo. is twenty." Other illnesses (called colds in different body parts or gripp., typhoid fever, or flu) seem to fly through families and communities but there seems little knowledge of disease transmission. Elinor, being just home from the hospital and apparently quite weak, is the caretaker for those at home at 760 Georgia Ave. who become ill. She yearns for summer and a reprieve from sickness.
twelve oclock, Fred went over to Frank's for dinner. Ma, Elbert, Gertie Nellie and I were home to visit with pa, it has snowed hard all day and a cold wind blows tonight. Pa tells us Uncle Jack's folks all have the gripp. and the horses have the distemper the little lambs arriving by one's two's and three's and no one to care for them, neighbor all around are having cold's and gripp. Aunt Cornealia and Aunt Marinda have gotten all moved to town at last.
[The mention of Cornealia and Marinda bring up Elinor's patrilineal ancestry. Cornealia is the wife of Harvey Luther, who is brother to Harvey D. Bonney, both sons of Cordin Bonney and grandson's of Lyman Bonney. Marinda is the wife of Grandfather Lyman Bonney. Lyman is father of Cordin Bonney).
Anyone looking into colonial ancestry will find, in Lancaster County Pennsylvania, a very large Mennonite community who kept meticulous records tracing large families over decades. The name Harnish is extremely common. There is a "Martin Harnish" labeled "the Immigrant" and many of the pedigrees start with him. Also connected with him, is a Levi, and other names temptingly close to those in the known Harnish line of Ohio. One constant confusion can come from the fact that almost every generation has a Jacob, Abraham, Michael, and Samuel. One question arises if this is the colonial origin of the Ohio Harnishes, why, if, and when there is a migration from Lancaster Pa. into Ohio. There is clearly a migration of a large number of Mennonites from the original community to Cumberland County in the 1830s. There is another smaller migration to Medway Ohio which is immediately northeast of Dayton, in Clark County in the Mad River Valley, some to Bethel Township in Clark County. There are also individuals within the Michael Harnish/Benedict family who "move west", some to Greenville, Ohio. There is an intriguing geneology for the Tanger/ Harnish family in Ohio as of 1847. None of these could be tied up with known Harnish family in Lorain County Ohio. Oh Well.
There are other hints of Harnishes in Clarion County Pennsylvania (where outlaws lived ?). There has been a family lore around Billy Bonney, a twin, adopted in Pennsylvania which never has panned out in documents or history. The link west from New York and/or Pennsylvania would temptingly lead Martin Immigrant to Old Jacob to the Jacob Harnish who married into Burkholder, to John Harnish who married Ann Elizabeth Young(1800-1860) in Rimmersburg, Clarion County Pennsylvania, to John Levi Harnish to James Vance Harnish. But again the links are not consistent enough.
Marci Sorg has done extensive geneology work on both sides of the family including some origins in Maine. We do find a Lyman Bonney whose mother was born in Maine around 1809. The 1820 census lists a Harvey Bonney who lived in Oxford, Township East, Plantation #6, Farmington Maine and in 1840 a Harvey Bonney in Franklin, Farmington Maine. In 1850 in Rochester Ohio there are two Harvey Bonney (b. Mass.) families, one with family members Billy(59), Charlie(31), John(29), Caroline(22), and Layfayette(20), and the other one with Harvey(65), Hannah(50), Sarah A. and Enos. There is also an 1860 Wellington Ohio listing for Lyman(58) and wife Lucinda(54) and children Harvey(14) and Elizabeth(20). In 1860 in Rochester there is a Cordin, Amelia, Fred, family who list a 21 year old laborer Frank Bonney b. N.Y. There is a very tempting Harvey Bonney in Pembrook, married to Hannah Fish with a fascinating genealogy.
But after all that the first totally reliable documentation starts in 1870 with Lyman Bonney(60, b. Mass.) in Wellington, Lorain County Ohio. He is married to Marinda(64, b. New Hamp. d. 1875) and they have a daughter Marinda(31, b. N.Y.). By 1880 Lyman(70, widow, b. Mass.) is living with his daughter Marinda(44, 1835-1913). He is living on Pleasant Ave next door to one of his sons, Cordin Bonney(47) who is with his wife Amelia Masten(41, b. Ohio, her family had lived next to the Bonney's when she was growing up), and their children Laura(6, b. Ohio) and Jennie(27, b. N.Y.). Following Pleasant Ave on the map there is a cross street Courtland Ave, where we find another son of Lyman, Harvey L Bonney(56, b. Farmington San Juan City New Mexico) and his wife Cornelia(55)
[Mon. Mar. 25. 1912Page 15] 1912 Mar.Mon.25. Fred and Elbert have gone to church. Gertie doesn't feel is well tonight Gertie doesn't feel any better Pa and the boys have been to town, pa hired a dray to bring his trunk and bagage home from the Electric package. Will Coals and His father were here to tell us Uncle Mort Mastin [paternal grandfather, born Lorain, died Michigan] died yesterday and Aunt Hat [unclear who this is though it sounds like it might be Mort Mastin's wife] is quite ill. Rosie Coals is dead, Mercy me, I dread to think of tomorrow
[Tue. Mar. 26. 1912] Tue.26. Frank called Pa and Ma over there this morning at three oclock, Ruby had been ill since twelve oclock, pa came home for breakfast, I done part of the work and got dinner A letter came to ma. from Audrey this morning, say-ing, George has been in bed
[Tue. Mar. 26. 1912]Page 16 1912 Mar. for a week and she has been up day and night with him and wished some on could come and help her, pa went back to gilmore's and told ma about Geo. Ruby has a nice baby girl Ma and pa came home, pa packed his suit case and has left for Ashtabula to help Audrey and take care of Geo. Gertie is terriblily ill today; I hope every one feel
[Wed. Mar. 27. 1912] Wed. 27. better tomorrow. Im weary. I have been on my feet to much today trying to help ma for she is almost tired out, she washed to day and I have done the house work and took care of Gertie, she feels a little better but is in bed, she
[Wed. Mar. 27. 1912]Page 17 1912 Mar. has the gripp and has it bad, she coughs untill she is sore and lame all over, Nellie took dinner with Gilmore's today, Ruby and the baby are doing nicely. As Ruby is the only child her baby will more than likely be spoiled, Ruby was eighteen last June. Didn't hear anything from Audrey today. It is raining. Oh, ho.
[Thurs. Mar. 28. 1912] Thurs.28. Gertie and Ruby are better, but George, poor boy has the typhoid fever, so pa wrote in this letter he sent to ma this morning, and that Audrey and Geo. were both happy when he walked in, Audrey has been up day and night & hasn't had her cloths off for a week, Poor Audrey this is
[Thurs. Mar. 28. 1912]Page 181912.Mar.Thurs.28. the first real expierence she is only nineteen and Geo. is twenty. Elbert work for Spadman today, Frank was home today, Fred went to prayermeeting. Ma, poor dear ma has gone to bed tired out. It's been raining a little alday, but it's coming down hard and steady tonight. I sent a card to Georgia Rosencrane [this person comes up periodically in the diary but its not clear if she is a relative]. and one to Hazel Dupont. today. Nellie is going to bed, so am I.
[Fri. Mar. 29. 1912] Fri.29. Nellie didn't go to school.for its been pouring rain alday. Ma and pa are tired, I ironed part of the starched pieces. Gertie doesn't seem any better. George is better.
[Sat. Mar. 30. 1912] Sat.30. 1912. Well we have been trying to get straightened up
[Sat. Mar. 30. 1912] Page 19. today; Nellie and I have been ironing but didn't get it all done. Sun has been shining warm and bright today Elizabeth Thomas called on me this after noon and brought me two books to read. Ma Nd I are ever so worried about Gertie. Geo. and Ruby are better. I am going to bed for it's 11-55 Oh. Mercy me.
[Sun. Mar. 31. 1912] Sun.31. We think Gertie is a little better, How glad I'll be when summer comes and we all get well again. It looked pleasent out of doors untill noon, then shortly after it begin to rain. Well this has been a long day to me.
[ note: this is the last entry in this "Standard Notebook E" Elinore switches to single paper 8.5X10? , the first page is labeled Page 13. ]
[Sun. Mar. 31. 1912] Page 13. Sun.31. Well Gertie is some better we think today. Looked pleasant out of the door untill noon when short-ly after it began to rain it's been a long day. Oh how glad I'll be when summer comes. If I am only get strong.
[Mon. Apr. 1. 1912] Mon.April 1. Gertie seems no better & no worse ma says but Oh how dreadful her cough is it frightens me so each time that I hold my breath & dread to think. I made for Nellie a blue silk hat today but haven't trimmed it yet. ripped Gertie's brown braid had prepartory to making over & Nellie & I finished the ironing. To day is the beginning of Nellies week vacation. She & I read alternately the Book, David Copperfield. evenings, about which she is to write a theme.