[She describes another seizure ("fit") according to the children, wherein she "chewed my face or inside of cheeks & my lips, and my head & eyes are sore & I'm weak & lame all over" She complains of headaches through the month and another incident involving fainting, and pulling her left knee out of joint (Audrey got it back in it's socket), falling, frightening everyone. After that her knee is quite swollen and she is getting around the house by sitting on a chair and scooting it around.
The multiple letters and cards from the Cuba group describe a rough trip from Tampa to Havana and general travel difficulties, delays, finding a rooming house that didn't cost too much, ending up sleeping on the floor, and then searching for work.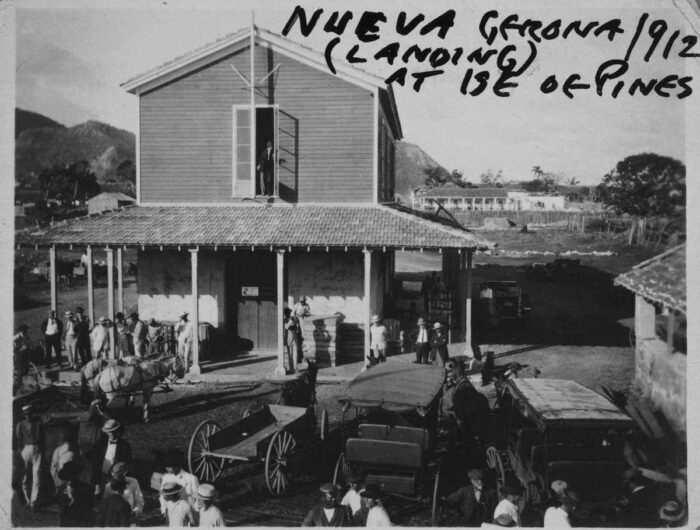 She is selling eggs which hasn't been mentioned before. Audrey is selling subscriptions to a magazine about needle craft for 25 cents per year. There are visits from Ruby Bonney's mother (Mrs. Gilmore)and Uncle William Bonney.
She is sewing corset covers, turbans hats, double blankets. She is working on lace for a pillow slip that she will be paid for. Christmas gifts are mostly clothing, socks, kerchiefs, stockings, and fruit (a single orange). She receives a "shamy skin, an ivory darner & spool of darning cotton & a silk bag to keep them in, a lavender ribbon & ivory ring to hang the bag up. " She immediately sets to making gifts for those who gave her gifts, thimble holders. Shipping was 46 cents for thimble holders and candy.
[Mon. Dec. 1. 1913] Dec. 1. Mon Well I had a fit this morn the children said, chewed my face or inside of cheeks & my lips, and my head & eyes are sore & I'm weak & lame all over so I didn't do much today. Oh, dee.dee.
[Tue. Dec. 2. 1913] Tue.2. Well I did the wash & we had six sheets & 3 pair work trousers & 3 jumpers for Elbert. am tired oh so tired tonight.
[Wed. Dec. 3. 1913] Wed. 3. I have ironed most all day, cooked the meals & helped care for Martha. Martha is 18 months old today
[Thrs. Dec. 4. 1913] Thurs.4. Well I finnished all my work at noon, cooked Audrey baby & I a bite & then sit down to sew & then in walk
[Thrs. Dec. 4. 1913] Page 111. -ed Mrs. Gilmore to my sorrow, the came to see Martha & tell some gossip & I was never more happy than when she had gone, did some patching & darned Elberts socks & then cooked supper.
[Fri. Dec. 5. 1913] Fri.5. Swept dusted & cleaned & cooked the meals. We have had several cards from the folks they have had a good trip except the part on the boat from Tampa Fla. to Havana which was rather rocky am anxious to hear from them
[Sat. Dec. 6. 1913] Sat.6. Scrubed & cooked & took care of Martha, Elbert went after Audrey. to day is Elberts birth day. 31 yrs. it began to rain at noon & has showered all after noon & evening rained hard just befor they came home. Audrey was sick & So I have been alday.
[Sun. Dec. 7. 1913] Sun.7. Rained most all night & this morn & then the sun shone a little while then some more rain, hail then snowed a gail & Uncle Will & Edith came over & spent the evening. [This refers to William Wheeler and his sister Edith (Ma's sibling) who is so instrumental in getting the family re-established in Lorain after trying to live in Cherry Grove Michigan where Elbert and Elinor are born. Edith marries George F. Breckenridge and has Ethel Wyn, Aubrey & Georgia, Elinor's cousins]
[Mon. Dec. 8. 1913] Mon.8. We over slept & Nellie didn't go to
[Mon. Dec. 8. 1913] Page 112. school untill noon & Audrey didn't go to work at all, for she has a bad pain in her left side since Sat. she feels better tonight, the wind is cold & it snows I cut & two corset covers for Nellie & partly made them, swept, dusted & cooked the meals.
[Tue. Dec. 9. 1913] Tue.9. Washed a double blanket & single blanket wool. for Audrey & did the wash was through at 4 oclock took care of Martha & cooked 3 meals & done the dishes & some mending & am tired enough to go to bed. & the hens laid 2 eggs(underlined)
[Wed. Dec. 10. 1913] Wed.10. swepted, dusted. cooked ironed & sewed. and we have the pleasure of announcing the hen laid two eggs agin today. Oh.dee.
[Thrs. Dec. 11. 1913] Thurs.11. washed finnished the other ironing & performed my useral household duties 1 egg Elsie Wheelers birthday 18 yrs.
[Fri. Dec. 12. 1913] Fri.12. Did my useral work & cared for Martha & she is one busy body. 2 eggs & I sold 6 for 25 cents (c) We have had several card from the folks & a birthday card for Elbert & a letter for me or for us from Fred all & he wrote
Dec.5, 1913.
Dear Ones at Home
We arrived here all O.K. but it took a long time. Such a time, we were held
Page 113.up in Cincinnati because we missed the train. We staid all night at the waiting room and took the train at 7-30 or there about. We made good time to Tampa Fla. but had to wait 2 day for a boat; Then we started for Havana Cuba arriving safe. We spent two days in Havana after which we took a boat out of Havana & went around Cuba to the Isle. of Pines Cuba and [drawing here /map?) landed at the Los. Indos dock. from there the folks were transfered in an Outo to Santa Barbara. I rode my wheel. Some ride 14 or 16 miles. We found out we couldn't get the house we expected to, and had to stop at a rooming house, that cost to much, so we hunted for a house & such luck, all to small, or we couldn't rent them untill night. We decided to go to Pardees & sleep and sleep on the floor Then some one told of a house near, and Fran & Carl went to see about it, and we moved in at once, two beds & a couch. Carl & I bunked on the floor. We went out fishing yesterday and brought home 35 nice fish, had them for supper Today we looked for work and have the promise of a job about 5 miles away, but will try for one near at hand so we wont have to board away from here Pa has a job in sight we don't know how long we will stay.
Page 114. in this house, as the man who owns it, sails tomorrow for here but we will have our eye on a better one by that time, hope to find house close together so we wont be to far aparth. Tell Elbert to look on pa's key ring and find the key for a yale lock No.55. and put it in a letter & send it right a way. Did Elbert find that compass in the boat, I lost it out of my pocket & It's 9-30 p.m. so must go to bed. We are all well but tired; Hope your all well.
Love to all Fred and the Folks.
Santa Barbara
Isle of Pines
W.I.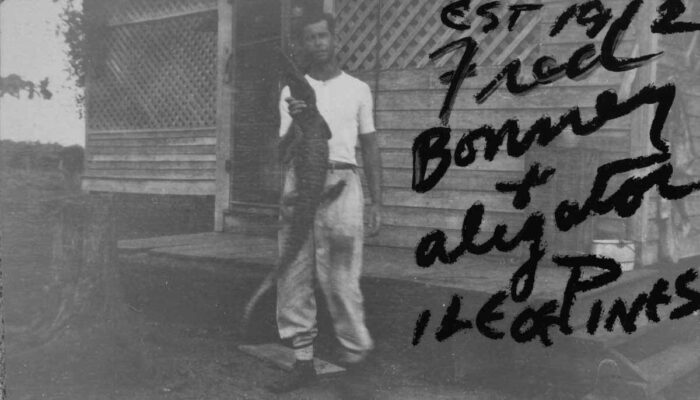 [Sat. Dec. 13. 1913] Sat.13. I washed the windows and done some mending & washed out the baby things & cooked & only 1 egg today
[Sun. Dec. 14. 1913] Sun.14. 3 eggs no company and I have felt to lazy for any thing so have rested some.
[Mon. Dec. 15. 1913] Mon.15. Washed today & had such a time. cooked three meals & ans. telephone & Nellie helped me when she came home from school I have been sick all day & went to bed after eat a very light supper Oh, dee, dee, dee.
[Tues. Dec. 16. 1913] Tue.16. Audrey didn't go to work. this morn. but she didn't do the supper dishes or the breakfast dishes or sweep or any thing & I had to work like a sailer & had to get dinner & do up the dishes & put Martha to sleep.
[Tues. Dec. 16. 1913] Page 115.for Audrey went to work at noon. Oh, ho.
[Wed. Dec. 17. 1913] Wed.17. Ironed, scrubbed & cooked today.
[Thrs. Dec. 18. 1913] Thurs.18. Mrs. Gilmore was here Tue, after noon, and she ask me in a round a bout way to make her a turban like the one I made for ma, I told her I'd help her make one, she is coming again Tue. oh dee. I sewed some today for N.
[Fri. Dec. 19. 1913] Fri.19. Sweep, dusted, ironed & cooked.
[Sat. Dec. 20. 1913] Sat.20. Oh. I'm about all in & Elbert has gone to bring Elbert home. [I think she means Audrey here] We received a letter from Gertie today & some cards from Frank & Ruby. They say They are well.
[Sun. Dec. 21. 1913] Sun.21. A dreary Sun. no company
[Mon. Dec. 22. 1913] Mon.22. Did a big wash. Nellie has been out of school since Fri. noon, for her Xmas Vacation, so she helped me today.
[Tue. Dec. 23. 1913] Tue.23. I have been feeling so nervous & having such sick head aches can't account for it, feel so weak in my knees, have had a bad catch in my left hip joint & knee & oh, such cramps in the thick meat just above my knee & in my calf.
[Tue. Dec. 23. 1913] Page 116. & have such a nervous sick head ach that it seems as though I can't work, but I have made three loaves of graham bread & 7 loaves of white bread & made Mrs. Gilmore's black satin turban, She came at 1-20 oclock & was here to supper & Bob (her brother) came to see her home. she gave me 3 yd. of calico for a waist I gave her 1/2 loaf graham, she gave Martha 2 pair stockings. she seemed pleased with her hat, & I hope she is. Geo. sent Martha a card telling her he would be down the second week in Jan. he & his mother sent me a card, thanking me for the baby's pictures & telling me Billy runs the house & family flies where he pleases in the house & she would hat to part with him. [note -Billy is likely one of their parakeets]
[Wed. Dec. 24. 1913] Wed.24. Well this has been a long hard day Audrey has been home all this week so far from work. Audrey, Nellie & Elsie went to town Audrey bought herself a new coat astercom & a corset for Nellie. Elbert Nellie & Elsie went to town this evening Uncle Will spent the evening here he went home at 10-30 & I felt so bad I went to the bedroom to go to bed, fainted & fell in such a heap that my left knee
[Wed. Dec. 24. 1913] Page 117. went out of joint with a great deal of pulling & my pushing Audrey got it back in place I hitched to the bed & pulled my self on it. The children & Uncle Will were badly frightened but I rubed my knee good with Olive oil linement & undressed for bed. guess I wont sleep though
[Thrs. Dec. 25. 1913] Thurs.25. Christmas not a white one either We are all well & my knee is swllen bad but, I am up & dressed & will be all right in a day or so A, gave each of us girls & herself 3 hand kerchiefs & Martha 2 pair stockens & Elbert 2 pair socks. Uncle Will gave Martha a long braided string of blue & white beads & Lillie gave her & orange.
Constables sent me a shamy skin an ivory darner & a spool of darning cotten & a silk bag to keep them in. a lavender ribbon & ivory ring to hang the bag up fastened at one side Cousin Lucy Scott, Mrs. Ward, Miss Baumgart & Aunt Hall Mastin sent me Xma's cards & booklets. Uncle Will ate dinner with us.
[Fri. Dec. 26. 1913] Fri.26. Sit here all day crocheted made. three thimble holders to sent to Constables & started my lace for Cousin Lucy Scott for pillow slips she will pay me for that. I am going
[Fri. Dec. 26. 1913] Page. 118. to send her & Bell each a thimble holder I have sold $1.25 worth of egg that is 2 1/2 dozen I have used 3 eggs but can't aford to use many more
[Sat. Dec. 27. 1913] Sat.27. Audrey scrubed Nellie & went to town she has helped me to get 7 subscribers for the Needle Craft 25 cents per yr. Elbert went to town & brought home fish for. Sun. Dinner. Elbert went to town to night & Nellie & Elsie went to market and drug store. Nellie mailed a box to Constables Amarills Texas with three thimble holders in it for 3 cents. I sent them 1 1/2 lbs. of candy & it cost 43 cents & I sent them each a card for Xmas to Uncle Will & Francise came over & brought their graphone & played all the pieces they have, they finish & went home at 10-30 & then Elbert came & we had hot tea & coffee & a lunch & cholates then went to bed 11-45. & tomorrow is Sun.
[Sun. Dec. 28. 1913] Sun.28. I pushed myself & chair to kitchen & baked 2 dozen cup cakes Sun and made apple sause. Well we didn't have any company & Elbert bought a lot of fish & so we'll have to fish untill the're gone. it seems as though I had been sitting around for a month or more now.
[Mon. Dec. 29. 1913] Mon.29. Well I have to sit around A isn't going to wash. This is terrible to sit here every thing is waiting to be done but not a thing done yet & its most noon. Oh.dee.
[Tue. Dec. 30. 1913] Tue.30. Well A washed out a few things
[Tue. Dec. 30. 1913] Page 119. & Mrs. Gilmore was coming over to bring her subscription, but hasn't come yet.
[Wed. Dec. 31. 1913] Wed.31. The last day of the old year Uncle Will spent the evening here Mrs. Gilmore's brother brought the price of her subscription just a week tonight.