[The family squabbles continue with Audrey being described as spoiled, and also is diagnosed with a tape worm! that is treated and passed" Elinor is still hobbling on one foot and she blames her fatigue on that. Audrey says its because she is overweight. Elinor seems to be suffering and she writes her first prayer to be relieved of the suffering. The visiting with boat folks continues. There is some borrowing of boats among them and one incident where the Aimes folks borrowed Cassovi's boat and stove a hole in it.
Elinor relays an entire love story about a woman she sews for, Ester, who visited an aunt who was a nurse for a typhoid fever case, and met a 15 year old sickly man Mr. Leo Eavers, and all that followed. She also tells a darker story about Mr. Baker's obese wife who eats too much (limberger, onion, bread, butter & beer). She tells another long drawn out story about Mrs. Baker being up to something, possibly adultry but its not clear. Mr. C. fell in the river and got quite sick and though he recovers he is clearly jaundiced possibly due to hepatitis? Elinor convinces him to go to hospital. ]

[Sun. Mar. 1. 1914] Sun. Mar.1 March came in howling & is still at it.
[Mon. Mar. 2. 1914] Mon.2. Sewed and mended & crocheted some.
[Tue. Mar. 3. 1914] Tue.3. Audrey went to town. Uncle Will was sick all day Mon. but is better today & came over to see me a while, when he went home. Mrs Baker came up & stay till Audrey & Nellie come I helped get supper
[Wed. Mar. 4. 1914] Wed.4. Sewed some & started a letter to ma
[Thrs. Mar. 5. 1914] Thurs.5. I did the washing Audrey took them out of the boiler & suds & wrinsed part of them & hung most of the white clothes out on the line Audrey says she's tired most to death, well she hasn't done any more work than I have & I'm sure if I had two feet I wouldn't have been 1/3 as tired as I am, but I have work on one foot from 10 un-till 4-30 oclock & the side of me achs, then A says if she were as stout as I , she would be tired. I'm going to take a bath & go to bed, Nellie thinks it is terrible that I wont set up with her while she studys but I can't tonight & am, in bed, after my bath.
[Fri. Mar. 6. 1914] Fri.6. I haven't done much to day. wrote or finnished writing an 18 page letter to ma & the folks. I wrote a letter to Cousin Georgia Rosecrans's to sent for some flower seed don't know how I'm going to plant them.
[Sat. Mar. 7. 1914] Sat.7. Audrey went to town. I got supper & had it ready a few mi. after she and Nellie & Elbert came, I made hot biscuit brown gravy creamed potatoes & fried pork stake & A was so mad because there wasn't any milk for tea, she pouted & looked at me ' like she wanted to eat me, she thought Nellie might went after the milk, but, I scrubbed the dinning room & kitchen & had to have her move things & change water for me so she was busy besides she swept our bedroom & cleaned all the lamps & it strains me to work on one foot very long at a time. I so shaky I'm most afraid to trust my self to move one my one foot any more, A said (after supper) I supose I got to wash the dishes that means 1 1/2 hrs. she done them & Nellie went clear over to Miller to get milk so A could have some tea. & she didn't even thank Nellie. Oh.Dee Dee Dee.
[Sun. Mar. 8. 1914] Sun.8. Elbert didn't work yesterday, he has a bad cold in his head & so frety, Oh. Oh. Oh. No. Letter from the folks this week either.
[Mon. Mar. 9. 1914] Mon.9. Well I got Ester's dress out & work on it a while she came down & tried it on& she told me more about her beau. she told me she went to visit her aunt at Green-town a yr. ago last summer, her aunt is a nurse & at that thime was nursing a typhoid case ( a young man, little more than 20 yrs. of age, Ester called at the patient's home to see her aunt and after visiting an hour or so with her aunt, her aunt ask her to come in the next room to see her patient, Ester said she wasn't able to talk so she sympathized with (Mr. Leo Eavers) and wished him a speedy recovery she said he looked like a boy of 15 yrs. he was so poor & thin, she talked to him about 5 minutes & never gave him another thought, then last summer, her aunt came over for a few days & told Ester Mr. Eavers inquired often about her, and said she gave him Ester's address, and in a few days Ester received a card from Mr. Eavers, she ans. with a card, he ans. in a letter & she replyed by letter he sent her a band ring, it was to large & she sent it back & he changed it & sent another, he sent his picture & Ester re-turned her's, Oh, I told her she would be going some day, not to return as Ester Pratt, but Mrs. Eavers, she laught & said she didn't know. She will go a way to school some day & forget the way to go to Elyria instead.
[Tue. Mar. 10. 1914] Tue.10. I washed today & had to do so much & it alone, I'm dead tired, Audrey hung most of the clothes out & they got dry, then A felt so tired I helped get supper & Lucia phoned to Nellie asking her to help her with some school work & she came in just after supper then before I could get the dishes down Uncle Will came in & then Mr. Cassovi & at last Mr. & Mrs. Baker & they knew I've been washing all day, but, they stayed & played card untill 12 oclock then Nellie & I sat here until 2 a.m. so she could get her lessons. Oh how dreadfull.
[Wed. Mar. 11. 1914] Wed.11. A to ill to get up, Elbert had such a cold in her head he didn't go to work & Nellie got up & went to school, Oh, I can't see why I must be one legged, but am more than glad to be able to get around on one leg, it would be horrible if I could-n't work at all, I do most of the work & on one foot & leg to. Oh, how weak & sinful or well, I can't express, it. but how little we fore see & re-alize what is before us. Oh God have murcy on me and help me to be forever thine, give me strength dear Heavenly Father through thy Devine Power to do thy will, each day & minute be with me. I have ironed all last weeks & this weeks plain clothes & a few starched pieces & swept & washed dishes * cooked & I ach so. Oh, dee, dee.
[Thrs. Mar. 12. 1914] Thurs.12. I have ironed all day & until 8 oclock tonight, starched clothes, Nellies & my & have six pieces to finnished in the morn.
[Fri. Mar. 13. 1914] Fri.13. Finnished the six pieces. Nellie came home at noon A. has been sick all day We discovered she had a tape worm today. I sewed some to day. Ester was here she came to show me Mr. Eavers picture he isn't a bad looking fellow, but Ester says he came last Sat, & stayed untill Mon. took Ester to school & then went home to Greentown & hes coming again Sat. tomorrow. Oh.oh.oh;
[Sat. Mar. 14. 1914] Sat.14. Nellie & I cleaned the stove pipe to crock & such a muss & I scrubbed the floor I've work all day & so has Nellie.
[Sun. Mar. 15. 1914] Sun.15. Every ones tired the boat folks were here for water & uncle Will & Elsie & Edith. & I haven't done any more than had to be done.
[Sun. Mar. 15. 1914] Page 141. Sun.15. Well Baker comes up for water every morning, and some time says queer thing about his wife, I must say I've never liked since I first saw her and dis-liked her more after there first visit one evening. she said she like to play cards untill one, two oclock in the morning then she want her limberger cheese, onion, bread and butter and beer & she looked it. Oh. Well she has tried to keep pretty close on Mr. Cassovi & of late he has been getting his eyes opened & yesterday he told me she had been trying to get him to go over town & visit a family by the name of Ward & Cassovi didn't want to go & told her he'd think it over so he came up here at three oclock on his way to town & had only been here a few minutes, when in walked Mr. Baker saying, so you're here are you? meaning (C.) B. sat down & stay un-till C. arose put on his coat and hat & said he was going up town & would see us again B. said, well, I guess I'll go along & they both left When they reached the Nickol plate Willie Mackey saw them pass & run out the house putting on his overcoat as he ran to over take B. & C. which he did & at seven-thirty C came back & told us he had a great time to lose M. & B. & that he would like to hid untill Mr & Mrs. Baker went past. Elbert asked C. to excuse him as he had an engagement & C. hid & I hid his hat & gloves just a B's came up hill & Elbert went out just in time to meet them & Mrs. B. came in to cast her eagle eye all over & peered about in the corner. I ask her to sit down to rest but she said she was going to spend the evening with the Wards & Mr. B. was waiting for her & she thought she would come in just a minute, have you Mr.C. today? and I ans. yes, he came here this after noon & said he was going to town & I didn't ask him when he was coming back and she said, well he was going with us tonight. well, he's a good one. Well, C. heard all that was said & could hardly keep from yelling he was so tickled & after they were well out of sight, he came into the dining room & we visited untill ten or ten-thirty the went up to his boat. oh. such times on the Petomick. I bet Mrs. B will get him roped in to some other game to pay for this It dreadful
[Mon. Mar. 16. 1914] Mon.16. We didn't wash so, I sewed & what do you think, Elbert was done to the river & Baker passed & stop to visit a minute & said they were going down the river in his boat if Cassovi would go (Cassovi) is using B.'s boat, till he gets his repaired, he lent it to Aimes & he stove a hole in it, in the
[Mon. Mar. 16. 1914]Page 143. ice, so C. has been fixing it up & painting it. Oh yes, he said Mrs. B wanted to go in the boat. Well, now, what did I tell you, she's at her game.
[Tue. Mar. 17. 1914] Tue.17. We washed & I'm some tired I have been having such nervoous head achs, today is St. Patrick's Day. Audrey sent some St. Patrick. cards South to the folks. I . didn't get mine wrote, so didn't send any. Mr. Cassovi was here a few minutes today he has been sick every since he fell in the river, but is feeling & looking bad, he trys to be jolly and keep up and going. Mr. B came up for water & the mail & said. We went down the river in my little boat & Mr. C. was with us & we landed near the fish house, it was so muddy (yellow clay) and we had a great time getting up the hill, we went up to Saphs, and my wife telephoned Miss Mollie Ward to come over, and it was after (nine thirty) but Mollie came & and at one oclock Mr. & Mrs. B. said they were going & Mrs. B said , Now Ambrosus you see Mollie home & Mr. B. & I will wait at the bridge for you, they all left Saphs to gether and when they reached the bridge Mrs. B said, I guess I'll go over with you & John can get the boat & bring it where they could get in, with out getting in the mud. C. said he would go get the boat & Mr. B. could go but Mr. B. left them & went to get the boat. so, C went over the bridge with Mollie & Mrs. B & of coarse he came back with my wife, said Mr. B. they had a great time getting Mrs. B loaded into the boat & Mrs. B fell down & was plastered from head to foot & when they got to their boat & got out Mr. C. stayed in the boat & started on to his boat but Mrs. B insisted he come back & have a lunch & some hot drink, but C said he didn't feel eable & thank them just the same , but still she urged & Mr. B. said let him go home if he wants to whats
[Tue. Mar. 17. 1914] Page 144.wrong with you. don't you suppose he's tired.
[Wed. Mar. 18. 1914] Wed.18. I ironed to day and my legs & knees ach
[Thrs. Mar. 19. 1914] Thurs.19. Oh. I'll be so glad when the boats are out of the river, we have enjoyed mr. C's company & Aimes to But not those Bakers. Oh, dee, dee,dee,dee,me.
[Fri. Mar. 20. 1914] Fri.20. Sewed today & did house work.
[Sat. Mar. 21. 1914] Sat.21. First day of Spring I mopped both floors.
[Sun. Mar. 22. 1914] Sun 22. Mr. C. took dinner with us & I cook chicken & made buscuites and we had buscuites & gravey & creamed potatoes, pickles, cheese, peaches & cake & tea. Mr. C. ate harty but said he didn't feel good he looks yellow even the whites of his eyes, we have been trying to get him to go to a doctor, but he didn't know what to do, but said if he didn't feel better in a day or so he'd go.
[Mon. Mar. 23. 1914] Mon.23. I sewed some today & we didn't wash I don't feel very stout in my leg & have been so nervous. Mr. & Mrs. B. came in to spent the evening & about nine oclock Mrs. B's sister came (Mrs. Hill) & after telling of all the time she had, had to find the place after dark, they depart about 9-30 & I felt like hoisting the stars & the stripes. the worse is yet to come.
[Tue. Mar. 24. 1914] Tue.24. We sewed & did house work Mr. B. came for water & mail & Mr. O'Neil came & brought me a paper, he has brought me a paper every other day all winter. he's 70 years old a little dryed up Irishman Oh.ho.ho,ho,. Well, he hasn't any relatives maybe he wants to leave leave his will to me Oh, ho, ha, ha,ha. poor old man.
[Wed. Mar. 25. 1914] Wed.25. We sewed & did house work Mr. C. has been here quite often of late & to B's less. martha is getting to be such a pretty little girl every one loves her.
[Thrs. Mar. 26. 1914] Thurs.26. We washed to day & the sun did shine & we had such a big wash & Mrs. B & H. went to town
[Fri. Mar. 27. 1914] Fri.27. Mr B left for Detroit Mich. to paint & repair their house. she said she'd be glad
[Fri. Mar. 27. 1914] Page 145. to get rid of him for a week, but he told us he wasn't coming back Mr. C said he ask him to look after his boat, but, he told him he was sick & couldn't. C. hasn't been to B's for more than a week Mr. C. ate supper here to night.
[Sat. Mar. 28. 1914] Sat.28.I was so tired I didn't scrub & have had so many other things to do I'm most crazy. Oh. dee. Mr. C spent the evening here.
[Sun. Mar. 29. 1914] Sun. 29. Mr. C. was coming up to dinner, but a lot of boys came just as he weas leaving, so he had to stay & what do you think. Mrs. B. & H. went up to Cs boat & went aboard while all those boys were there & C. said he was so shocked & horrifide he didn't know what to do or say & as sooon as he got rid of them he came down here & Elbert & I persuaded him to go to Cleveland to the Marina Hospitale, so he went back & pack up & came up to make arrangement for Elbert to look after his boat. Audrey hasn't eaten anything since Fri.(27) night & this morn she took her medicine & lost her tape worm & now she feels better. Thank God. The U.S. MARINE HOSPITAL, located on Erie (E. 9th) and Murrison streets, opened in 1852 to provide medical care for sailors in the U.S. Merchant Marine, the Coast Guard, the U.S. Lighthouse, and U.S. veterans. It was part of a network of 26 government-owned hospitals for seamen, authorized by Congress and the president in 1837. U.S. Marine Hospital Land for the Marine Hospital was purchased from LEVI JOHNSON and his wife for $12,000. Construction began in 1844 but was not completed until 1852. The hospital, a 3-story Ionic-style building, had 8 wards and could accommodate 150 patients. Until 1905, when Congress voted an appropriation to support such facilities, it was first financed by a tax ($.40 per year) on sailors coming into port, and later by a tax on tonnage. After the CIVIL WAR, the Marine Hospital took in soldiers as well as sailors, until 1870. As the demand for services for sailors declined, in 1874 the City of Cleveland petitioned Congress to lease the hospital. In return the city pledged to care for sailors at the fixed rate of $.50 per day. This effort failed because of the question of property rights of a railroad that ran between the hospital and the lakefront. In 1875 Cleveland City Hospital (Lakeside Hospital Corp.) leased the building and grounds for 20 years. Physical improvements were made, including an amphitheater for clinical lectures and a children's ward. With the termination of the lease in 1895 and the completion of the new Lakeside Hospital, the Marine Hospital reverted to government control (U.S. Marine Hospital Service, Public Health Service). In 1929 the building and site were sold to the Pennsylvania Railroad; a new hospital was built at E. 124th and Fairhill Rd., on a portion of the Otto I. Leisy estate. After the establishment in June 1953 of the Veterans Administration Medical Center, the closed Marine Hospital was declared surplus government property, given to the state of Ohio, and used as the Fairview Hospital. -Case Western Reserve Encyclopedia of Cleveland History online.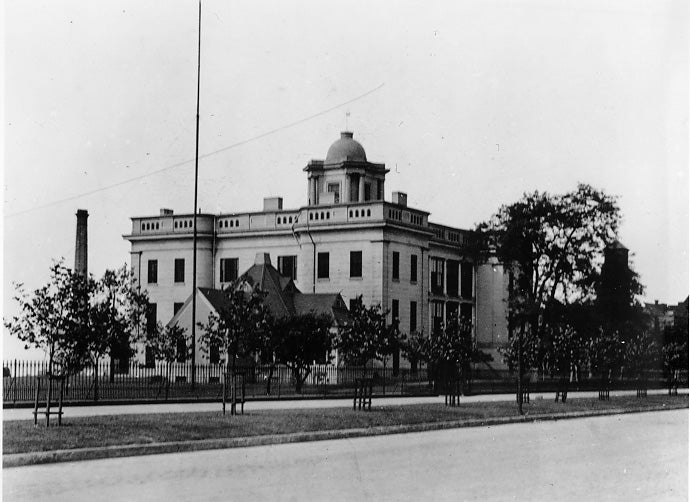 [Mon. Mar. 30. 1914] Mon.30. Well this week is Nellie vacation, but she has to work so much of late & now A is so week & my one leg is so tired. Oh. ho. dee. The Two Thomas girls Etta & Elizabeth call on me. We had a delightfull visit. Mr. C. left for Cleveland to day. my but he's yellow
[Tue. Mar. 31. 1914] Tue.31 Nellie & I washed & was all through at 3 oclock. but it tires me worse each week & Nellie has lost 10 lbs. in the last two week.