August 1948
Sun. Aug. 1. 1948./ 18. eggs today./ We went to Sun. school & Church & we went to Church tonight. I took a big bunch of pink & white flox & tame tiger lillies. & Mrs. Reese sent over a little boquet, they look nice in the church. We have such good sermons so well explained. Mrs. Horning & her children have been coming the last few Sundays We had a good prayer service all so, Glory to God. I thank God for all our many, many blessings in Jesus Name.
Mon. Aug. 2. 1948./17. eggs today./ Well I did the washing & one blanket today with my daily round & I'm so tired tonight for we're not having enough to eat. no meat, no butter, no potatoes. just beans, beats & bread. Well maybe the checks will come tomorrow. I pray they will it (that is mine) wont give us much, but a little, till Elbert gets his, & he's got to pay his insurance. I hope he gets some out of that to help us a little. I finished my house dress Sat. but didn't get it pressed, I want to wash & press my good dress yet maybe tomorrow if I have the strength to do it. I thank God for what we have & the endurance He gives us each day & all He gives us & that He loves & cares for us I Praise His Holy Name I praise Father Son & Holy Ghost. Its been a very nice day.
Tue. Aug. 3. 1948./ 17. eggs today./ Well I swept all 3. rooms & wiped up the floors & I'm as tired as though I'd done a full days work we are dizy headed, so little food to eat, so we don't feel fit to work, but I do thank & Praise God for all we have & the strength He gives us each day. I'm so glad I got the floors cleaned up once more & I hope to get my good dress washed & pressed tomorrow & I still have some sewing & mending to get done this week & the weeks are just flying past I like to get another dress done to wear for church & one more house dress & Elbert's good shirts done. My check came to-day, I ask for 5.00 more, but only got the 25.00, I pray I will
Tue. Aug. 2. 1948./ page. 2187./ 17. eggs this day./ soon get it. It's been a fine day N. East breeze & hot sun & much to cool for gardens at night. We have to add another blanket before morning, every morning. & this is usually our hottest month it is hot days, 80 to 86 & 90 degrees several times during the middle part of the day, then so cool at night. Well, Ive got to go to bed I'm so weak I sweat. But I love My Jesus.
Wed. Aug. 3. 1948./ 16. eggs today./ Well, we got a letter from Audrey & I pray God will turn her soul to Him soon, she's been so good to send us a few dollars & her letter had 5 dollars in it today We got our checks also & even then it's going to be hard to live untill they come again. We are weak & weary. We have tried to keep our daily work done & it seems to take a lot of strength, the Lord helps us to get it done some how each day, We've been dizy headed for a week now, but you won't die so long as you have a snack a couple time a day, & bread & water. Elbert dug a few of the new potatoes, they are clean & white medium in size, but cook good light & mealy (or fluffy). We got the annouce-ment of Joe's & Bonney Bell's new baby, They named her Kathrine Bonnell, she weighed 5. lbs. 10. oz. born June. 29. 1948. at 5-54-a-m her parents are Mrs. Bonney Bell Harnish Dudiak & Mr. Joe Dudiak and they are nice young folks. Well, we went to Huron & I paid 2.00 on my dress goods & we got a little boiling meat & two small smoked saucages "one piece for each of us & honest you wouldn't know you had any so much fat in it I cooked potatoes & a piece of cabbage with it for dinner & we ate at 1-p-m. & we both had a head ach. We got a lb of parkay for butter, a couple packages of noodles & speggetti; 2 cans milk 3. lbs. coffee 2. lbs. onions 2. boxes rice, tomorrow we hope to go to Vermilion & get the grain $5.15 for hens & pay $10.00 on coal bill, I'll still have 2. more payments to make & 1.00 to the dentist. I'll have to keep 3.53 for gas & 4.00 for church I'll only have 4.00 for food & Elbert has to pay 15 on insurance so he will only have 10.00 for gas for car & food. & foods getting so high priced I don't see how we're going to keep going.
Thurs. Aug. 5. 1948./page. 2188./ 15. eggs today./ Well I washed out the dirty dark clothes & my old rayon & my blue crape & then I went to town ('Vermilion') with Elbert, he cashed his check & mine & we got a few cans of vegetables a small ham (3.00) & oleo, crackers cocoa & head of cabbage & I paid 10.00 on the coal & got 11.42 yet to pay. The dentist wasn't home, I have to give him a 1.00 & I'll have 4.00 more to pay. We came home, We should have stopped to Smith's they were having some sort of house hold demestration & they give the hosteest a fine gift & a small little gift to those who came in to see. When we got home we fixed supper, it was 4-p-m. & 15 to 5 when we ate, then I pressed my dresses & Ironed my to house dresses, I washed & ironed my neck scarf also. then I washed & dressed & we went to prayer meeting, We were only a few, but had a good prayer meeting, Praise God in Jesus Name, I love Jesus & Praise Father Son & Holy Ghost. It's been a beautiful Fall day Warm sun but cool N. East breeze that seemed to go right to the morrow.
Fri. Aug. 6. 1948./ 17. eggs today./ Well, another day come & gone We went to Lorain & sold 6. doz. eggs at 70 cents per. doz. I had a little visit with Mrs. Cranage & Miss Baumgart & had a cup of coffee, then we went over to Lillie's & had a little visit & went back down passed the shipyard to San Weidzors meat & grociery & got 6 rolls & 4 frank-forters & drove west through town to Lake Veiw Park & looked off on the lake while we ate them, then on we cam to Vermilion on the Lake where we sold 3. doz. eggs for 65 cents per. doz. & collected 65 cents on last weeks eggs. I think Mr. Hamblys mother is Will Extons neice he comes there a lot & just a day or so ago will's neighbor phoned to her & said they hadn't seen him for 2 or 3 days so they got in & found him sick in bed & helpless she went right away & will bring him home with her tonight. or tomorrow, they thought he'd had a stroke. he's in his 90,ies. he would be about pa's age 87 or 88. yrs. old. Mrs Hambly said, hr father & step mother were in such a mess, he didn't come into this country lawfully, he had no papers & so he says he can't remember what boat he came on he wants to go back & they say at the head office in Cleveland, they will send him all the way to the nearest point to his home in Yougaslavia he owns a farm there & has two
Fri. Aug. 6. 1948./ page. 2189./ 17. eggs this day./ daughters & there husbands & familys live there her step mother in law don't want to go & she's most frantic, they can go to the old peoples home in Elyria but he say no he wont & so her step mother must make a choice between her husband & the old people's home. her heart is very bad her face is thin & white & her lips are purple. I pray God will in Jesus Name help her in His own way, And I thank Him for He knows best. I thank Him for taking care of us both ways today. I feel very weak tonight & had 3 sweats since i got home. Elbert listed his lots for sale today with Brecken for 90 day at 9 hundred & 50 dollars. I pray in Jesus Name, that thy will be able to sell it for he could square up his bills & get some much neded shoes & clothes. I cooked dinner & supper, but haven't done supper dishes. Another beautiful Fall day warm sun cold N.E. breeze And the nights are so cold, they said over radio they expected frost in several of the northern states & we may get it here. I thank God & Praise Him in Jesus Name for His wonderful Love & care.
Sat. Aug. 7. 1948./ 17. eggs today. / Well, todays been a fine day with not much breeze, things just don't seem to grow in the garden, that is the cabbages, the rabbits are eating, but at las the beets & carrots are coming, but the tomatoes are only just coming good now, just in bloom not a tomatoe yet. I haven't done anything that I didn't have to, today. I feel so tired. I do thank God for all my many many blessings & that He loves me & has endurance with such as I. He's wonderful & Devine. Elbert went to Huron & mailed out his paper to the insurance company. Dr's asistent sent them back here, today & I thought he mailed them out last week, such a world.
Sun. Aug. 8. 1948./ 19. eggs today./ Well, I felt so punk, I got up dressed after taking my bath & then picked some flowers & we went to Sunday school & church & then we brought Miss. Clark & Mrs. Fredrick to Beulah Beach & we came on home ate dinner & sit around & I should have taken a nape but just sit & at 3-p-m. Johny came in, said he brought me a car load & so he had, I went out the met Ella Jane come in & then Marcie a& the baby. & Nellie & Bonita & her 3 children.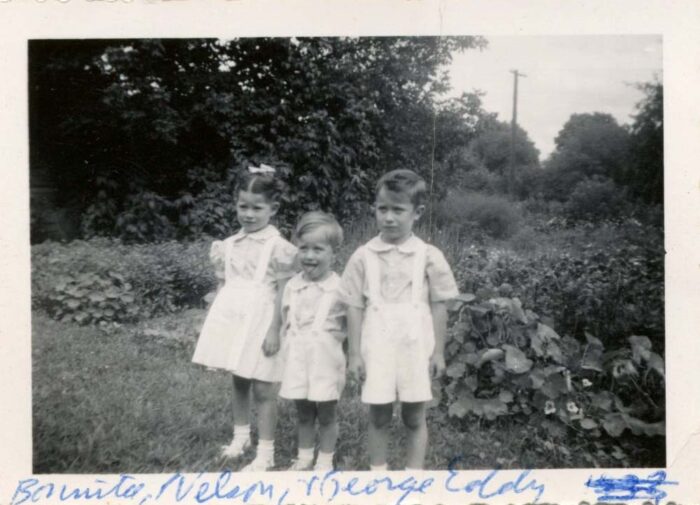 they came in & visited an hour or so, then, let's go & they were off again. Theyer determined that we are coming to Lake Veiw Park next Sunday after noon, I'm feeling so weak & miserable, I don't feel like being hauled down there after church & then clear home & back to church. I just don't know what's all the grand idea. Well I don't know if I'll go, or, not, I feel so bum. We went to church and I felt so tired I didn't sleep untill morning.
Sun. Aug. 8. 1948./ page. 2190./ 19. eggs today./ We had a good service & prayer meeting after church, poor garandma (Mrs Hambly's mother felt so bad, she cried so hard, I pray God will help her in his own way. I'd feel just as bad if I were in her place I know, but I don't believe I'd go back to th old country with him, I'd go to the old peoples home istead for Russia has Y______ in her hands, and it may be more hardships on them there, than to go to Elyria home. But I pray God will help them. I thank God for ans. prayer & pray He will help Audrey to be all His, I've prayed & trusted all these many years for all my brothers & sisters & their familys to call on Him & be saved, I thank Him for saving my soul for the many healings & blessings he has given me. I love Him & Praise His Holyness, Glory to God.
Mon. Aug. 9. 1948./ 17. eggs today./ Oh, I've been so terrible miserable today I haven't been able to cook or anything but with Elbert's help I got dinner he fried the ham I had the potatoes & cabbage cooking & he made his coffee I made 2. doz. brand muffins 2 1/2 cups of flour 4 tablespoons sugar 1. level teaspoon salt & 1. of nutmeg & 6. level of baking powder sifted together after sifting flour once 2/3 cup of crisco shortening 2 eggs & cups of milk beat well & bake in hot oven 350 ( F ) arenhight. they are good. but I haven't got the dishes done. after we had our lunch of an egg apiece & some fried potatoes & muffins & rhubard sauce & tea. there's a rat in the coop & Elbert's having a hard time trying to get him. I did air the beds & made them up & took care of birds. I'm going to read a little & go to bed trusting for more strength tomorrow. I ought to have made Elbert's shirt today. I thank God in Jesus Name for His love & care, Praise His Holy Name.
Tue. Aug. 10. 1948./ 18. eggs today./ I got the sample cards yesterday I hop I can manage to sell cards & make a little extra money we sure need it. I received a card also from she that useto be Ada Snyder. & today a letter from our sister Audrey with another 5.00 in it, Praise God We ought to have enough to Keep us now I guess. I did the washing today Elbert washed his union suit, work shirt, socks & kercheif. I was truly, all in. they all got dry & I've got them all put away, beds made & birds took care of, Elbert dug potatoes today 2 half bu. baskets he dug 2 yesterday & had dug a fw before that I don't know just how many he has dug. he brought in carrots this morning & I cook them with ham potatoes & cabbages for dinner & warmed it up for supper & made dumplins with it, we drank postam. Elbert has
Tue. Aug. 10. 1948./ page. 2191./ 18. eggs this day./ not felt so good today, hurts his back & legs to dig potatoes. & it hurts me to rub on the wash board also but, I thank God in Jesus Holy Name, He give me strength to do it. It's been fine day partly cloudy & N. east breeze, damp air.
[Inserted here into diary pages is full page ad for a religious event] Coming Here? Evangelistic Party; L.I.F.E. Bible College Quartet; Rev. Harry McCorkle Evangelist Soloist; Harry Mccorkle-Paul McEachern -Paul Jones- Alex Trafford; Maurice Lange, Accompanist; Paul Jones Song Leader Trombone Soloist of Angelus Temple ; *Will be showing Colored motion pictures of Rev McCorkle's 20,000 mile evangelistic tour; Vocal and Instrumental Group; Inspirational Preaching; at the; FOURSQUARECHURCH at Vermilion at 735 State Street.; Coming Aug 11. 1948.; Time 7-45. P.M.]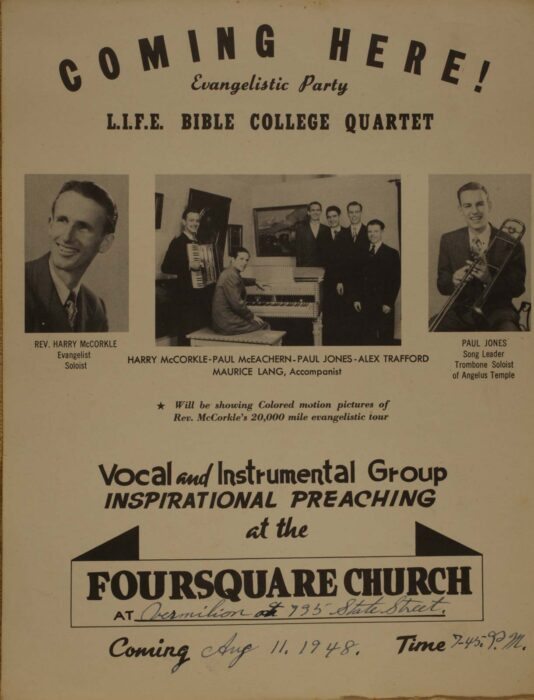 Wed. Aug. 11. 1948./ 14. eggs today./ Well, I sewed on Elbert's new shirt I had cut out & it's such a job to try to sew, I have to get up & do this & that & the other thing & forget what I was doing last at the sewing I got it sewed together ready for the sleeves, color & pockets & then put it away, had a light lunch & wrote a card to Audrey & one to Mrs. Vaupel & took a wash & dressed & we started out for church there were 5 young men there that had come from California, they have traveled all over this side the world preaching the gospel singing & playing Hyms & helping to save souls for Jesus. they all preach & sing one plays the piano, one a trombone, one an accordin piano. I forget what the other two instruments were & they all took part in talking & tstifying, one was save at the age of 10. yrs. & the head man, their preacher & leader said, they were fine young men & that they had never had a spat or quarel in all the time they had traveled together & he was proud of them as fellow workers & after tonight they were seperating for a vacation each going to there home town & State, Virginie, Texas, Oragon California & Ohio. They had been to some big camp meetings & churches & small ones all over the world & they were happy because they were going home & have a rest, May God bless them, We had a church full of people from Wooster Ohio, Amherst Elyria Lorain & a few other small places & took up a collection, just for the boys, I believe they were all in there twentys yet, just clean young men, full of the Spirit & love of God. Some went to the alter I didn't know who they were. It had rained in heavy down pours all afternoon & eased it at 7-30-p-m. just as we were starting from home & other came through the heavy rain, but , it cleared up & was nice, but cool.
Thurs. Aug. 12. 1948./ page. 2192./ 18. eggs today./ Today I made soup & then I finished all the stitching on Elbert's new shirt, I bought the goods, a very fine blue & white check, it's pretty & a good price, I got one other piece it is a blue & white striped piece & fine goods. I'll try to put the button & button holes in & on it tomorrow. Elbert's been cutting brush & weeds & his knees & joints have been paining him terrible, he went in-to church with me last night & enjoyed the meeting. I baked 2 big tins of bread biscuits & on big tin of rusk biscuits, "sweet biscuits with raisins in" I have had a burden on my heart for one Orson Wells who ever he may be I pray God will have his way & take care of this soul in His own way, Amen. I thank & praise Him for all things great & small things in Jesus Name & Pray He will help me to do His will & to be worthy of His Love & care. Amen. It's rained hard again today wind went alway a-round it's quite cool out again tonight.
Fri. Aug. 13. 1948./ 14. eggs today./ Elbert is going with the eggs to-day & I pray he wont spend all the money. I do want to get some pullets yet. Well he spent all the money he got a small ham 4.93. & a lb of bird seed 70 cents a.00 worth of gas a cabbage head 16 cents sanwitch spread 43 cents- total 7.22, & he took in 7.05 on 10 doz. eggs, he got 73 cents per. doz. & 68 cents per doz. in Vermilion on the Lake. I finished Elberts shirt today & my other dutys about the house, I was out in the yard, to, twice today, it's so cold nights & we get a heavy White due to cold for things to grow & do well. I thank God for all the many blessings he give us & pray He will direct my course. Keep me covered with the shed blood of Christ & reveal unto me. I Praise Him all the Glory truly belongs to Him forever & ever
Sat. Aug. 14. 1948./ 19. eggs today./ Well, I slept late & I really slept. Elbert set in the big chair for awhile, then went out & cut weeds on the N. east corner of the front yard they were tall & big stalks shoulder high looks better with them cut, he's cut a lot of weeds & brush in the back, to, I wish I could help him it's going to be a big job to clean up the place again & his legs & joints pain him such a lot, he's done a lot of odds & ends
Sat. Aug. 14. 1948./ page. 2193./ 19. eggs this day./ so he's terribly tired tonight & even though I haven't done such a lot I'm just as tired as though I'd worked, I made a cake 2 layer lemon fill, I fried meat balls made of ham, egg, milk, bread & seasoning, for our lunch tomorrow noon, I'm not going to another gathering on Sun. if they can't meet on a week day, I'll not go they are determined to try to force me to join in on Sun. & I hate to be at such a place on Sun. & I've been hating myself for saying I'd go & I hope we can get away early We get there at 1-30 & hope to get away at least at 3-30 I'd rather take a whipping or go with out eating all day or come home alone & let Elbert go by himself, most anything, beside going down there & sitting around & listening to all the noise & chatter & maybe gossip. I pray the Good Lord will stay close to me every second of the time & keep me safe & help me to be of service to Him in some way so the time wont be spent in veine I have been on my feet most of the day & all this blessed summer I haven't been out doors to enjoy the fresh air & sunshine like as. I would like to have done I long to be out side but it takes me so long to do what has to be done inside that I don't get out. I like to work, but I just love to be able to get out side & not have to think of washing ironing, baking, scrubing, sewing & darning for just a little while, but Jesus is coming soon & then I'll be well & happy with not a worry or sigh We'll sing a new song and with a new tune, our joys will multiply as to Him we fly. Glory to God in the Highest Praises to our Heavenly Father to His Son and our Blessed Lord & King & the Holy Ghost forever and ever Amen. Now I've got the beans cooked & birds covered & my teeth cleaned, my 2. wash rags wet & my writting & reading done, Praise the Lord. I get up in the Morning & take my bath & pack our lunch & go to Sunday school & church & to see all the relatives at 1-30-p-m. God Will. I pray He will help me all the way.
Sun. Aug. 15. 1948./ page. 2194./ 17. eggs today./ Well it's been a beautiful day with a cool N. W. wind & we went to Sun. school & Church & then on to Lake Veiw Court park where we met all the rest & they all had lunches & ate in family groups at on long table There was Elbert & I. Frank Bonney & Ruby & there 3 children with wifes & their children 8 grand children & Audrey & her daughter & husband & 5 children Nellie & her 4. children a daughter-in-law & son-in-law & 5. grand children The there was Cousin Wyn Grant her daughter & son in law & grand daughter, Cousin Georgia & her husband Edd Rosecranes & Cousin Pearl, Lillie & Tessie Wheeler & there sister Elsie her husband Henry Trout & their daughter & her boy friend & Cousin Edith & her husband Carl Wagner & their youngest daughter & their oldest daughter's baby (the eldest daughter & her man had gone a-way for the day.) & Carl's & Edith's boy. Then Easel & her man & either Clives mother or Clara's mother & Ethel Bonney Hendrickson We sit around & talked to this one & that untill most 5 o'clock then most every one started for home again, the parks were crowded with people old , middle age, & young ones from baby's up Evelyn's girl fell & hurt her ankle it was badly swollen & a number of others fell & hurt themselves. We said good by's & parted, the car traffic was terrible, one long line & hard to get in & hard to get out we got here 10 to 6-p-m. I changed my dress & got supper while Elbert let the hens out for a hour & picked up the eggs & took care of them then we ate & I picked a few flowers for church then dressed for Church we shut up the house & locked it & the outer buildings again & got in line once more & out at Vermilion went to church had a wonderful good sermon on faith & prayers service after Church they laid hands on me & prayed for me & God sent His Holy Power through & through me Glory Glory to God I Praise Father, Son & Holy Ghost forever & ever Amen. We got back in line & safly home again Praise the Lord.
Mon. Aug. 16. 1948./ 17. eggs today./ Today is Georgia Rosecranes birthday she is 63. yrs. old today. I haven't been any good all day, tried not to work, I haven't done much took, care of beds, rooms & birds & cooked dinner & supper Elbert went to Huron & got a good big mess of fish all perch I helped him dress them he scraped them out inside I cooked some for dinner & then, we went out & finished the rest I salted & packed them they were small but so good. Frank & Armond came chuck hunting & we gave them
Mon. Aug. 16. 1948./ page 2195./ 17. eggs today./ each a mess Armond took 6 & F. took 12. & we have enough for dinner tomorrow. I aired my good dress & night gown & washed out two hand towels a wash rag & my handkercheif. I thank God & Praise Him in Jesus Holy Name for my healings & for saving my sould, Glory to God, Hallelujah, Amen.
Tue. Aug. 17. 1948./ 17. eggs today/ So, today I did all but Elbert's washing, & I thank Thee Jesus for the sunshine & breeze & drying my clothes, I was to tired to do any more, Elbert went to the fish house & got another nice mess of perch he dress them & scraped them ready to cook, I fried all we could eat for supper & have enough left for 4 more meals, I do hope they wont any of them spoil, they taste so sweet & good, I salted & packed them. No Mail today, Elbert got a letter & I got a chicken book yesterday. I have to do Elbert's clothes & his blankets if it nice in the morning. & then iron & sew a little if I can, this week, & write a few letters. I thank & Praise God in Jesus Name for saving my soul & for the many healing He has given me & the strength He gives me from day today. I rained a shower late tonight wind went from N.E. round to S.west tonight.
Wed. Aug. 18. 1948./ 14. egg today./ Received another letter from Sister Audrey with 5.00 in it; that's 95.00 I believe she has sent to us. I have written her a letter & thanked her, but ask her not to send any more, she will need it by & by, I hope I can give it all back with interest, it's so very kind of her to help us, none of the rest think of it & we do need considerable more than we have, but Audrey has had to go through a lot of hardships & I don't want her to feel she's got to help us, she says I helped her now she'll help me, well, that's a nice way to feel perhaps, but I don't want her to feel indebted to me, I did for her what a sister should do and I've never felt she owed me anything & I still don't, she has Martha & her family to look after that's enough, be-sides her own expenses, that's are plenty these days. I have only done what I had to do today. I'm not feeling so good, hope to feel better tomorrow. Elbert's done odds & ends. It rained in showers all night & morniong, he caught the water & filled barrel, tub & buckets. Cleared up a little this after noon, was paretly cloudy, no rain, thundered & lightened alaround us tonight again. I thank Jesus for all our Many blessing & Praise His Holy Name.
Thurs. Aug. 19. 1948./ page. 2196./ 14. eggs today./ Well I baked 3 tins of biscuits Frank & Armond & Frank's Page were here wood chuck hunting & I gave Armond one tin of biscuits & took half of a tin to the Minister & the balance to Miss. Clark she's been sick all week, there were only a very few there to church I took a lot of Chinese lantern flowers to the Church, but, they didn't fix them up, I hope they don't let them spoil for I picked some of the best there were & they are truly beautiful. I ironed my slip & skirt before going to -night & took a bath & Praised the Lord & I'm still thanking & praising Him for all our many blessing. I wrote a letter to the Welfare in Columbus & a card to the releif commission in Sandusky Ohio. I got a bill for gas tank today ($8.93)I owe them, I have not done much today only What I just had to do.
Fri. Aug. 20. 1948./ 14. eggs today./ Elbert went to Lorain with 9. doz. eggs he sold 7. doz. there for 75 cents per. doz. then he sold 2 doz. at Vermilion on the lake for 70 cents per. doz. and in Vermilion he bought 100 lb. bag of grain for $5.15 & he got 1.00 worth of gas for his car & got 3. lemons, for 10 cents, he got some hamberg 45 cents & can milk 18 cents he had 25 cents left from his check. While he was gone, I did out what dirty clothes there was, 4. lines full. & I aired Elbert's bedding & turned mattress & made up both beds & got supper he & I got the dinner together I never Know just what time he'll get back. Was mostly Cloudy all morning but sun came through now & again & stayed out all after-noon & the clothes all dried. I washed the big chair cover & the birds covers 3. pieces, that was extra & I thank God He help me get it all done, I'm to tired but Praise the Lord for all He's done in so many ways, for me. I've been badly bent & broken but He has always seen me safly through Praises to His Holy Name. All day I've been singing that song This world is not my home I'm only passing through. I pray He will find me worthy all though I know, now, I never did work hard enough for Him, I wish He would help me to know what I ought to be doing & help me do it, in Jesus Dear name I do. I love the Lord all the Glory belongs to Him truly. I had Elbert mail the letter to Audrey & Welfare & Releif, last night
Sat. Aug. 21. 1948./ Page. 2197./ 18. eggs today./ Well all I did was the usual round & then I scaled 60 or more perch & Elbert scaled some & dressed all of them out inside & cut the heads off & he scraped most of them I did perhaps 30 then I fried 10 & put in a bag with wax paper to take to Miss. Clark & I fried 2 platers full for us we ate most of the first ones & I had a plater full left they don't keep good with out ice, it's so hot days, & to cool nights, it was 85. degrees here in the Kitchen, when I was frying fish, I got washed & dressed while tending the fish & we ate & went to Audrey's first & left her a doz. or so Gertie came out & we had a nice little visit & then we went to Nellie's, they were all dressed to go to Baldwin's, Mrs. Baldwin had invited them for the evening & she came for them & we were still there visiting. Ella Jane had just got home, from Audrey's. Bonnita said her husband George Eddie was staying with his folks, he had been there a week & had been to see her & the children 2. or 3. times. Little Geo. had gone home with Johny & Marcie & every one was so tired, they were all cross, that is, Nellie Bonita & Ella Jane. I never could see the sence in being craby, just because I was tired, but I've seen a lot of folks that was like that. I swept all 3. rooms today & cleaned the bird cages. & Now I Praise God from the depth of my soul for taking us & bringing back safe. Elbert's going back to Audreys Wed. he hopes to fix her window the sash cords are both broken & today she most broke on hand trying to get the window up & it fell on hr hand unexpected, it was swollen & red. & I had been wondering all week about Ella Janes eye, she was trying to hook up Nellie's corset for her & her hand slipped & her thumb or finger struck her eye ball & the nail all most cut it so she had it bandaged up all week untill today. Only mail was light card 80 cents. Well I'm sure tired, but Praise God for all our many blessing in Jesus Name. Glory Glory to God I thank The Jesus Blessed Jesus, & I pray for each soul of His.
Sun. Aug. 22. 1948. / 16. eggs today./ Well, we got up & went to Sun. school & church, I felt so bad I argued with myself for awhile before I got up seemed as if I just couldn't get up. took a little more cold yesterday while hanging out the washings, but I washed or took a bath & got dressed & cut some flowers & went. We were a little late
Sun. Aug. 22. 1948./ Page. 2198./ 16 eggs this day./ & we found out in the evening that the clock was 15. minutes slow. Well Sister Scharein wasn't feeling very well & she forgot to put water in one vase & so the flowers were badly wilted, I took a few more this evening & Mrs. West took p0art of them home, a big bunch of flox & a nice bunch of dahlias. There wasn't many to church today MIss Clark has got to move, she's stored her things in Mrs. Fredricks wood shed & she's going to go gading about for awhile visiting, so she told Elbert, the first of Sept. she has to be all moved out. Elbert gave here the jar (a square qt.) that I had half full of chicken broth & some breast meat & thigh & 2. biscuits. she went acrossed the street to Mrs. Fredrick's Elbert takes her home some times. This morning our lesson was about Dorcus the Widow who made coats & clothes for the poor, she died & "they all mourned" Well Miss Clark is our sun. school teacher & in talking & explaining she pointed to me & said, here is another Dorcus, she never tells anyone all the many good things she does, but, she does lots of good things, yesterday she brought me a package of hot fried fish, just in time for supper & I ate my fill, I can't tell you, how good they were & she's done much more than that, I just felt terrible to be so praised for such simple little deed I had done out of love & compassion, she getting along in age & don't have any more than I do, and my heart achs often for the many that I know that needs help, love & friendship, but at evening service she accused me of being angry at her for telling on me & I said, no I wasn't, but I felt humilated to be praised in public for doing her so small a favor, then I told her about the package in the car for her & that I put a note in it & she said, so you wrote me a note about what I said this morning, I said no. but she acted, so queer. I had wrote a note to tell her the biscuits were not as good as usual for I run out of shortening, I laughed inside me & wondered what she'd think when she read the note.
Mon. Aug. 23. 1948./ only 10 eggs today./ Well, I had them pray for me last night & although I'm weak, I'm also better, that is the cold & I'll feel lots better by tomorrow Praise the Lord it just wonderful how He can reach down & heal us. I can never thank Him enough for saving my soul & taking care of, me, all the Glory belongeth to Him Praise His Holy Name.
Mon. Aug. 23. 1948./ page 2199. / 10. eggs this day./ I love Jesus He all the world to me, I love Him more than any thing on earth Glory to God in the Highest, Jesus, my Blessed Jesus. I recieved a card from
Mrs. Sprunk from 1330 Carroll Ave. Los. Angeles 26, California. She wrote Dear Friend, Aug. 18.th. 1948. I findly got some U.S. cards so will send you one to let you know I am thinking of you. I am getting a good rest and injoying myself I had a wonderful trip. We saw so many different sights, the mountians was beautiful coming over them, the first one we went over was 9000 & 800 feet high, the last one was 11000 & 900 feet high, it didn't bother me any, I seen the Pikes Peek mountian, We drove around it, they was so many beautiful things to see & when I got there I was seen out ho, ho. Love to both. Sister Sprunk.
May God bless her & help her to help her children back to Him, through Him, in Jesus Name. Elbert went to Huron & got a big mess of fish, he had 4. pike & 2. carp. he gave the carp & several perch all cleaned & ready to fry to Rue & Helen Sarr. & a good mess, cleaned & ready to fry to Snyders. Georgia told Elbert she was glad to get them & she was laughing & joking & said Joan was getting married at 9-p-m to-morrow night there at home & it was a private affair only the relatives would be there. Elbert said Bob & Georgie May were sitting at the table looking as if it was going to be a funeral instead of a marriage. I reckon they were thinking of how they will miss her, as they had Billy, when he married & left home & went over seas, in the U.S. Service, during the war. Such is life. Elbert went back to Dr. Leighouser this after noon & got several bones or vertebras put back into place & got his insurance paper filled out once more. I've only done my daily doz. But Praise God in Jesus Name He is mine & I am His. Glory, Glory Hallelujah, I Praise & thank Thee Jesus.
Tue. Aug. 24. 1948./ 16. eggs today./ Well, I felt bum when I got up, but I prayed & God blessed me with strength & I thank him & praise Him, for I did wash 2 cotton double blanket or 4 single one & one reversible heavy cotton & 2. single all wool blankets, Elbert carried the water & wrong them out for me & I did out the usual washing and I sure am so
Tue. Aug. 24. 1948./ page. 2200./ 16. eggs this day./ tired, it was 90 degrees in the house today. & so hot seemed as if I couldn't work, but blankets & clothes baked dry in just no time. I have read the word of God & Jesus & now I'm going takeing a bath & tumble in. Wind's been S. & little west alday. I recieved a crd from Mrs. Vougel today also.
Wed. Aug. 25. 1948./ 15 eggs today./ Elbert went to Lorain to Audrey's & fixed a window & door & the heat was to much for him, he had some trouble with a brake & had a tire fixed & got home round 4-30-p.m. & he felt so bad & so worried he forgot Ella Jane. he was going to call for her, so I got him a bite to eat & some hot drink & he took a bath & rested a while, he was so wet he looked as if he'd been dipped in Water. I baked 3 tins of bread biscuits & one of sweet rusk & we feed a young fellow 44. yrs. old he said, & was looking for work, but from his story, I wondered. I pray God will deal with that man & help him to do the right things, he didn't tell his name but said he was from Misourie, One of those smart guys, perhaps. I wanted Elbert to call Nellie & tell her why he hadn't called for Ella Jane, but because he was so sorry he had forgot he insisted on going after her tonight, I had a feeling she wouldn't come, but we went & he wasn't able or couldn't afford to spend the gas to go back & as the Lord had showed me, she wouldn't come back with us either said she was only going to come out with Uncle & go back on the buss in the evening and Nellie spoke up & said, you haven't got any place for her to sleep have you? Well Nellie & John use to come & bring all 4 youngsters & stay a week & the sleeping never worried them I cooked the meals & did all the work & we had good meals, all they wanted to eat. Nellie said Ella Jane needed to rest she'd been on the jump every since she'd been here but that she'd got to find a job & earn enough to get back to New Mexico. We didn't stay long Nelson had a sore throat & fever & had started to throw up & it took Bonnita & E.J. to wash out his bowels & they all seem on edge. so we came back home & Elbert said if he came back to Lorain
WEd. Aug. 25. 1948./ Page. 2201./ 15. eggs this day./ he'd call them up. Nellie hurt her back reaching up to fix a window or screen, & so she was feeling miserable. I pray God will help them all as He sees they need. I thank Him & praise Him for all our many blessings this day I love Jesus & Praise Him & Give Him all the Glory.
Thurs. Aug. 26. 1948./ 13. eggs today./ I washed & ironed & Elbert's head has been so bad, because of heat we went to prayermeeting tonight Mrs Hambly's mother said said, Mr. Hambly's mother died at 10-a-m. this morning & that she has to go to the old peoples home in the morning at 10-a-m. & her husband "Mrs. Hambly's father" is going to stay alone for a while, they haven't got beds enough for them both. Poor old soul I'm so sorry for her, she's getting (it seems) the worse end of the bargin The old man came into this country unlawfully Mrs. Hambly saids. but she talkes terribly about the old woman, because she's her step mother. Mr. Smith took her & Gracie Day home. Miss Clark went home a foot & we went there to give her the rolls or bread biscuits & sweet biscuit. I gave the preachers 3 or 4 bread biscuits & a couple sweet ones. We only had a very few out to meeting tonight. I do pray God will keep those of His covered with the blood & bless & strengthen each one in Jesus Holy Name. It's been a terrible hot day 98 in the kitchen, but, Praise God for a cool North breeze.
Fri. Aug. 27. 1948./ 11. eggs today./ Elbert went to Lorain & sold the eggs only 6 doz. 75 cents per. doz. $4.50 & he brought it home & shortly after dinner Mr. Glass. came in "he's on the Releif board" he ask me what I spend my money for & I told him, he made a list & then said he hated to ask me but the board thought I should come in so they to could talk to me & ask me all the questions he had ask & may be a few more, We had to go to be there at 7-p-m & we got there just as the clock struck 7., Mr. Glass came out to meet us & ask Elbert to come in & talk with us & he thanked them & went in with me, they said they hadn't any thing against me, only the felt, I ought not give a tenth into Church, that a tenth of what I had for one week ought to be enough & I suppose they will check on me & if I con-tinue to give a tenth, I may have to go hungry, for they have
Fri. Aug. 27. 1948./ page. 2202./ 11. eggs this day./ have figury up all they have given me in 15 yrs. 3.000 thousand dollars or there about they said & that I had given the church 300. hundred dollars. Oh God, of Love & Mercy, Please guide my every move & keep me safe, help me to sell cards & earn enoug to help myself, I'll give Thee all the praise & Glory. Oh God Thou Knowest my needs please help me, Amen. We got back to Huron just intime to catch the Dr. & see that we had the insurance papers filled out right & got home before dark, Praise God. I washed out a few pieces & dried them while Elbert was goine, I was glad he got home early it was so hot & he had tried to sell 2 dozen eggs he had left & was looking sick when he got here, & then we had to waiste 2 gal. gas 50 cents to go to Sandusky & back. I thank God for our blessing. Mr Glass said Elbert could have $50.00 per mo. if he'd apply for old age pension & that I could have that much if I were old enough, well, I feel old enough, God Knows. Well, I Praise God & hope I may have a little more & that I'll sooon be able to work & earn some. We owe Audrey $95.00 I hope I can give it all back with interest. I want to get the pullets so we can still have the eggs & the little extra from them for it means a lot.
Sat. Aug. 28. 1948./ 9. eggs today./ I washe a few pieces & it's so hot they bake dry. It wasn't quite so hot today as yesterday, it was 100 degrees here in the kitchen & we had the whole house open, I don't know what the tempture was out side, neither of us did any more than we had to. but it cooled off earlier tonight than last night. I wrote 3. post card one to Audrey one to Nellie & one to Mrs. Vaupel. I hope to get some letters ans. soon, also. Well I thank & Praise God for all our many blessings.
Sun. Aug. 29. 1948./ 15. eggs today. / We went to Sunday school & church this morning & again to church this evening. Well, they took Mrs. Hambly's mother to old peoples home & he is so lonesome they say it will be 3. weeks before he can go it's hard for them to be apart Our Preacher went over & offered to take him over to the home to see his wife & they said, they would take him & he didn't know if they did or not. Miss Clark is going away for a mo. & there won't be very
Sunday. Aug. 29. 1948./page. 2203./ 15. eggs this day./ many left in church. We had a hot day with cool North breeze all morning, but it died out in after noon & was so hot, there's a little breeze again tonight, & they said 150 people died from heat in Ohio today & the cattle & sheep & hogs were suffering & lots stock died & lots of chickens. I'm wondering about the corn crop, I do hope we can keep it.& that I can get my chickens soon. I thank God in Jesus Name for taking good care of us today & pray He will strengthen the faith of each one of His children & hear & ans. prayers, Jesus, Blessed Holy Jesus.
Mon. Aug. 30. 1948./ 11. eggs today./ Elbert mailed his insurance papers yesterday & we started on the new tank of gas yesterday./ Well, it was cloudy all day untill just before sunset the sun came out & was white as a cake of ice causing the sky & clouds to look all silvery bright. it's been cooler today, almost to cool in the shade & even tried to rain several times, but failed and we need rain badly. I haven't felt able to do anything to day, I picked the elderberys north of the house & a few Chinese lanterns for Winter bouquets they are beautiful this year, so big & pretty red. We spent our last dollar for a little piece of beef & a bottle of milk. We ground beef & made milk gravey with it, We boiled potatoes & had the meat gravy to eat on them, Frank & Armond came tonight & brough us a whole scant pk of tomatoes & a half doz. onions, they were quite good, I gave him some lanterns for Ruby, for a bouquet. Well, believe it or not I just got a renewal card from the Releif Commission this morning saying, I would receive 35.00 per. mo. for Sept. Oct. Nov. Dec. Jan. & Feb. Praise the Lord, Glory to God I'm so glad & I'm going to write a letter & thank them again. I recieved some sample cards some time ago to sell & a letter this morning & I must get busy & sell cards, it would help pay Audrey back her money besides help me get the chickens we want to get so much. I planed to go Fri. with Elbert & now he's trying to plan a way to go Wed. I'd like to go tomorrow. I pray & thank God in Jesus Holy Name for all our many blessings, Amen. Well its all starlight out side & cool to night it got quite cool before morning so I had to pull up the blanket
Tue. Aug. 30. 1948./2203 [repeated number]/ 16. eggs today 479 this mo/ Well I haven't done much today I hunted for the (Heatrola Junior Estate Chart 15.) I can't see what could have happened to that chart it has hung behind the towel rack every since I got the Heatrola in 1928. but we found the number on one of the parts today so now perhaps we can get the fire pot. Well some one stole most of the rags I tore out of my two old dress skirts Who would need anything like that now, it does anger a person, you can't have hardly anything, it's agervating. not so long ago some one took a whole carton of 12. qts. of fruit. Well, I fixed my corset & got a lunck of potatoes & string beans & gravey & tomatoes & for supper tomatoes string bean gravy & warmed up potatoes & hot tea & eggs. I've been so shaky all day I just felt as if I couldn't work. I wrote a card to the relief Commission one to Audrey & got my letter ready to send for the chickens. & I added up eggs for this mo. 479__ from 24/(23. now.) hens. It's been quite cool today Northeast breeze since yesterday & tonight it's quite cool & clear. I do thank God in Jesus Name for all we have for its only through Him.