[The Bonney household is stable but Audrey apparently brings her baby (Martha) over each day. Frank and wife Ruby live close by. Most of the family go to church during the week. The parents are gone much of the time helping the other children. Sunday is a day of rest and Elinor rigidly avoids working for all Sunday's throughout the diary. She describes chores "house work in general…its the same old story", including fixing a blue skirt, 2 gingham skirts and making four corset covers, scrubbing all surfaces, and doing laundry. The men have to pull the launches up out of the water for the Fall. There seem to be multiple docks along the river, one called "the old boat house dock" from which Elbert picks her up and brings her home. Pa seems involved in the house by giving Ma 5.00 for anniversary and "turn(ing) the tub for me." When spring comes he begins to establish the garden and clean up the property and occasionally help with the wash.
The debate about Elinor working outside the home continues, both parents wanting her to stay home and her mother encouraging more rest. Her sense of self seems to hang in the balance after failing at two jobs and frequently feeling too tired to work, "I must be getting lazy." She complains about having to put on a happy face through bad times and being less able to do it now. "This is the first time I've been strickly forbidden to work as hard or as much as I pleased, but, Oh. I've got to look like sunshine & be as pleasent as though the flesh & all were well I used to endure five years ago but thats a long time ago."
She again tries to get a job with a Miss Baumgart, planning to start in 5 days and then on the first day being too ill and securing Dr. Smith's verbal prescription to not go. It seems interesting that she doesn't have a suitcase, but always talks of "her box" that she lugs to and from workplaces. There is a continual schedule of fishing and hunting rabbit, ducks, and ground hogs. It is common practice for hunters to split up game with a land owner who allows hunting. Apparently there is also a practice of burns to marshes to increase the game yield but this fails if the foliage is green.
Fri.Nov.1.1912. Well I've been helping with the house work. Gertie feels so bad today she hasn't done anything. I ironed the last of the cloth to day.
[Sat. Nov. 2. 1912] Sat.2. swepted cooked & Helped do the work & scrubed the dining room & kitchen & Mrs UH phoned & said the work
[Sat. Nov. 2. 1912] Page 42 was to heavy for me so she thought I had better come get my things. Ha, ha, ha,ha.
[Sun. Nov. 3. 1912] Sun.3. I went over & pack my box. & Young Mr UH. & Mr D.C. took my box & I to the old boat house dock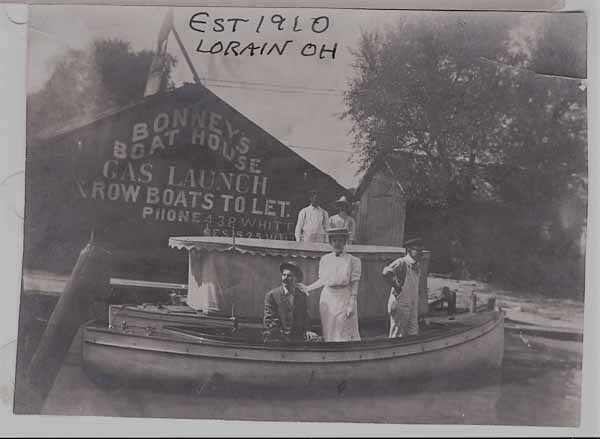 & Elbert was there, where I left him, waiting to take me home in the launch. ha,ha,ha.
[Mon. Nov. 4. 1912] Mon.4. I done the washing today, Ma & Elbert helped me finish & I dried most all the white clothes out doors.
[Tue. Nov. 5. 1912] Tue.5. Hung out the rest of cloth & ironed all the plain ones swept & helped with the house work
[Wed. Nov. 6. 1912] Wed.6. Ma & I both have dread-ful colds & sore throats I finished the ironing to day & helped with house work it has been raining most all day
[Thurs. Nov. 7. 1912] Thurs.7. Tried to sew I have four corset covers cut out ready
Martha Carlisle[Thurs. Nov. 7. 1912] Page 43 to sew but it seems as though I would never get them done, it has been raining most all day and Gertie has felt real bad she has to cough so hard & I have had most every thing to do ma feel so bad to.
[Fri. Nov. 8. 1912] Fri.8. Well I have finished one cover, done some mending & house work & I have felt so bad my self to day, it seemed as though I couldn't work ma & Gertie feel better
[Sat. Nov. 9. 1912] Sat.9. Well I don't know, but I feel so achy all over, I have not done much more than was necessary Ma wanted me to lay done but I guess I must be getting lazy. I have worked just as hard as I could all after noon but can't see as I feel any better to-night. I'm going to take a hot bath & go to bed
[Sun. Nov. 10. 1912] Page 44 Sun.10. Frank & Ruby & Audrey & Geo. were here today, so we didn't get our day of rest today & I didn't go to church.
[Mon. Nov. 11. 1912] Mon.11. Frank & Ruby were here all night last night & have been here all day so we couldn't wash today
[Tue. Nov. 12. 1912] Tue.12. I washed today &-Frank turned out part of the clothes so I finished before dark & dry the white clothes out doors & the colored ones in the house. Oh.dee.
[Wed. Nov. 13. 1912] Wed.13. I ironed plain clothes & sewed some & helped do house work.
[Fri. Nov. 15. 1912] Fri.15. Well today is the first day of rabbit season & the hunters are rovine about the field with guns, Frank & Fred each shot a duck & Frank 2 rabbit & Fred one. Ever so many different persons [??] have tried to fire the march but it seems to be to green to burn.
I finished the ironing & did some sewing today. Audrey comes home everyday & brings the baby.
[Sat. Nov. 16. 1912] Sat.16. I scrubed & helped with house work & finished all the stitching on my corset covers fix my blue skirt & my two gingham skirts & its 10-30 I am going to bed, to dead for words.
[Sun. Nov. 17. 1912] Sun.17. Helped do up the work took my bath & have been trying to do some writing.
[Mon. Nov. 18. 1912 Half Page ] Mon. Nov.18. I washed today & dried part of the clothes & am tired.
[Tue. Nov. 19. 1912] Tue.19. I ironed the plain clothes & helped with other house work
[Wed. Nov. 20. 1912] Wed.20. I went to town to call on Mis Baumgart & arange to work. & then to the Dr. office. Oh dee.
[Thurs. Nov. 21. 1912] Thurs.21. Well I finished the ironing today & did some sewing
[Fri. Nov. 22. 1912] Fri.22. Oh its the same old story today house work in general
[Sat. Nov. 23. 1912] Sat.22. I'm allmost stiff & I don't [page is cut in half and sentence not finished]
[Mon. Nov. 25. 1912] Mon.25 Well I was agoing to work for a Miss Boumgart today but have been ill & Dr. S. & Mother & father thought best I should not go so I had to phone & tell her so I've done house work that is light work all day. Mother would like to have me stay at home to help her anyway she said.
[Tue. Nov. 26. 1912] Tue.26. Oh it cold & ma baked bread
[Tue. Nov. 26. 1912] Page 46 I have swep & cleaned & cook & sewed & tomorrow is wash day
[Wed. Nov. 27. 1912] Wed. 27. Well pa turned the tub for me & I washed, We had a big wash & my back was stiff all night
[Thurs. Nov. 28. 1912] Thurs.28. the men all went hunting this morning & ma & I cook chicken for dinner it didn't get cooked for dinner so we ate it for supper.
[Fri. Nov. 29. 1912] Fri.29. I ironed & scrubed four floors & the men have been get-ting ready to pull out the Not-So-bad & we are all some tired.
[Sat. Nov. 30. 1912] Sat.30. Yesterday was ma's birthday She was 55 years old pa gave her five dollars & some of the children gave her little gifts. I washed the windows & sweep & dusted & dressed 9 lbs. of perch & helped cook dinner & serve Frank & Audrey & Geo & Aunt Nine & Uncle Jack & Lillie Faragar were here to dinner & spent the after noon here.