Elinor 1940 Diary starting in August
[It is not always clear in the diary where Elinor and Elbert's funds come from. But during this time (after her marriage) Elbert apparently is receiving a monthly check only if he goes to the Social Security office and reports his working history for the week. She has a relationship with the Soldiers and Sailors Organization and it seems like her monthly stipend comes by check from them directly to her. While Frank, her husband, is alive there is some mention of days when he went to work or not, but it is not clear if that meant work at selling or at one of the nearby shipyards, scrapyards, furnace factories, toy making factories, etc. , places where Elbert does day labor once he is living there. Although Elbert and Elinor keep separate funds (actually she keeps track more vigilantly than he does), it seems that during her marriage Elinor would not be earning money from anywhere. However, though there were no dowries then, one would have to acknowledge the huge amount of hard work that was contributed to Elinor's property by her own father and brothers. Heating at Hahn Rd is primarily by coal and they pay an average monthly cost spread out over the year (10-15/month) resulting in huge deliveries of coal semi-annually which has to be pitched down in the basement coal room.
Elinor and Elbert have bee hives but she rarely talks about tending them or getting honey. In August she purchased a new queen bee from A.J. Root in Medina and she adds it to the hive but in the process gets stung ("for the first time in 55 years"). Elbert and Elinor are selling eggs but mostly at random to people they see when in town or door to door at the small communities of cottages and beaches east and west of Ruggles beach at the end of Hahn Road. She manages the orchard trees and garden plants but especially her bulb flowers. It is also interesting to note that Elbert keeps his own garden but in some seasons he pitches in to get her bulbs planted, or dug up, or the roses trimmed, usually when Elinor is too weak or sickly to do it. She mentions his work in the diary but doesn't seem to take notice of the gift of his work sometimes. She also has a hobby with canaries (4 males, different numbers different times) and is considered somewhat of a canary expert. Laundry always seems to be her biggest chore and she washes both cotton and wool blankets frequently though it is hard to tell how many they have, she dreads having to include them. The coal dust probably dictates the laundry frequency more than any other factor.
The house is very small, basically just 3 rooms upstairs and a dank basement with an earth floor which they use to store produce and canned goods and coal. Sometimes family visit overnight (twin niece and nephew Jean & Jim Monogan are there 4 days in August) and they probably sleep with Elinor since her bed is a slightly larger single size. Elbert and Elinor's parents and brother Frank are living at the homestead on the Black River (760 Georgia Ave. Lorain) when Elinor first is married but then Frank Bonney moves into a house on "A" street, just down from the homestead on Georgia Ave. Her mother's brother, uncle William, lives across the street at the Georgia Ave Homestead. The family moves that are made by William and Harvey D are in done in parallel fashion from out of state Michigan, to Lorain Ohio on Harrison St., and finally to Georgia Ave. This must have taken much planning. Her brother Frank Bonney and her father seem to be more close than "Pa" is with the other children. Frank gets married and has a son Armond during this period. They move from Georgia Ave, to A street and finally to Lakeside Drive even closer to Lake Erie and the Black River mouth.
Elbert and Elinor live at 7513 Hahn Rd. Huron, Ohio, about 26 miles from her childhood homestead home. Nellie Bonney Harnish and John McKinley, her husband, have moved multiple times, built their entire family and live with Ella Jane, Bonita, Bonney, and Johnny ages 4-10, away from the homestead near the south shore of Lake Erie in Sheffield Lake on Stoughton Street. John works as a "journeyman" at a Furnace Company. They move from Georgia Ave. to Stoughton Street in Sheffield Lake, to Starkey Road in Elyria/Vincent and to West River Road in Elyria/Vincent Ohio by 1940. Family members visit back and forth randomly, often bringing the main dish for a meal. In spite of buying sweaters for "Nellie and the girls", Elinor complains that since her husband's death in 1947 at age 49, her younger sister Nellie and family "stayed away", which Elinor seems to equate with losing touch with their Christian life ("true aim of life") even though she admits that they are still leaders in the church and do attend with their children. The sisters live 25 miles apart, Nellie very near the Vincent Elementary School. Elinor was the caretaker for this whole family during the Spanish Flu in 1918 and she seems to continue to support and be involved after the Homestead nest empties. She buys gifts for her nieces and nephews, even when they have married, had children and moved out of state (for example, Frank's daughter Evelyn L. Bonney marries "Mc.Gintus" and has children and moves to McAllem Texas).
Her most important felt obligation though, is to Jesus. She views her life work to be testifying so others will "be saved", and praying often, even though she rarely feels able to go to church. By this time she has the first of multiple radios to listen to sermons (in lieu of going to church) and news.
Another source of friendship includes friends presumably from the homestead neighborhood(Hackmans, Guys, and Marinerss) who sometimes come to the Hahn road house to visit. Annabelle Mariner stays in touch with Elinor for many years though she is often described as being sickly. The Georgia Avenue community (includes Colorado, A Street, F Street, and Erie Streets) is made up of households wherein adults were born in Ohio, Michigan, Germany, and Scotland. The parents of those heads of households are from Ireland, New York, Germany, Wisconsin, Michigan, Scotland, immigrating in 1897-1903. A little farther away there are households immigrating from Hungary. as early as 1870. Most of the men work at the Shipyard.
Elbert and Elinor's closest neighbors just south of them on the same side of Hahn Road are the Snyders (sometimes spelled differently). The relationship with them seems tense, especially with their boys Bill and Bob when they are young adults. But in 1940 these boys apparently ran away (on bicycles) and ended up in Virginia and parents Bill and Georgia had to go pick them up by car. Years later the elder Snyder home on the west side of Hahn Rd. is owned by the Hauks who built the cherry cabinets for Johnny Malcolm Harnish' s 3 children out of the tree just outside the 7513 Hahn Rd. back door). There are friends who are so close they seem like family. They have a very close friendship with the elder Jim Gannet and family (from Cleveland). This friendship is maintained over 50 years and multiple generations and includes Johnny (Malcolm) Harnish and his children.
August 11-30, 1940 Diary Entries
Aug. 11 We have had a fire in heating stove to keep out the chil, it's so cold after being thogh severely cooked with the hot Sun. the grass is as brown as can be everything has suffered from the heat. Elbert had a bad Sun stroke Dr. said 2 degrees more would have killed him.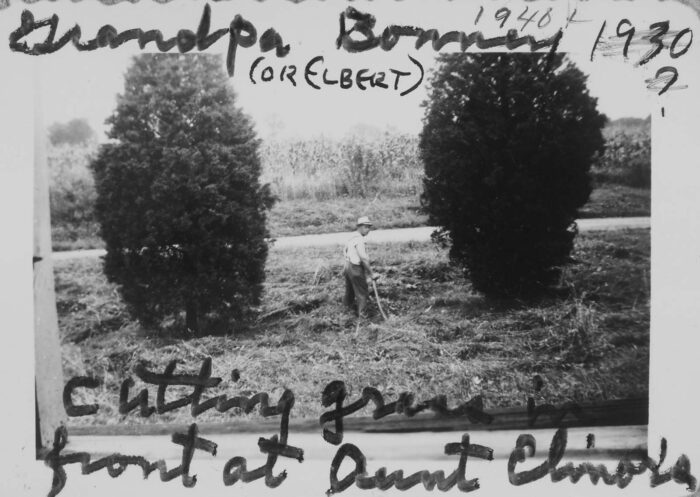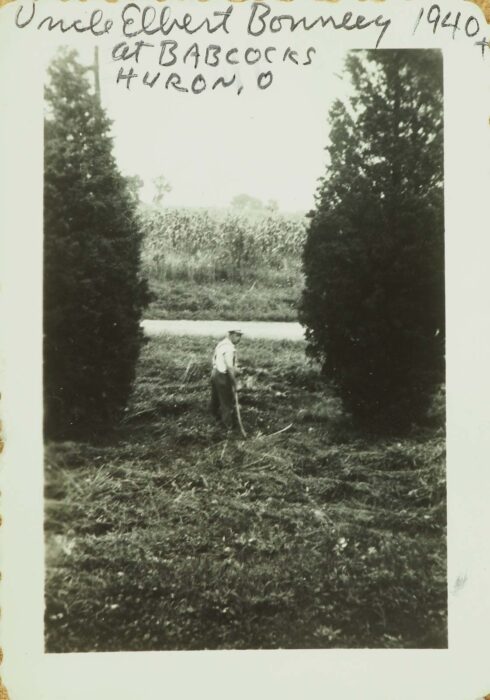 July 19th. he had a light attack the week before, now it's been Sept Weather since Aug 11.th he has not been able to work, he tried Thurs.22. & Fri. 23. but when he tried Mon, he had to give up, his head is still bad & he can't stoop and bend 7 climb a-round as he did before.
I bought a queen bee last week from A.J. Root, Medina, Ohio. she came Fri.23. Aug. & I put her in the hive and for the first time in my 55 yrs. one stung me behind right ear (we also moved the hive up in to the back yard.) I didn't blame him, I pinched him putting the supper on the hive. Sat.24. I bought Nellie's girls some sweaters 7. Received letter from Dudley White Mon.26th. The twins "Jim & Jean" were here last week, from Aug. 20. to 24th.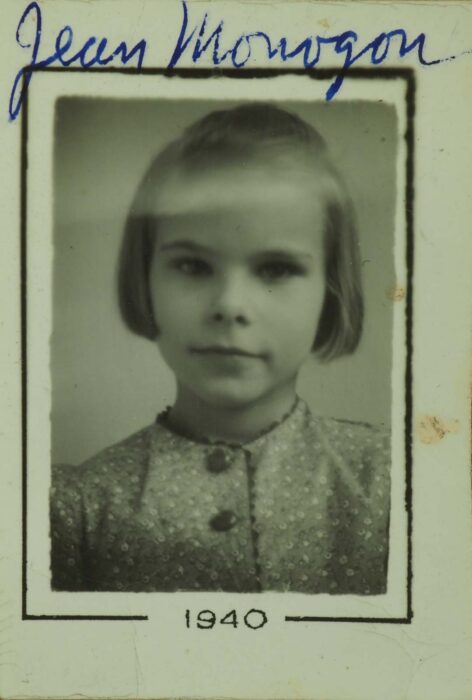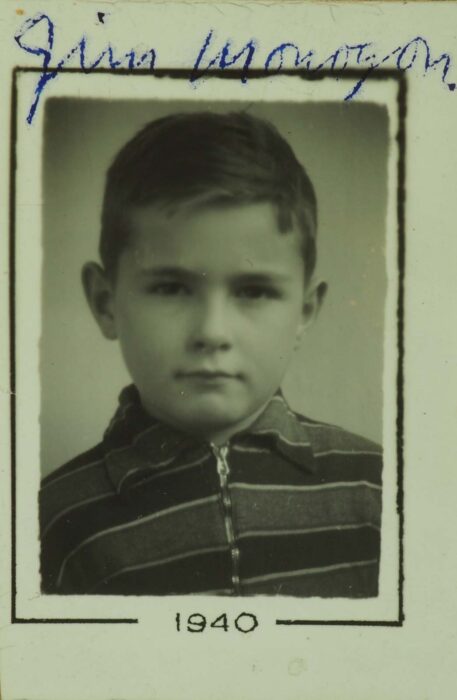 We took them home today Today we "Elbert & I" were going for a trip up to Nelson Syrs. went to Lorain with us. Tasmoses Park but I didn't go, he drove to Sandusky to get the boat, as they go from there; Well I wished I'd gone with Elbert. I sit here and waited untill 2.a.m. it was terrible foggy, but he got here safe, hungry and tired, and I thank God he's all right, and home safe & enjoyed his trip. Wed.28. We rested today. Thurs 29. We went to Lorain I bought Sweaters & [ ] Penny Store. We went over home last Sat 24. & saw Uncle Will & family few minutes. Henry & his girl & Ediths girl next to the oldest was there, she's 15 yrs. old. Fri.30. ironed. Sat. 31. I did a big washing Sun. Sept. 1 went to church. Audrey Martha Merlin & Jim & Jean & Joan were here afternoon & for supper.
Mon.Sept2. Labour day. Nellie & John & Ella Jane Bonney & Johny brought out a chicken dinner and ate it here they had Jim Garnet Gannet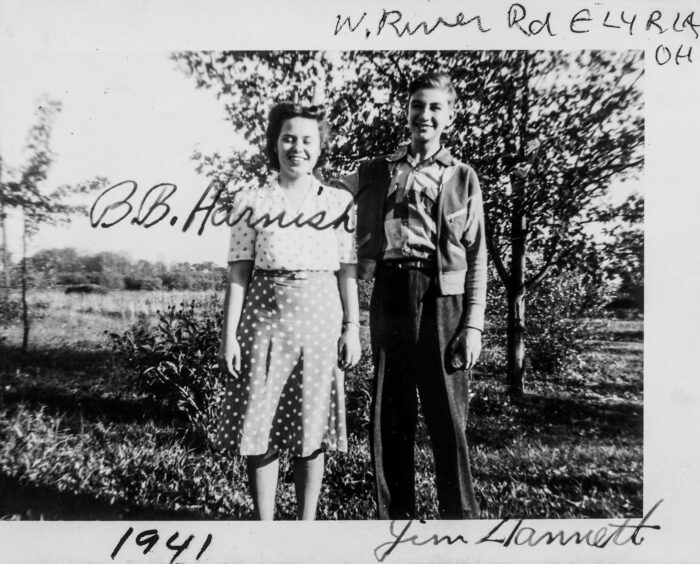 with them a boy about [ blank ] yrs. old from Cleveland where Bonney has been working, she has only this yr to go to school her last yr of high school she will be [ blank ] yrs. old [ blank] 1940. Bonnita her boy friend George Eddy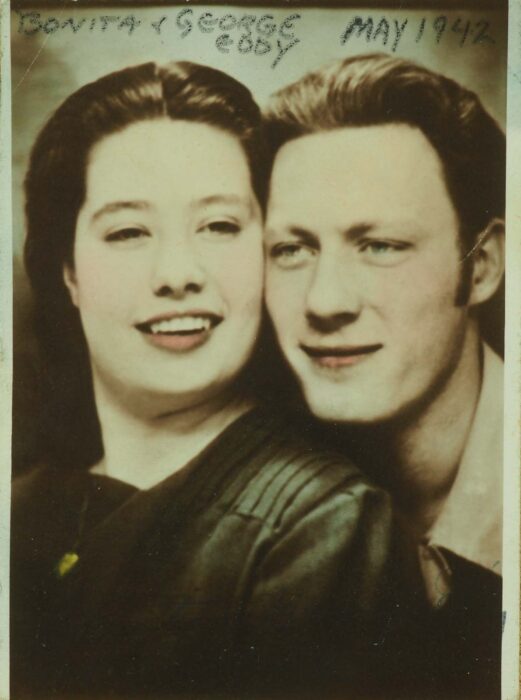 & another couple went out for a nice time [blank] today. John brought a freezer of cream Nellie brought cake so they had cream & cake & tea for lunch then went home. Since Frank's death they have stayed away for long pirods at a time, that they have drifted to the great broadway and have missed the true aim of life although they go to church and to Sunday school, and John & Nellie are leader in Church work and the children go to both yet it's more a fomrality. Nellie is and the children are, so changed.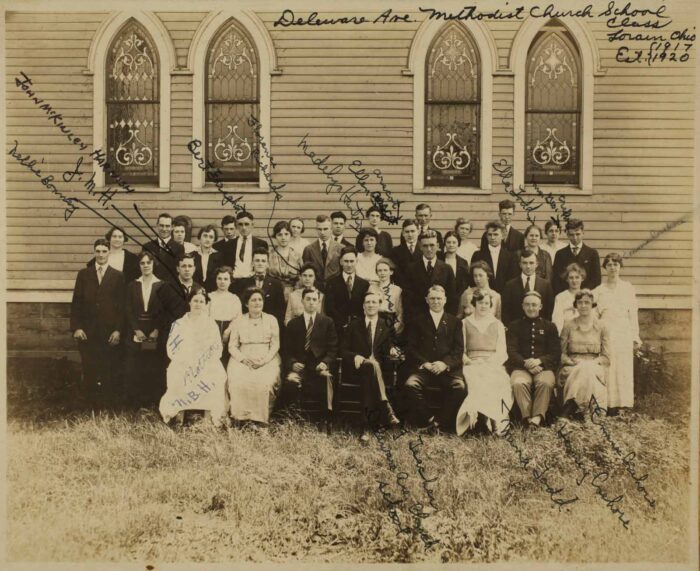 Tue.Sept.3.1940. Elbert and I washed 5 heavy blankets this morn and had just finished a fish dinner, When in drove Annabell Mariner,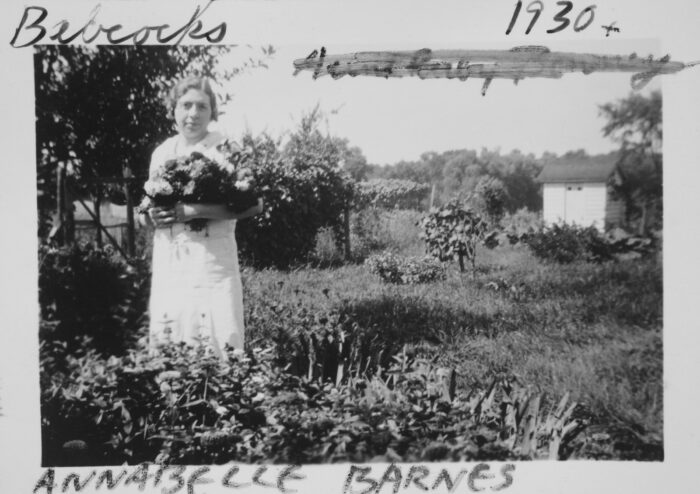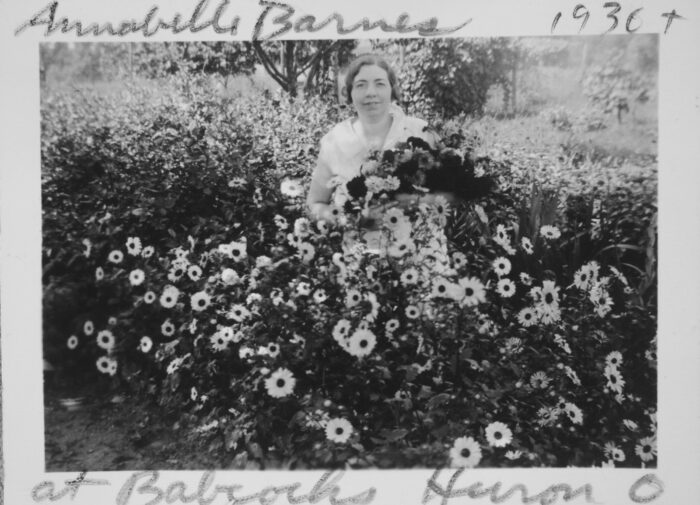 Barns Hackman, with her Husband Robert Hackman and a lady friend, Mrs. Guys. So we visited for an hour or so. Annabell has sold her home on Kenelworth Ave. to the Government, and bought two places just over the line in Virgina and Anna Mae lives in one beside her. Annabell doesn't look as well as when she was here four or five yrs. ago. she isn't very well. hope she writes me.
Wed.Sept.4.1940. couldn't do much today to tired
Thurs.Sept.5.1940. Elbert went to Lorain I washed all the clothes and one more old blanket. Elbert got here at 2.p.m. We ate dinner and rested rest of the day. Fri. To tired to do only the most necessary things. Billy & Bobby left home on their bycikles today last Sat. running away from home they were picked up in Virginie Bill & Georgia went for them in the car & brought
=3= them back tonight late. Why did they run away?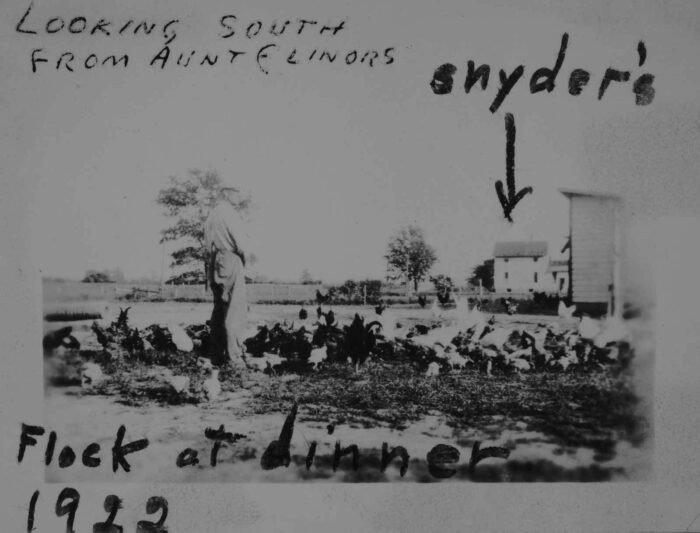 Sat.Sept.7.1940. Elbert washed his dress pants and the last blanket today they dried good. Pa was here a few minutes tonight (they) Frank Bonney his son Armond & Pa were hunting wood chucks. Elbert & I went to Huron this after noon to see and buy a little from the new 5 cents to 1.00 store Mrs Davis her Son & daughter have started
I bought a glass berry set an oil map a colar, 4 rubber baby pants & 1. rubby crib blanket, rubber things are for Evelyn Mc.Gintus Frank's eldest daughter, I sent her 4. crib blankets last week. [moved to Texas, John harnish visited them in McAllem Texas]
Sun.Sept.8.1940. We did not go to church & I'm so sorry I'd like to go to church where I could be one in there midst, we have listened to the sermons on the radio, and God Knows how much I'd like to go to some church of His & do what ever I can for Him. I Pray He will guide me to that Church. We have been alone all day. I'd like to go where I can testify for Jesus.
Mon.Sept.9.1940. Sun only shone through once in awhile today, mostly cloudy & cool but not cold quite cool evenings nights & mornings warming up toward noon wind South & south west just did my house work today & took care of my four male carnarys, I feel so tired today. John fixed or had my radio fixed and we listened to the news after supper tonight.
Tue.Sept.10.1940. I cleaned Elberts bed room this morn. thoruelly got to put up new curtians
=4= We went to Huron after dinner and paid $10.00 on the coal bill got $11.71 yet to pay We went to Berlin Hights talked to the preacher & his wife & Son. Dick Dudley. "Congergational Church." We drove on down through Jofsay bought 2 hens 4. m. melons. I paid 2.00 in Huron for blankets. Elbert & I both got our checks today.
Wed.Sept.11.1940. done my house work and mended my big braided rag rug.
Thurs.Sept.12.1940. Elbert & I went to Lorain We took a Mulberry tree to pa
then crossed the New 21.st. bridge.
where E. had to go to get to 20th St. then we had to go way out passed Nellies to see about a job only to find it had been done came back had Lunch with Nellie Bonnita
& Ella Jane stopped at Fairview – school gave Bonney her sweater Jacket which was bright red and white top & puff sleeves she looked so pretty in it and gave me such a nice smile and a big kiss. we then went to Amherst Hospital where Evelyn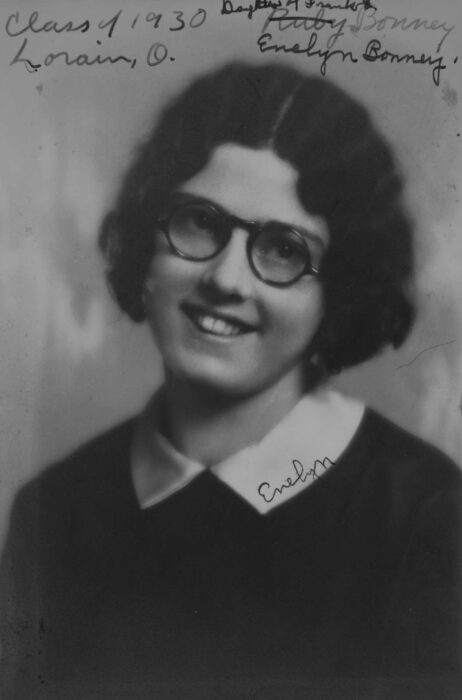 and her new baby boy that was born Wed. Sept 11.1940. where I gave her 4.prs. rubber pants a new rag and bunch of glads to brighten the room she & 3 others were in then we
=5= came home. Elbert bought a few grocerys & some fish in Vermilion for our supper We got home 5-30-p-m.
Fri.Sept.13. I did the washing today, it was a fine bright day, S.W. wind mostly S. wind. clothes dried fast 7 I thank God for that. and the strength He has given me. Pa hasn't felt so well this summer. Uncle Will is not so well, but able to get about. Aunt Edith Breckenridge will be 91. yrs. old this month, and is able to get around yet, she was down to Wyn's [Ethyl Wynn, Edith's daughter] for a couple of weeks this summer.
Sat.Sept.14.1940. Just did my house work and the ironing today. We had some rain of late. Mr. May Who has been using my land for garden this sum-mer was here today with the Mr. O'Neil & his daughter Catherine, thus far they have used most of the garden truck. We have had string beans twice beets twice & 1/2 doz cucumbers and 1 bu. squash. he has 15 rows of irish potatoes & several of sweet potatoes.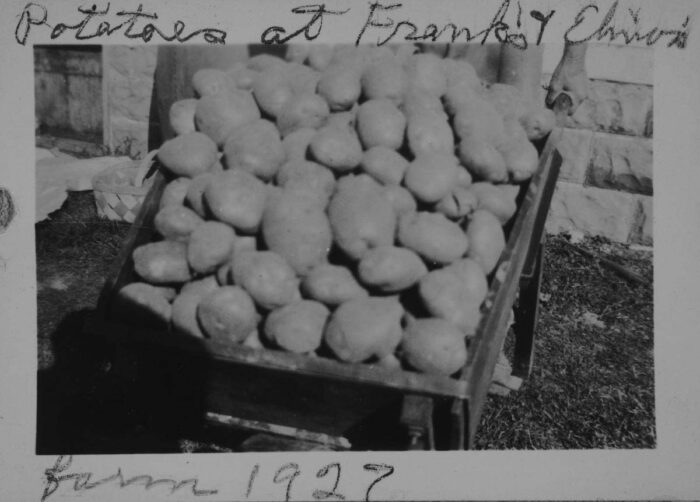 Sun.Sept.15.1940. I went to Medith [assume this is for Methodist] Sun. school & Church at Berlin Hights this morn & Elbert came in to church. It's been a beautiful day. I fixed seeds, bird & flower seeds & box for Jackie, am sending them to Mrs. Kendall. Morning Sun. Iowa. hope she likes them. cold enough for fire at night.
Mon.Sept.16. We went to Vermilion and I mailed the seeds and sent Jackie [one of her pet canaries] by express. We went to Lorain
and over to uncle Will's Elbert got Uncle Will to go back to town and give him an affidavit to the fact that he was born in Mich. on Dec. 6. 1882., so was I born in Cherry Grove township, Wexford County Michigan in the thick woods in a log cabin. Lillie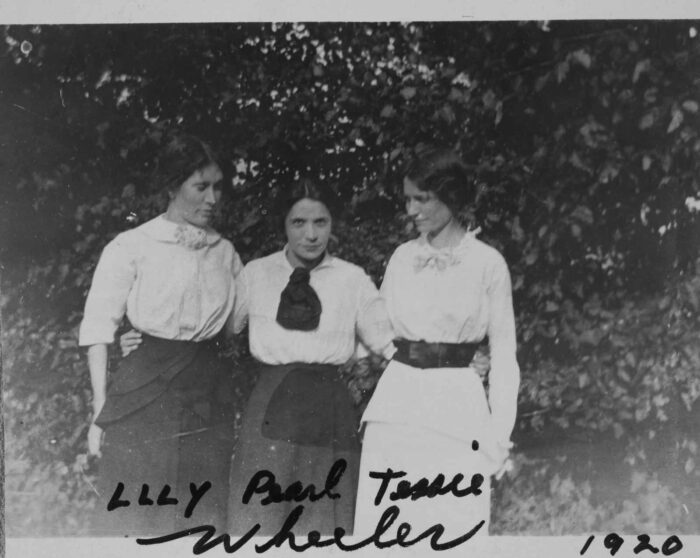 & Gertie were washing I went over and visited a little with Gertie & pa and when Elbert came back, we ate dinner with with them then we went to the social C. office. and they sent Elbert clear out to a place the other side of Nellie's & they had hired 2 men & got the work done, so we stopped & had lunch with Nellie, John Jr. Bonnita & Ella Jane then we stopped at Fairveiw high school so I could see if the brushed wool sweater I had bought would fit Bonney Bell, it did and the smile she gave me was worth the price of the sweater $2.04 that's including the tax of 6 cents. it is a bright red from bust to waist top pure white. Then we came home, beautiful day but I'm tired. I spent some time in Penneys Store, looking for things We need. [Note: She repeated this story about the red sweater on Sept 12 entry as well.]
Tue.17. of Sept. We worked about the yard today
Wed.Sept.18. 1940. We went to Huron I bought enough tennis [not sure what this is, some type of cloth] to make Elbert some pajames & me a night gown $2.31 tax and all. I feel so tired yet. Sept 19th is Fred's birthday. he is 54 yrs. old.
Thurs. Sept. 19.1940. Elbert went to Lorain & I washed today, then he I cut out his pajamas & sewed up the pants, so Elbert could have them to sleep in tonight.
Fri.Sept.20.1940. had to rest most all day am so tired received a card from Mrs. Kendall saying Jackie got there yesterday and was o.k. I'm glad he'll have a good home & someone to Love him.
Sat.Sept. 21.1940. I ironed & scrubbed the floor & did a doz. other things so to get to Sun. school on time then got cheated out of it, but got in for Church
Sun.22/=7= Mon.23. Beautiful day, We worked out in the yd. in morn. Nellie, Ella Jane & Miss Mc.Govern, came about 2-p-m. and visited about one hour. Miss. Mc.Govern is trying to get Ella Jane a good paying job. Elbert took up some trees and set out one apricot tree gave Nellie one apricot & one mulberry tree, she came just in time to take them home.
Tue.24. We work in the flower garden cleaning out weeds and grass, it has got into a bad fix these passed few yrs. but hope we get it in order again. it rained hard this after noon and turned so cold.
Wed.Sept.25.1940. rained in showers all night & the wind blew hard & it Looks showery this morn. I got up at 7-a-m. picked half bu. basket of dahlias, white center pink outer pink & white and maron & yellow centers and I took a can of elderberries & the flowers to Miss Mc.Govern & she talked over something she had been wanting to talk about for several months, she gave me a radio & glass of grape jelly Mon. when she was here. We went on to Elyria to the Hospital & gave them some Adams needle[Yucca plant]
6 or 8 plants & we stoped to Miss Baumgarts. Mrs. Cranage gave me a [ blank ] plant all in bloom. two weeks ago she gave me some St. John lillies
.Lorain is having a big cerabration tonight for there two new bridges, the new high level at 21st street & jack knife bridge at west end of East Erie Ave. and W. Erie Ave. it rained a hard shower while we ate our lunch of spiced ham & doughnuts at the end of Spruce Street We call on Ethel but she had gone Tue. & wouldn't be home till thurs. to some misionary meeting at [blank ] and Laura Ann was in school so we visited with Ethels mother & her friend Mrs. Schmitgins that was after we left the hospital. it got so cold that after Elbert got in Lorain & left me to visit with Miss Baumgart & he had gone over on
=8=the bridge and looked about he came back & said we'd catch cold standing around watching a boat parade & listening to out door speaches tonight so let us go home, so we came, the fire was still going in the heatarola so I shook it and put in another lump of coal the house was warm & felt good to get in the house We had supper listened to the war news, its terrible, horrible and getting worse We will soon be in the terrible termoils here, and it seems queer people don't believe it.
Thurs.Sept.26. Elbert went to Lorain today he has to go to the social security office every Thurs. to report if he isn't working, he saw pa & talked for some time with him, he talked to Ben Tomas, Lon Baumgart, & several others, sold 2 doz. eggs. 60 cents he left at 7-a-m & got home a 5-p-m, it's been a fine day but to cool to stand still. I picked a 1/2 bu. pears, peck of cucumbers & qt. of onions. picked onion seed & made several qts of cucumber pickles today.
Fri. Sept.27. I did the washing today & the bedding. & am tired as usual, nice day but cool breeze all day
Sat.Sept.27. I ironed mended, wiped up the floor and did the house work, went to Huron with Elbert & got our food for over Sun.
Sun.Sept.29. Went to Berlin Hights to Methodist Sun. school & church has been a beautiful day.
Mon.Sept.30.1940. Elbert went to Lorain, rode down with Mrs. Ellis. got a ride back to Vermilion & then got a ride from there home, got here at noon. nice day.