By 1940, Elinor has been a widow for 7 years, living in the house built by her husband Frank Babcock, her brother Elbert, and her father on Hahn Road, Berlin Twp., Huron, Ohio. There were multiple Hahn families listed nearby and on Hahn Road, which stretched from the lake south over Route 2 and then over railroad tracks south of Elinor's home, then finally to change into Darrow Road. Hahn families lived on Darrow as well, suggesting a huge acreage. There is also a 60 year old farm worker listed, a Mike Lath, born in Hungary. Edward and Alma Hahn lived age 30-40s with 3 children on Hahn Rd. Ten years earlier that house lists L.E. and Lucy in their 50s with a son/dgter in law/grandchild living with them.
The 1940 census suggests that Martin Brod (70) and Matilda B Brod (61) lived next door to the South but there are diary entries that seem to suggest they lived south of the railroad tracks. Elinor and Elbert (both in their 50s in 1940)got their raw milk from the Brods for a long time and it sounded as if they had cows, chickens, and ran a farm/dairy. The Brods were living with 2 children, Clayton T and Marion K in their 30s with grandchildren Rbt Clayton and David Richard ages 4 and 3.
Later a new family, the Hauks lived almost up on the railroad track to the south of Brods. In 1940 the Hahns lived there. They were 44 and 36 years old (Edward and Alma) with 3 children 7, 12, 14 Martha Jean, William S, and Lewis Ch., almost matched with the children in the Schneider family. The Hauks became friends with John Malcolm Harnish and family though at that later time there was no farm in between. Mr Hauk made cherry cabinets for all 3 of John Malcolm's children out of the tree out back from Elinor's house when it had to come down.]
Elinor's Diary (month of January) 1941 (gap in diary Feb-December 1941)
Jan.1.Wed.1941. [she is using the January days to predict weather later in the year] New Years Day Elbert & I were home all day,he does the chores when he is here my hip is partlys out of joint hurts me to walk more than I can tell today is for Aug. weather, nice sun un-till 2.p.m. warmed up & tried to rain, Wind N.E. sky full of wind -skuds and quite warm tonight. I thank God for our Blessings.
Jan.Thurs.2.1941./ Elbert went to work and I did the washing & house work & chores and hip hurts me so bad can't hardly walk or steop on right ft. Weather for Sept. / Wind went south & it rained like April showers with sun coming through at times, wind went West in middle of day.3.p.m. Wind N. West & got a little colder, so looks like quite a nice Sept. Elbert came limping in tonight his knee is hurti ng him began to hurt at 3.P.m.
Fri.an.3.1941./ Elbert gone to work. I could hardly get dressed my hip is so bad, but I have done the most ncessary things & the chores except the ashes and water he done those & his knee is so bad, he is limping bad tonight. Weather for Oct. South wind sun shines through at intervals all morning lots of dark clouds & wind clouds quite warm groun d hasn't frozen all winter only crust on topo once is now wet & soft even slushy sun shone all after noon from 3.p.m. untill sun down /White sun/ wind went west a 3.p.m. I dried some clothes out doors its been a nice day looks like wed have a mild Oct & it is moon light tonight. I am praying day & night God will put my hip joint back, I believe He will.
Sat.Jan.4.1941./ Well I only done the most necessary things & Elbert rested. Wed. night he went to Berlin hights for milk '3 bottles" called on the Minister to see how they were fixed for eats, his wife is sick & his folks taking care of them, and he call on Mrs. Hildebrandt. to let her know I wasn't fit to get out & I don't think I can go to church as it has turned colder & I cought cold & my hip0 & knee are to badly swollen, Knee went out of joint, but I prayed all night & both knee & hip went back into place they are sore. didn't do only meals today Sun. shone all day a little cloudy early this morn. cold sun & wind, west & sure cold windows all frosted this a.m. north west wind tonight & freezing. So looks like a cold Nov.
[Gap in diary 1941 through 1945. Photo diary and commentary continue.]
[In March 1943, Bonita Harnish Eddy (1921-1995) had twins, George and Bonita Mae on March 9 and March 8, 1943 with her husband (m. 5/20/41), George Henry Eddy Sr.(1922-1995)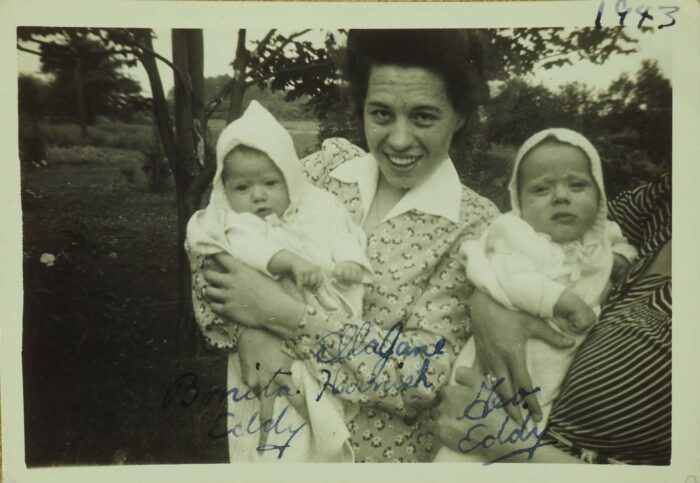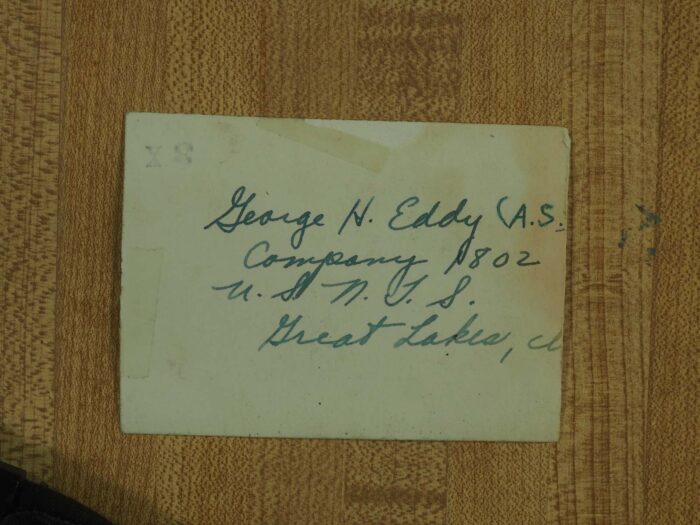 unknown friend/relation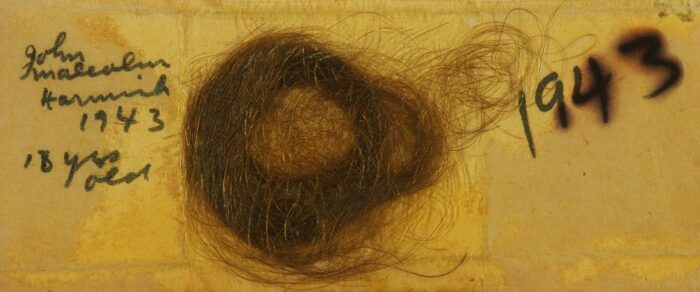 Another significant event for the family in 1943 was the death of Emma Iona Baker. Her funeral and burial was in Nashville Tennessee and much of the family gathered there on October 18 and they documented the event with group pictures.]
[Harvey Bonney, son of Frank and Ruby Bonney was born in 1914 and was enlisted in the military by 1943. There are two photos of him and one is (mis) labeled as his brother 10 years younger (Armond). ]
[1944 gap in diary entries but with photographic and commentary documentation.]
In 1944 multiple members of the Bonney/Harnish family either were already in the military (John McKinley Harnish (1896-1946)) or had just enlisted in 1943 (George Henry Eddy (1922-1995) and Harvey or Armond Bonney, or had enlisted in 1944 (Ella Jane (1919-1995) and Johnny Harnish (1925-2015)). The series of photos of Johnny and Ella Jane seem to initially come from where their barracks were and then later, still in uniform, in December 1944, at Elyria in the yard at home, including one with the pet dog Jiggs. Jiggs followed "Tarzan", a dog John Harnish talked about with his children.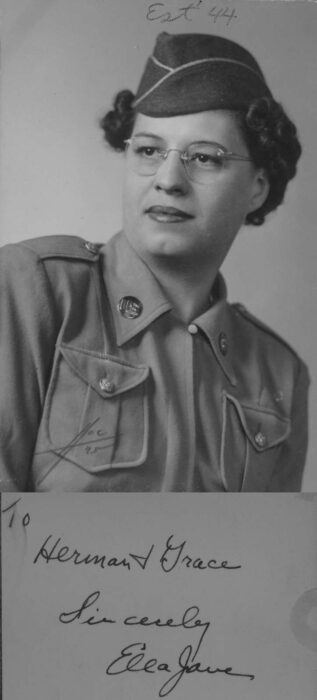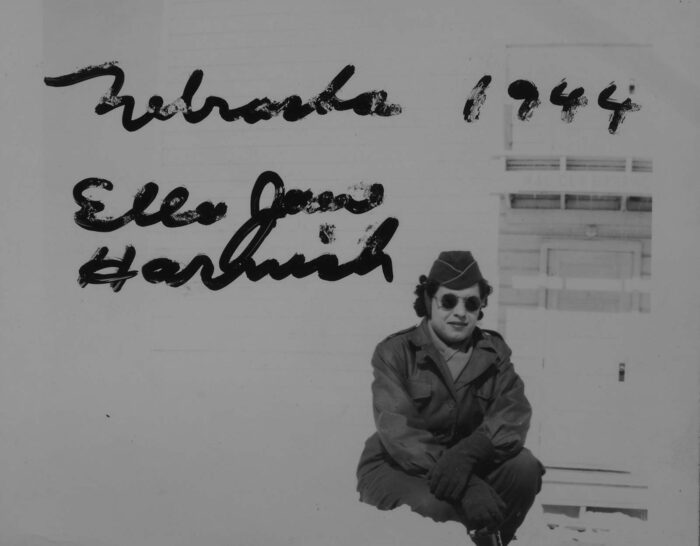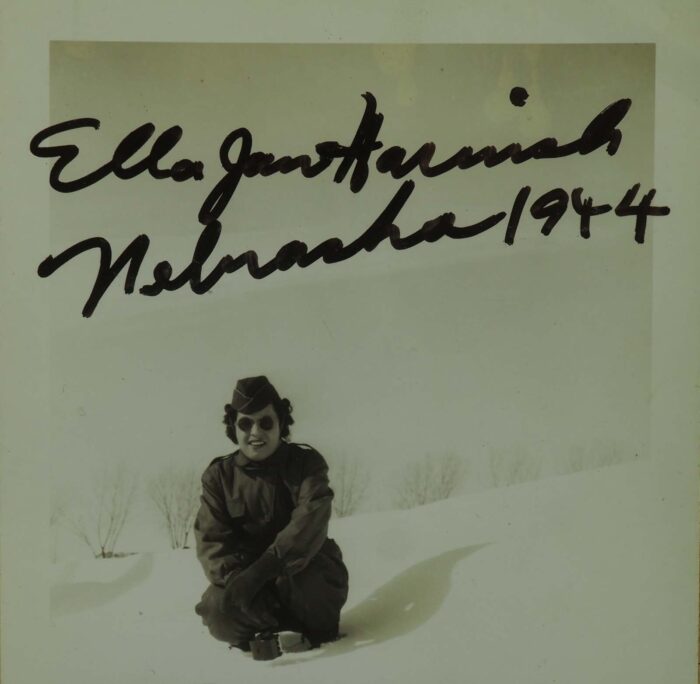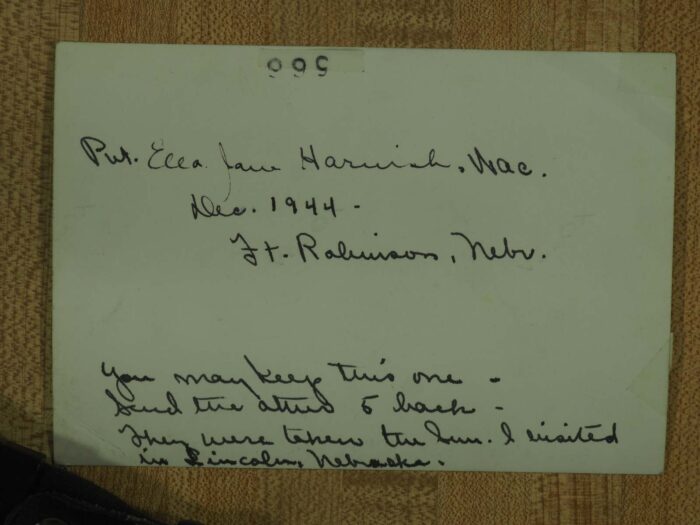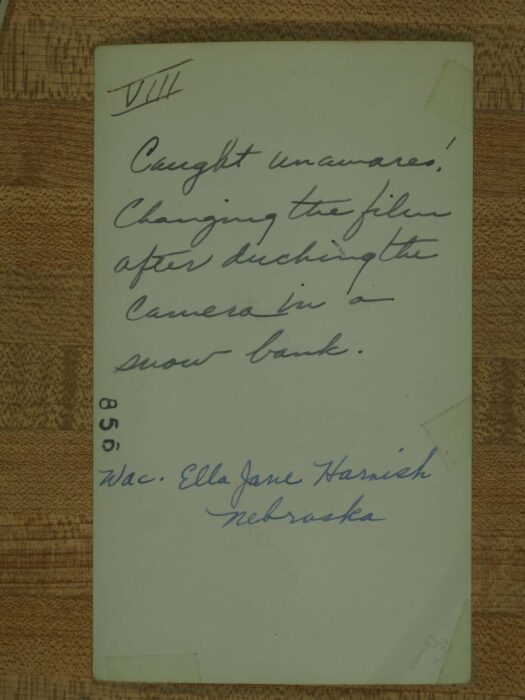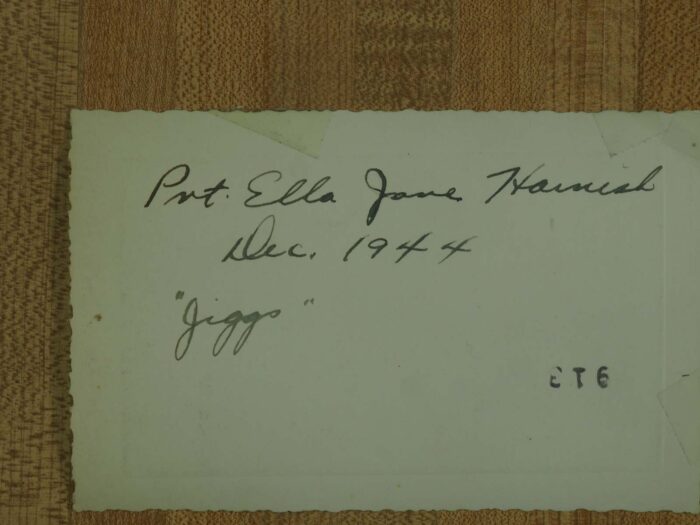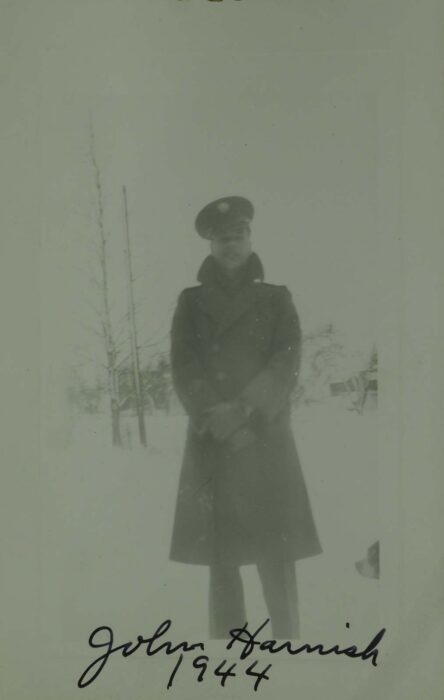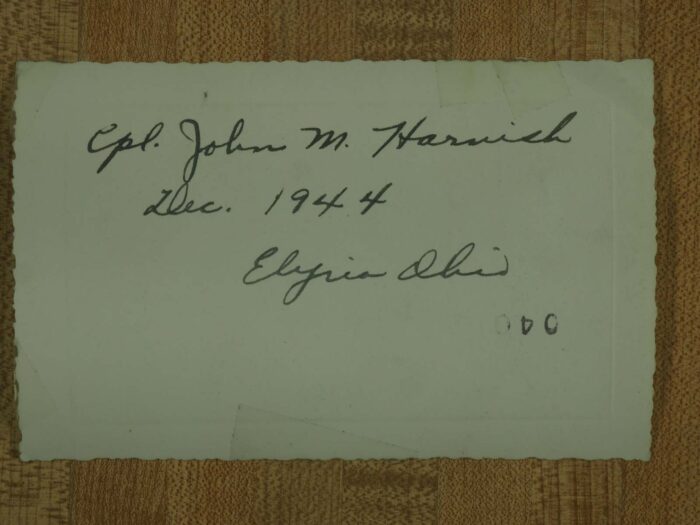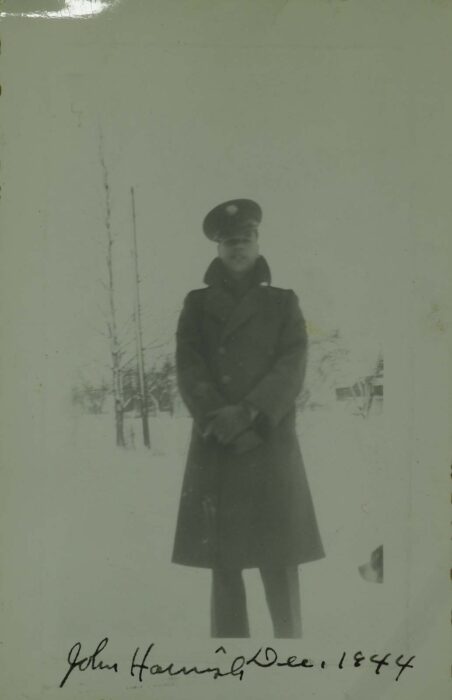 Ella Jane Harnish at Babcock's farm, getting water from the cystern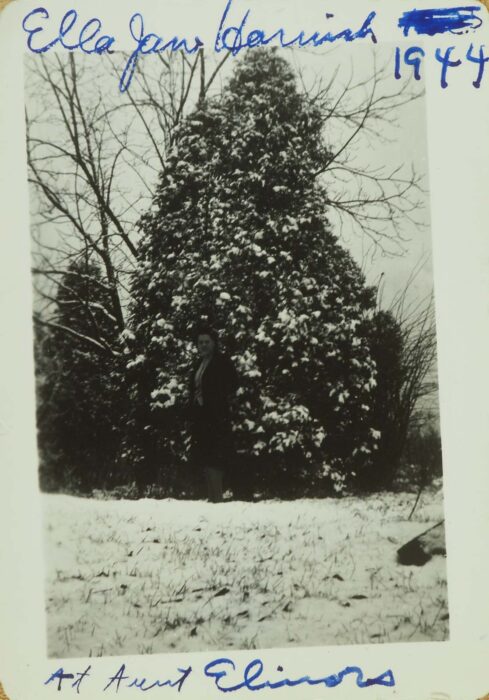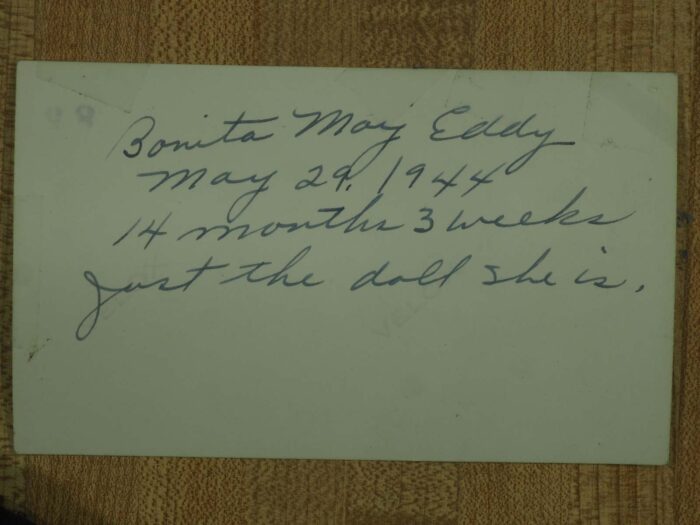 Within the family archives are letters among family members. Most are written by Nellie, Johnny, and Ella Jane. They mention Ella Jane and Elbert, but nothing about Elinor's marriage to Frank Babcock. Nellie is of course over 10 years older than Elinor. But most of the letters were probably saved by either Nellie or Johnny. They are included below because they give a flavor to the flow of family connections.
3/9/1944 John's mother had been married in 1918 and had 5 children (4 had lived). She lived first in Lorain Ward 1, on F. Street with John McKinley, John's brother Jimmie, and her daughter Ella Jane in 1920. They lived next to John McKinley's parents, Emma and William Cody Baker. She lived with her 4 children Ella Jane, Bonita, Bonney, and Johnny, on Stoughten Street in Sheffield Lake Lorain Ohio in 1930. By 1940 this same family moved to a rental on West River Road in Elyria Ohio, also known as Vincent Twnshp. John Jr was 14 years old. By 1950 the only people left on West River Road (note not sure if same address) were Nellie, her daughter Bonita and Bonita's 3 children, Nellie's grandchildren. John by that time, April 1950, is married and living with Marcella Gremore Harnish and his 1 year old daughter on Bay and Tate Road near Boston, Massachusetts in North Salem, New Hampshire, Suffolk County.
May 1944: typed letter from The First Christian Church, Arthur J. Stanley, Minister, to John's mother, Nellie Belle Bonney Harnish. The church was at Corner Seventh and Pennsylvania La Grande, Oregon: Dear Mr & Mrs Harnish: Last Sunday Chaplain R.C. Calvert gave the message at the morning worship service on "God's Great Need." It was a good message. Several of the aviation students were at the service since Chaplain Calvrt is assigned to the A.A.F.C.T.D. in La Grande and is here the first part of each month. Your son was among the group and we were happy to welcome him. We are glad to let you know about the service. We hope your son will soon be home again because we pray that this war may soon end. Sincerely Yours, Arthur J. Stanley
5-14-44 Mothers Day Greetings.Dear Mother & all. I was planning on calling home & to Jean today but there is a 3 or 4 hr. delay in Chicago. I'm in the USO. Oren and I went to church and were invited to dinner by the minister & his wife. We just came from there. There is a sub district rally there this afternoon so we will go back soon. A worker from Nashville arrives there for the rally. She ate dinner with us. Before we went to the parsonage I pointed out an attractive girl to Oren and she turned out to be the minister's daughter. I'll include the program in this note. Love to all, Johnny
7/26/44 Lookout Mountain, Tennessee. Dear Family. [typed form copied letter from Ella Jane signed "Took this trip Sun Afternoon] Ive finally found time to write. YOu will see from the map on inside pages a general view of the top of Lookout Mountain. Space does not permit mentioning every point of interest but only a few of the principle places, and the map does not show cross streets, public buildings and residenses. [4 pages of info about the location, pre-printed]
Friday Aug. 31, 1945. Dear Johnny: Your letters are so very gladly welcomed. Yes, Elinor & Elbert mailed our letters in Vermilion once lately. I am preparing a note to enclose with your picture to Elinor Andrews tonight. So glad you sent the address again. I will give Jeann one when she comes. She called up today & is back from her vacation She sent us & Bonita cards from Philadelphia. I really hope you get home before long. George
Eleanore Andrew & Friend
said in one letter this week that he may eat Thanksgiving dinner with us. In today's letter he said not to send any more packages and he thought she would understand. They have just been all repaired again. He is sendding home some of his things. Mrs. Gebara says Tony (3.) expects to come home. We just went in to listen to a broadcast about discharging the men in service and we also heard Johnathan Wainwright broadcasting from Tokyo. Of course you know how very much I wish you were here. First because of your father's condition and second because we would so like to have you home. I know you would do a lot around here to improve things. Our yard is in a terrible condition. We can look up and forward and hope and trust. I always pray that daddy will be given new strength to stay a while longer. He either does not realize or wont seem to, just how serious his condition is. We never talk about that. He really talks about going back to work. I just say, well you can just rest now for a while anyway. I really think the service men will be discharged as rapidly as possible. We are dreaming (4.) too of when you and George too will be home. Be it ever so humble there is no place like home with loved ones around us also. I think I better take care of these turkeys and have them ready to kill. It rained a little here today and we needed much more. We bought a load of water yesterday. Mrs. Hurlbut was buried today. Ella Jane went in uniform to the funeral at Vincent Church. Ida Conde is to be married Sept. 1. in Delaware Ave. Church. She is marrying an out of town men. Mr. & Mrs. Stoughton were here this evening. This after noon Rebecca & Reanette were here and Sunday School sent daddy a very beautiful bouquet from Sova the Florist Jiggs killed a big rat in the basement last night. Monday when Elinor & Elbert were here he put in a pane of glass in the basement window by the stepps I gave him money to get more for the other basement window. Rev. Krantz called on daddy this week. Last night at 3:35 this morn. I had to give daddy a stronger sedative so he could rest. He just couldn't get to sleep. Then I napped after that and this morning after the girls got up I really slept until noon. E.J. had dinner all prepared. That is something I really appreciate. I must try to get a nap before the girls go to bed. Hope this finds you and your family crew members O.K. Loads of love, Mother & all.
Sun. Sept. 2. 1945. Dear Johnny: It was two years ago – and the house siding came that day too. Maybe in two months more – we can all dream and wish and hope, can't we. You should see the gorgeous mixed bouquet the Sunday school sent daddy. I guess I mentioned it in my last letter. I am writing on my letter boxes on my lap, in the bed room. Daddy had the best nights sleep last night that he has had in a very long. This morning Jake Schmitt came about 9 and we were still sleeping. He had not been talkinig or speaking to daddy. Now he wanted him to do some plumbing. I really think he had a lot of nerve. About four this afteernoon Jim & Hazel came with Aunt Molly Baker and Horace. They didn't stay very long. Jim shaved daddy. Tonight Mrs. Knight and Betty Rowland came over and brought a dozen sweet corn. Mr. Stoughton brought corn yesterday. Sat. Elbert & Elinor came just as E.J. and I were about to board the bus out here to go to town. It was afternoon. So I waved the bus on after it stopped for us. Elinor came in and E.J. & I (we) and the twins went with Elbert. He sat in the car with Geo. & Bonita while E.J. & I did our shopping. Then we came back & had dinner. Elbert put 3 more panes in the east windows of the basement. I had given him money last time to buy them. There is still one east pane to be put in above the shelf. I suppose I told you of the big rat Jiggs killed in the basement. Maybe we will be able to repair sufficiently to keep them out. Tonight we heard a peace program on which the President spoke briefly. Last night we heard the uncondition surrender program about the S.S. Missouri in Tokyo Bay. It has turned very cool here. First the wind was hot and strong but it changed yesterday afternoon. It is grand to have Ella Jane's help and to just have her home. Time flies rapidly and soon you will be coming home. I hope daddy stays as good as he has been the last few days and gets better also. Love, Mother & all
Mon. Sept. 3, 1945. Dear Johnny: This is George's birthday. He is 23 years old. It has been a long full day here even though we all slept until ten this morning. That is; all, except little George who was upstairs in mischeif. His mother has slept up with Ella Jane for two nights. Marci phoned and came out on the eleven thirty bus. We had a roast beef dinner and musk melon for desert. Nicky came on his motorcycle, a new one, and was here in time for dinner too. Then after dinner Marci went back to work and got a ride with Mrs. Sprague and Elaine and her husband. Ella Jane got ready to go to Kent by bus and Micky left early for home so he could get dressed and take his car tto meet Ella Jane at Stow. She would have had to change buses there. Then Bonita and I rushed the dishes. (2.) I had to sew a patch on Ella Jane's left service dress sleeve and her discharge patch above the right pocket. She only has one discharge patch. That is all they issue except a lapel button that needs a button hole. She took hers to be made into a pin at McCervel's. Mr. Stoughton brought some home made ice cream to daddy. Bonita and I hurried up and had potato salad etc ready for supper when Gannetts brought Bonney Belle. Mrs. G. brought a pink romper suit for Nelson his first colored garment. He crawls on his tummy at a good rate too. After supper dishes were done Mr. G. and B.B. and our twins went to Johnson's for ice cream. Marci had received your telegram. We thought when B.B. was a student nurse that her mail was all read before she received it & M. says some of your letters are not sealed or only partially. When Nickey left George said "I hope he doesn't fall off that thing" & Pinky said "He is riding behind the wheel and if he falls off there won't be any more Nickey" Love, Mother & All.
Tues. Sept. 4, 1945. Dear Johnny: After Sunday and Labor day Monday, we surely thought to get some mail from our boys. But we didn't. I heard from the Red Cross today that you couldn't come home. I didn't expect that you could. But under the circumstances I had sent the wire. Daddy has really slept the last three nights and so have I. Although we are up several times we get a pretty good rest. Don't worry as there is nothing in particular you could do. The Red Cross worker, Miss Metcalfe said that we probably wont get the allotment until the first of Oct. But I told you, it has been authorized and will come sometime. Bonita went to town today. We had a short letter from Aunt Vivian. Marurice McIntyre brought back the extension ladder. Mr. Kolops called on daddy tonight. I prepared a gallon on pickles in slices. Once before I made four jars of pickles from cukes Gannetts brought. It has been very nice out today, hot summer days. How fast the days & months slip by. I got four eggs today. Really wanted to dress some chickens but didn't get it done. I really hope you get home by mid winter. They certainly will discharge as many as possible to cut down the budget. We have been well supplied with vegetables and are enjoying them very much. We record the sedatives that we give daddy, the hour & the quantity. He really seems much better. Loads of love, Mother & all. You evidently don't have mail call every day. how often?
Thurs. Sept, 6, 1945. Dear Johnny: It is extra warm here for Sept. The twins have only worn a pair of brief panties today. Ella Jane came home from Kent by bus yesterday evening. Bonita did a big washing and we had to shut off the pump once for a short time. I didn't write last night. Tonight Bonita went to town to meet Marcella. She (M) had missed the 7:45 to come out here so Bonita got ready & went in to meet her. Maybe they will go to a show. We had chicken dinner today which was very good. It was fresh and I made milk gravy and biscuits. It seems as though we should have had a letter from you this week but there are still two days left. Marci has not heard either by letter, only your telegram. Bonneybelle phone tonight she gets off this Saturday at 12:30 noon and H.B.G. will get her about 1.00 P.M. She has Sat. night and Sunday off. Daddy says for you to send us some of your cool weather. Pretty soon it will be cool enough I guess. Write and tell us all about your daily routines. You know we like to hear anything you can find to write about. Ella Jane is making preparations to go to school. The University of New Mexico at Albuquerque begins its term the first of November. The Dr. was here this evening. He said the secondary blood pressure was better than it has been for a long time. But the first one is high. He wants him to rest more carefully and keep his feet up off the floor. We are all about the same. Hope you are well and that you will write. Loads of love, Mother & all.
Sept. 9, 1945. Dear Johnny: It is 11:45 and I have just cooked and strained some tomatoes. Now I have jars sterilizing and the tomato reheating to can. I was up all night and so I slept in naps until noon when Gannetts and Bonney arrived for dinner. I cooked the pork roast last night & shelled the peck of lima beans. Elbert & Elinor brought the beans yesterday. That is the first pork roast we have had in ages. We have not been having potatoes so I kept the gravy & made biscuits for it at supper time. Also made a ginger bread, and B.M. made butterscotch pudding for it. After dinner Gannetts & E.J. went to their house and I washed my hair & took a bath in the tub Then we came back for supper. The Stoughtons came in before Gannett's left so Herman took them home when they left to take B.B. back to Crila [?], The cange of writers ? waiters occurred because Mother is putting some tom puree'd tomato in the jars. We had to cook some very ripe tomatoes to keep them from spoiling. H.B.G. brouught us summer squash tomatoes, cucumbers, eggs, & a stalk of celery. The celery came from the Medina Fair which they & Bonney went to yesterday afternoon. Grace also brought some brick cheese which we had for supper. We just had a cup of green tea (donation of Grand Ma Geus) and we need to get to bed before Daddy gets restless again. So Ill sign off for tonight & say goodnight from Mom With Love from all of us Ella Jane.
Tues. Sept. 11, 1945. Dear Johnny: Two letters came from you today. One you wrote 9-1 and the other one 9-3. We are so glad to hear from you. Sorry your eyes are bothering you but I think it is because you are so unstrung and on such a high tension. Tonight we heard in the late news that they are going to set up a plan to discharge the air corps cadets. After you get home you will have improvement in your eyes and be able to go to school. Yes it has been very warm until yesterday. The twins have worn sun suits and are as brown as berries. Today they had to wear sweaters and light thin coats. Do you wear your coats in the house? I am sorry that your mail and Marci's is not going strait but you know we thought Bonneys mail was opened at the (2.) hospital. Marci doesnt get away from there as she is having classes, and right now is working the afternoon shift until eleven o'clock. Don't worry about her. She is O.K. about you too. There was a tiny spot cut out of one of your letters. It was ___ miles away from home. Once before you said it was about 4000 miles so I think that is what was cut out this time. So glad you can have the nice little radio to enjoy. Yes we received one allottment check for July and August together, $136. I will tell you when your bonds come. I don't believe Bonney will be able to get out of the service. I would not be surprised if she goes over seas but I sincerely wish she would never have to go. Ella Jane went to see Audrey today and they went together to see Gertie. Then Ella Jane and Audrey came in time for supper. Aunt Jessie and Uncle John Hobbs and Martha and Earl Moore and their (3.) two children came to see daddy. They are all leaving very soon for California. They are going to drive and take a two wheel trailer with a few things in it. Their baby is only four months old. I think they are taking a lot of risk considering the young and the old. Just before they left Hazel & Jim came. He shaved daddy. Hazel wants one of the turkeys for Thanksgiving. It is 12:30 a.m. and I must get to bed. We have stayed in bed the last few nights but we get up a good many times. Sometimes I make cocoa at 3 a.m. and give him the rest of it at 5 a.m. Last night Mr. & Mrs. Cook came and brought tomatoes and green peppers and 2 nice cauliflower. We had the cauliflower tonight for supper covered with cheese sauce. Yesterday Mrs. Bowman brought us some sweet corn and a peck of tomatoes. Then she came back with 2 quarts of drop peaches from Mrs Sinsiks. Mr. Sprague is still in the hospital. Well, I surely hope things are going smoothly with you. Do you have to use heat in your huts or isn't it necessary? We got some more medicine today. That is; just had two of the prescriptions filled. Daddy is anxious to go out of doors. Bonney said she will pay for getting the plaster put on if Mr. Love will put it on. Hope you are well and will soon be finding out what will happen next in the air corps. Loads of love and best wishes. Mother & all.
back labels for pictures " Nellie Belle Bonney Harnish, Lorain, Ohio 1915; Mother of John Malcolm Harnish. John McKinley Harnish Lorain, Ohio 1918; Father of John Malcolm Harnish.
Western Union Telegram [Nov 7 but rest of date obscured] Extra Collect=WX Minneapol 13 Minn 7 1045ASgt John M. Harnish Jr=Route #3 Elyria Ohio=Ten day extension granted Report 1454 AAF BU ATC Twenty Nov Four Five= [November 20, 1945]John L Headman 1st Lt Air Corps Asst Adjutant.
Western Union Extra Collect=WX Minneapol 13 Minn 7 1045ASgt John M. Harnish Jr=Route #3 Elyria Ohio=Ten day extension granted report one four five four AAF BU ATC Thirty November Four Five=[November 30, 1945]John L Headman 1st Lt Air Corps Assistant Adjutant
Western Union H222 24 Govt 6 Extra=WX Minneapolis Minn 28 345PSgt John M Harnish Jr=RTE 3 IG=Fifteen day extension granted report reception station six camp Atterbury Ind one five December four five for reassignment= [December 15, 1945]
John L Headman 2 ST Lt Air Corps Asst Adjutant 1454 AAF BU ATC.
Western Union Telegram December 11 1945; to Sgt John M. Harnish 35913749 R.R. 3 Elyria Ohio. Message: Return Immediately unit personnel Reception station no 6 for Dependency Discharge stop to reply cite.. [there is a stamp on it that looks like they called his sister but the line was busy]