[
At age 40, her diary for the first time mentions her future husband, Mr. Babcock who starts work on a boat for manager named Oaks. Mr. Babcock and his half brother Dave Mc.Carthy start to visit and continue through the month. Mr. Babcock "had nerve enough to give me his address and said he like to write and exchange card and would send Me some." There is a continuation of the love story of cousin Lucy Scott's adopted daugher Bell and her sickly husband. There are others coming for their mail and water and food, some seem to be from the Steamer Stearns. Elbert sells the last wooden flat bottom boat for 15.00 and" traded a pressed steele square stearn 14 ft row boat to Mr. Aimes for there graphophone & disk records." There is a boat called the Western Star (coal hauler) with a Capt Sloan who also asks to write to Elinor ("an old batch 30 some yrs old.") Elinor gets letters and cards from time to time from Mr. Cassovie (she calls him Cassie now) who says he is painting for 5$/hr and could not come for the summer.
There were stories from the boat folks including when 70 yr. old Mr. O'Neil of the Schooner Santiaga, fell in the river and was rescued by Audrey and Nellie before drowning. And then there was the story of the Mc Donalds trying to ship their scotch collie dog from Buffalo who got loose at baggage, was found by a man who refused to give it up and the man was jailed, and then released when the McDonalds went all the way to Buffalo, paid the 40 dollar fee.
Frank and Ruby returned from Cuba but it took 4 days of travel. Ma Pa Fred and Gertie stayed in Cuba.]
[Wed. Apr. 2. 1914] April 1 Wed. I ironed all the plain clothes today & did house work cooking & sweeping. Oh, dee.dee.
[Thrs. Apr. 2. 1914] Thurs. 2. I finished my starched ironing today. Mrs. Hill comes for the water & mail I'll be glad when they are gone.
[Fri. Apr. 3. 1914] Fri.3. I finished the jabot I was making for Gertie's birthday. Mrs. Aimes and her two little girls (ages 8 & 12) came over and spent the after noon, they brought their graphone and 17 plate disks songs & music on each side.and of all the racket you ever heard, the children were dancing and singing, laughing, talking, squeeling,& running around and playing the graphone & Mrs Aimes & I were trying to visit, it was great.ha,ha,ha, Well they are nice people any way or seem to be, they left the graphone here for us to enjoy for a couple of days saying they were going to Cleveland and we might as well have it. There seems to be such a differance in people. Nellie & Elsie went to the Libary, Nellie had to get enough material for a theme, the they went to the ten cent store & Nellie bought a half dozen cups and saucers & an American Beauty rose bush and a dark red rambler. We got a letter from ma & a card from Mr. Cassovi
[Sat. Apr. 4. 1914] Sat.4. We set a hen today I finished Esters dress & baked a devil food cake and I wonder why anyone should give a cake such a name. When it ought to be cake Cocoa Cake. This is the recipt. 2 cups dark brown sugar 1/2 cup butter (beat sugar & butter together un till light & foamy) 2 eggs (beaten in well) 1/2 cup boiling wather with 3 tablespoonful of cocoa beat up smooth in it (then add to butter sugar & eggs and beat) 1/2 cup of sour milk, dissolve 1/2 teaspoonful soda in milk (then add to mixture(beat in seperately 2 1/2 cups of sifted flour. This can be baked in layers or in a loaf. I have used it fore layer cake, for loaf cake and for cup cakes. Well I have been feeling bad for a couple of week & my stomach hurts just terrible but I have to work just the same.
[Sun. Apr. 5. 1914] Sun.5. Elbert had to work today. it has tryed to snow today we planted our rose bushes & my dahlia bulbs I were out doors 15 mi. maybe 20 mi. & shivered till my teeth chattered will have a cold I expect. Oh. ha.
[Mon. Apr. 6. 1914] Mon 6. I have written 17 Easter Post cards & sent part of them. It rained most all last week & so far today I've been doing house work all day Martha doesn't feel very well & has been whimpy all day chickens out in the rain all dripping wet sure sign rain tomorrow.
[Tue. Apr. 7. 1914] Tue. 7. Nellie didn't go to school it rained so all morn & has rained steady all day, stopped to night & getting colder. done house work all day. a Mr. Babcock brought a letter from manager Oaks, that Mr. Bab-cock was going to keep ship untill the crew came & Mr. B. & his half brother Dave Mc.Carthy came in & in-troduced them selves. Mr. Bab. bought a loaf of bread (10cents) and a dozen of eggs for (25 cents) & he has been here often since, gave his family petty gree & an account of his own character, and had nerve enough to give me his address and said he like to write and exchange card and would send Me some if
[Tue. Apr. 7. 1914] Page 148. I would give him my address she'd send me post cards. and Nellie & Audrey were in the kitchen laughing to them selves & Nellie said she expected to hear his perpose before he left. Oh.ha.
[This is the introduction of Frank Babcock who is to become her husband. His half brother Dave McCarthy is part of the story as well. He was born 11/6/1871 (Elinor was born in 1885). He was born in Wellington but by 1925 he is listed as living at 327 Georgia Ave (Wheelers are 759, Bonney's are 760, Frank Bonney is at 728). Frank's mother is Francis M. Wadsworth and father William Babcock who was in the Cival War. There are records of his mother signing for pension for the father. But there are very few to no census, marriage, documents for his parents. We have a picture of what is labeled as his childhood home in Bayfield Wisconsin. There is also documentation about land at LaCrosse Wisconsin that his mother? might have purchased through the federal gvt. So there is 50 years where there is amost no documentation between his birth and a group photo of him as a private enlisted as musician, 11/4/1908 in the 67th Co Coast Artillery Corps S.F., Calif, and the mention of him in the diary in 1914 and then his letter of hire 3/5/1920 as Second Assistant Engineer of the James E Davidson at 200 per month just prior to his marriage to Elinor 5/17/20. He doesn't come off of the Davidson except for visits when in port for the first year. ]
[Wed. Apr. 8. 1914] Wed.8. We washed today was most through at noon when Cousin Lucy Scott of Toledo came in to spend the after noon & evening, We had a pleasant visit she paid me a dollar for the lace insertion I crocheted for her pillow slips & what do you think she is going to send me a graphone a new one Cousin Geo Scott paid ($29) dollars for it at the factory it has two horns I & she thought about 10 disk records & she only ask me to pay ($4.00) dollars for it and the express. she's go-ing to send it by electric package. I been dreadfully sick all day such a head ach. Well Lucy says Bell's husband is sick, has heart trouble & his lungs are bad so they have gone down to the Gulf coast they have been gone two weeks & he doesnt seem to be any better after supper Lucy went over and called on Uncle Wills then Elbert took her over to the care, sh'e going back to cousin Gilberts to-night & tomorrow she's going to Cleveland to visit a friend for a few day & wait for Mr. Scott. then they are both going back to Toledo. Oh.dee.mee.
[Thrs. Apr. 9. 1914]Thurs. 9. Received a letter from Mr. Cassovi. saying he was soon going back to his boarding house. poor boy. I' ve done house work all day.
[Fri. Apr. 10. 1914] Fri.10. I baked bread & loaves of white & 3 loaves of graham. (Last night Mr. & Mrs. Aimes & their two girls came over and spent the evening & we had a lunch & I didn't go to bed until (2.a.m.) this morning at two oclock. had to set bread, bake cake, and make a custard so there would be something for Elberts dinner bucket) I have done most of the house work & did my own ironing. today, and have had several callers & am tired tonight.
[Sat. Apr. 11. 1914] Sat.11. Well I thought I would get a little more done today, but, I have so much of the house work to look after, that it seems most impos-ible to get any sewing done at all, I have mend-d three pair of uner drawers & four outside shirts for Elbert today & visited while I sewed with Mr. Bab.
[Sun. Apr. 12. 1914] Sun.12. Well today is Easter Sunday (underlined) , the wind has been cold but the Sun shone warm & bright allday I cooked chickens for dinner. Mr. Aimes & his two girls came over for water at noon with Mr. O'Neil, the girls stayed to play with Martha & her dollies & the men off the Stearns came for water just as we were eating our dinner & Elbert had to get up several time to let them in, then before we had finnished Mr. Bab. & his friend Mr. Wildy came for water & we had no sooner finnished our dinner before Mr. & Mrs. Aimes came in & they hadn't reached the end of our walk when Mr. O'Neil came in & brought me the Sun Paper & visited an hour & when he left he wished me a pleasant after noon & the top of the evening to to yea.ha,ha,ha,ha,ha.
[Sun. Apr. 12. 1914] Page 149. Sun.12. Poor old man. I am sorry for him, he's so thoughtfull to bring me the papers, but he's so nice about it & blushes like a boy, Oh, its so funny. Oh, h,h,h,h. poor old soul. then Tessie came in with a pretty little basket filled with Easter eggs, big & little for Martha & Martha huged Tessi & kissed her & laughed & carried the basket around and showed it to each one of us and ask if it was -n't pitty, then went to Tessie and said take Marcie up I hug you, kiss to, dandy, Tessie? thank you shankie. after she went home I washed and dressed & went over to Uncle Wills a little while & when I came back Uncle came withe me & Elsie then, he and Elsie went home & Edith & Elsie came back & Edith didn't stay long, but Elsie stayed untill Elbert came from church Oh yes, while I was over to Uncle Wills Aimes came back from Miller (where they had gone for milk) & Madeline Miller came back with them and brought our milk and stay a little while So we have had a busy day. Oh.dee,dee.
[Mon. Apr. 13. 1914] Mon.13 Francis Wheeler was 21 years. old today. A man he says & I sencerly hope he will be. The weather is fine but, oh its to warm, for we can't hardly work, with out seeting A hasn't been feeling very well so we didn't wash today.
[Tue. Apr. 14. 1914] Tue.14. A letter from Ma & one from Gertie they are wishing they were home & so do I, pa spraint his wrist some time a go and can't use it very well yet, poor pa. I've been sewing yesterday and today, making a waist.
[Wed. Apr. 15. 1914] Wed.15. We washed today and it raiined all day & Elbert came home from the yard he has such a cold. Mr. Delainey has been sitting around all the after noon waiting for the rain to stop, but has gone at last, sailors to glore, come & go some to use the phone & some to get water, I'll be glad when they are gone & some lonesome to I recken.
[Thrs. Apr. 16. 1914] Page 150. Thurs.16. Well it's, nice out doors to day & we hung the clothes out & dried them. I been working alday
[Fri. Apr. 17. 1914] Fri.17. Still nice out door have sewed & cooked today
[Sat. Apr. 18. 1914] Sat.18. I scrubed both floors & cooked supper & sewed untill midnight Mr. Babcock stoped a mi. & Mr. O'Neil stoped an hour or so on his way home from town. Elbert hadn't come yet, but Uncle Will was here so I didn't care and after they had both gone Mr & Mrs. McDonald (cooks on the St. Stearns) came from town and stop to visit and rest & then Elbert came and we had a cup of tea & lunch & went to bed
[Sun. Apr. 19. 1914] Sun.19. Well Elbert sold our last wooden flat bottom boat for $15 dollars & traded a pressed steele , square stearn 14 ft row boat to Mr. Aimes for there graphophone & __ disk records. traded even. both parties satisfied. Mr. Babcock, Mr. Wildey and Mr. Fernuir came in for half an hour they are to leave on the St Western Star. Mon. Elbert and the girls went for flowers and gathered them in large bunches. The girls Audrey & Nellie & Martha & Elsie went over aboard Aime's boat, to spend the evening. Uncle Will & Francis came to spend the evening with me, Elbert went to to Church, when he came home Uncle & Francis went & the girls came & we went to bed. Aimes were here an hour or so before supper
[Mon. Apr. 20. 1914] Mon.20. We're having a snow storm today & the ground is frozzen, three men have been here for water, Capt Sloan of the Western Star came for his mail (a letter from Mr. Cassovie saying he was painting for $5.00 a day & would have work all summer, so he wouldn't go
[Mon. Apr. 20. 1914]Page 151.boat swain on the Star Capt. said he would be pleased to send me some Post cards, if I chose to give him my address so I did. He's and old batch. 30 some yrs. old. ha, ha, ha. Francis is sick & had to have a Doctor this morn. he's been having such a cold & he has catarrh so bad to. Mr. Delainey came in to warm his dinner & eat it. Well Mr. O'Neil came to spend the evening, and the Str. Western Star went down passed at 8-30 going out tonight with a cargo of coal, Wonder how long it will be, before I get some cards now.
[Tue. Apr. 21. 1914] Tue.21. Well, a letter from Mr. Cassovie this morn saying, he feels quite well again, and is painting Luna Park Cleveland Ohio
LUNA PARK, often called "Cleveland's fairyland of pleasure," was created by Fred Ingersoll, a famous builder of amusement-park rides. The park was the 34th such construction project undertaken by the Ingersoll Constr. Co. of Pittsburgh. It was located on a 35-acre site bounded by Woodhill Rd., E. 110th St., Woodland Ave., and Ingersoll Ave. Construction began in 1904, and the park opened on 18 May 1905. Many architectural styles (including Italian Renaissance, Egyptian, Gothic, and Japanese) characterized the midway, which was lit by thousands of incandescent lamps. A pool marked the center of Luna Park.
In 1910 Ingersoll sold the very successful park to MATTHEW BRAMLEY, a paving contractor and an original investor, who subsequently installed many new rides. Favorites included a carousel, a ferris wheel, a Shoot-the-Chutes, Jack Rabbit and Pippin roller coasters, a funhouse, a roller rink, and a dance hall. Vaudeville shows, plays and operas also were staged at the park. Since the park had thrived on the availability of beer within the gates, its main source of revenue was removed with the beginning of Prohibition. Despite Bramley's many innovative ideas, attendance continued to fall, and Luna Park was razed in 1931. The roller rink, a last vestige of Luna Park, burned on 12 Dec. 1938 (from internet Cleveland Encyclopedia.)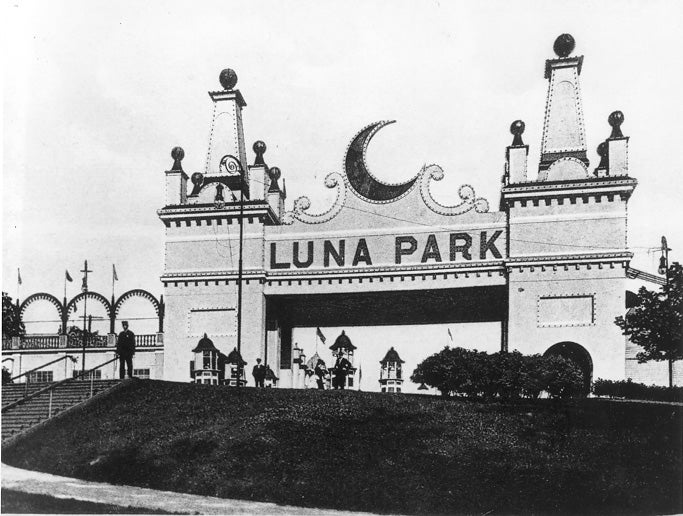 $5.00 per day. goes to a dance occasionally and will be over to see us in a week or so. Nellie had such a cold she didn't go to school. & about four oclock Mr. O'Neil came down in the scow for water and just before he got to the dock he lost his balance and fell over board, he caught his knees over the railing (crossed out) side of the scow & held on with his hand but couldn't help him self so Audrey & Nellie went down to help him out, he let go with on hand just as the girls got there, he didn't see them & I called to Nellie & told her to tell him to hang on & they would get him out & she did & his face lit up when he heard her voice & he renewed his hold & they lifted him out, well he's 70 yrs. old & that was a strain on him the girls brought up his water cans & I gave him a cup of hot tea, and after he rested awhile he carried the water to the scow & sculled back to the Schooner Santiaga After supper Mrs. Mc.Donald the cook's wife from the St. Stearns came up for me to trim her hat, she had worked half the day & done not a thing, well I trimed her hat & she & her husband stayed untill 10-30 she is going to Buffalo in the morning to get her scotch collie dog, they tried to send him through as bagage & he got a way & they have had one great time trying to fine him. they sent a telegrame to a man to get the dog & keep it for them & the police were looking for him to & when they found the dog & man & the man wouldn't give him up, they put both dog & man in jail, the cheif of police & Mr. Mc'Donald exchanged telegrams & they let the man out of jail. all the expenses were $40.00 such a time and all over one dog Dee.Dee. We washed today small wash this week.
[Wed. Apr. 22. 1914] Wed. 22. I sewed most all day with the except-tions of the house work. Mr. O' yes Aime were here a little while tonight
[Thrs. Apr. 23. 1914] Thurs.23. Well betwixt house work & work I havn't anything done today Aunt Edie spent the after noon with us & Uncle Will & Mr. O'Neil this evening.Oh.dee.
Fri. Apr. 24. 1914] Page 153.Fr Sat.25. Baked 7 loaves of bread & a tin of rise buscuits & worked untill I ach tonight Elbert went to town Uncl Will came over & spent the evening Mr O'Neil stoped a few Minutes & I'll be happy when his boat goes. got a letter Wed. from Cousin Lucy Scott of Toledo Ohio.
[Sun. Apr. 26. 1914] Sun.26. Well, Mr. Aimes & his cousin came over & then Mr. O'Neil came up for dinner & after dinner All Aime's came over & the cook & engine-iers came for water and visitited & so the day is done & I am tired as I can be tonight to.
[Mon. Apr. 27. 1914] Mon.27. I've sewed & helped with house work. I wrote a letter to Cassie. men came after water. Oh,dee,dee.
[Tue. Apr. 28. 1914] Tue.28. Did house work & sewed. got a card from Cousin Lucy, men came for water, Oh but I m tired of them,
[Wed. Apr. 29. 1914] Wed. 29. Well the Tomas Barlum came in for coal & Mr. & Mrs. Dupont & Hazel were on, cookiing & they came up to spend the evening & Aimes's came over & we had quite a visit. Mrs. Aimes & the girls were here all afternoon, went home for supper & all came back. We got a letter from Ma & Fred & Frank today. Well I have been so busy have washed windows & wood work & visited.
[note* page numbers interrupted. back of pg 153 is 155. Next top page is 154. ]
[Thrs. Apr. 30. 1914] Page 154. Thurs.30. Worked all day & visited 2 hrs. planted tomatoes, peas, beans, cucumbers & lettus & mended the net, have to fix some board around the bottom of the net on the lower side. Frank and Ruby & baby came home from the Isle of Pines this Morn. the left the Island Sun. at 4 oclock in the afternoon, and phoned to us as soon as they landed here, Elbert told Mr. Gilmore & he quite work & went home.ha.ha. Nice out today but rather cold wind. Im tired I washed out a lot of things light clothes on the board & crocheted with Mrs. Mc.Donald.