June 1948
Wed. June. 2. 1948./ page. 2150./ 22. eggs this day./ Who is & ever will be in Jesus Name I give thanks. Amen [? not sure about this sentence] Plains have been coming & going all day, & radio says Canada has 2 big forest fires one 30 thousand acres.
Thurs. June.3. 1948./ 21. eggs today./ Martha's [Daugter of Audrey Bonney, Elinor's neice] birthday she's 36 yrs old today at 2. a.m. I went to Ashtabula to take care of her mother & her, it was some job. I have always loved them both but have often been made to feel they didn't love me as I love them. Over in the flooded places the water is still raising. & there are now 3 other places where thousands are homeless in Wisconcin & 2 other places. I don't remember. & still people don't believe the bible & in the things the bible says will come to pass, that is here & being done right now, it's says when the armys camp around Jeraselem to know the end is near, at hand. I believe it. Well today was a beautiful day & I did the washing mine & part of Elberts I did his sleeper pillow slip bath towel & to wash clothes 2 suits B.V.D's. 4.prs. socks & 2 handkercheifs, he washed his heavy union suit & work shirt & his bouble blankets, I had 2. dresses & night dress & 2 wool skirts & change of clothes & all the rags & towels & dish towels. I was so tired, then I took a bath dressed clean & we went to prayer meeting & paryer service & Jesus took all the tired out of me & refreshed my soul they prayed much for me & I thank God & Praise Him in Jesus Dear Name, Glory to God I Praise Thee Jesus. N. east breeze, yesterday we cut limbs off the tree on S. east corner & few off the butternut by the drive way.
Fri. June. 4. 1948./ 20 eggs today./ Well I've felt better today & God so lovingly & graciously took the tired out of me & I baked 3 big tins of bread biscuits & got the supper & roasted a piece of mutton for tomorrow & I put a patch on Elbert's pants & mended 2 suit's Bird's & ironed 2 dresses & 1. shirt a slip cover for my chair & some handkercheifs & washed up dishes & I don't feel as
Fri. June.4. 1948./page. 2151./ 20 eggs this day./ tired in body after resting a bit as I had thought I might, Praise God in Jesus Dear Name, He's so Pure, Holy, Kind & loveable, more to be desired than any thing in the world, all I have He has given to me & it's all His, I just use it & try to take care of it & thank Him for His good care of me; I pray for all the souls all over the world "I know not which ones are His" but pray He will strengthen them & help them in there times of trouble, affliction, Joy or sorrows in Jesus Name. I do love Jesus & pray for His power in me & that He will help me to do his work & be a blessing among His people. I Praise Thee Jesus. Elbert got his check this morning & went to Lorain & sold 10. doz. eggs thre & in Vermilion on the Lake for 60 & 65 cents per doz. 10. doz. 6.20 & collected 1.80 making him 8.00 in all, he bought bag (100 lbs) grain $5.55 & a qt of alive olive oil 1.85 cents he bought me a thimble & said he paid 1.95 cents for it, it's not a good one like I had either, I told him to take the other 2 thimbles back to the 10 cent store & get his money back but he didn't take them & said they only cost 5 cents a piece. the other one he got today looks like the one's they use to sell for 50 cents mine was a good solid thimble, but such is the wickedness of life, & God knows, forgive us Jesus & help us to live Thy way. Elbert got a lot of canned peas & beans, corn & spinage a doz. & a half in all, 4 grapefruits 4 cans milk, noodles, beets, crackers & cheese, ham mutton & liver. we ate soup for dinner & liver, potatoes & beets & beet greens for supper, home made bread biscuits & coffee. It's been a very hot day a little breeze from N. W untill tonight it went S.West & back to N. east & looks like it might rain, but, I don't know. Elbert forgot U.S. card & I haven't written to Nellie all week, maybe I'll get a letter on the way, he did get stamped envelopes. I hope I can get it done I thank God in Jesus Name for all our many blessings.
Sat. June. 5. 1948./ 19 eggs today./ Well it's been a fine day hot sun and a cool breeze. Elbert mowed some for it rained hard
Sat. June. 5. 1948./page. 2152./ 19 eggs this day./ last night so grass was wet I laid & rested untill 9-a-m & the old man back of us, that bought the Douglas farm; came over on his bicycle to see if we wanted to buy some shelled corn, he has divided the land & sold it in plots & even the place he lived in & he don't know where he is going, so he says. he wanted to talk to me, but Elbert told him I wasn't up. W received a letter from Nellie & so since I hadn't been able to write I ask Elbert about going over & he said he was just going to ask me if we hadn't better go, so, we went & I bought 2. qts. of straw berries 50 cents per. qt. & not half as nice as we use to raise, but, they were quite sweet, we got them on our way as we neared Amherst, then when we were almost to Nellie's we got 2. lbs. saucage & a bottle of milk, I drank part of it before we got there & some after we got there & Nellie had not been up long, she's been rather miserable her head has been troubling her, Bonita had taken George [George Eddy, Elinor's nephew] to the Dr. he's had a bad cold & it gave him an ear ach & a weak heart valve but he don't keep quite a minute jumping & bounding a-round all the time & he don't mind & Bonita isn't very strick with any of them, As soon a Bonita got home Nellie & little Bonita[Bonita Eddy, Elinor's niece, usually known as "Pinky"] & Nelson [Nelson Eddy, Elinor's nephew] & Elbert went to the store a few minutes drive from Nellie's , to the store & Nellie got a couple big bags of food $15.00 worth not enough to last (it didn't seem) for 2 week, while they were gone Bonita & I got dinner I peeled potatoes & she put them on to cook then she got a mixing bowl, flour , baking powder salt & shortening & a big pie tin & while I made a short cake she lit the oven & I put it in & she cleaned the straw berries & sliced & put the sugar on them while I washed all the dirty dishes & while I wiped them she set the table & cut the broccollie & put it on to cook, Martha called up & she talked to her a while then I fried the saucage & took up potatoes, she had made coffee for her mother & Elbert before they went to the store, I fixed short cake & she put everything on the table, I took a tin of my bread biscuits to & they seemed to enjoy there dinner all of them, it did taste good,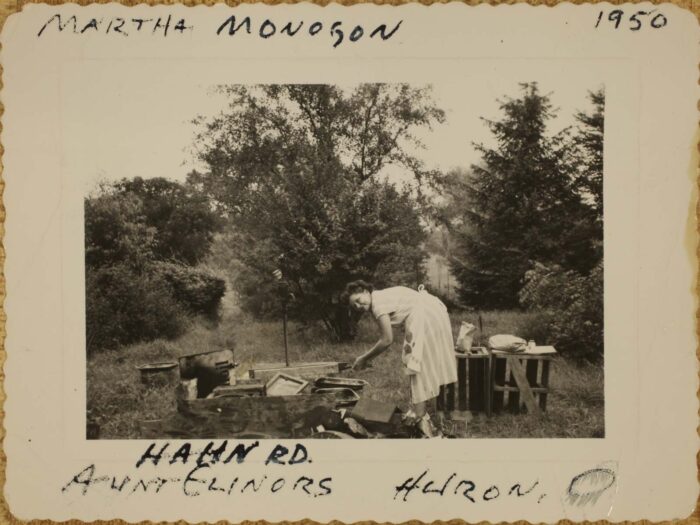 all of us being together to
Sat. June. 5. 1948./page. 2153./ 19 eggs this day./ enjoy it, we alway miss Ella Jane, Johny & Marcie & Bonney Bell & Joe [Dudiak] & of course we miss John [John McKinley Harnish, Nellie's husband who died in 1946 ] , but we know these things must be, after dinner Bonita washed dishes & put them & the groceries away & we all went out & looked at Bonita's Christmas tree, she & Geo. planted after there Christmas was ovr the first yr. they were married 7. yrs. ago, it's a very pretty tree & growing nice. We looked at the trees & flowers & then got in our car & bid them good by for now. I let Nellie take the little DeHaan book called The Blessed Hope it sure is good. I thank God for our many blessing & most of all for saving my soul. I Praise Thee & Thank Thee.
Sun. June.6. 1948./ 24. eggs today./ Well I went to Sunday school & church this morning & took 3. big bunches of flowers. We came home & cooked dinner & ate & rested a little & Frank [Frank Bonney, Elinor's brother] Ruby [Ruby Bonney, Elinor's Sister in Law] & Armond [Armond Bonney, Elinor's nephew] came in & walked around the yard & enjoyed the flowers & picked a few & then it began to rain & they came in & talked an hore hour or so, then we got ready for evening Church, & went, around to Miss Clark's but she had gone & was there when we got there & a Mrs. Vaupel who has & is staying to the Miller (Harry Miller) home. his mother is 88. yrs. old & taken care of Harry who is bed riden for 36. yrs. Mrs. Vaupel is going to be there one more week then she going to several other places then to Columbus she says. Se is a cristian woman, she ask for my Name & address, said she'd like to hear from me. I owe several letters & must get after them soon, and ans. them. It just poured rain all the way to church, but stopped & was nice on our way home I thank & praise God for all our many blessings in Jesus Name. We had such a good sermon tonight.
Mon. June. 7. 1948./ 25. eggs today./ Well I haven't done only the daily round. It's been mostly cloudy sun coming out once in a while. Elbert has felt rather punk, he did mow some grass & stacked it wet. Tonight Bill Long his sister & a man cousin came to see why Elbert didn't come to work he's getting ancious to get moved he's going to sell the place in town his siter looked the flowers over and ask for a few, & I gave her some, as many as she wanted she wants som Per. Poppyseed
Mon. June.7. 1948./page. 2154./ 25 eggs this day./ New moon today/ & a yellow rose bush. Bill & his cousin & Elbert looked around & we "this sister & I" came in the house & visited untill they were ready to go, they would have stayed awhile only it was getting ready to rain & began before they left Elbert has had his feet damp all day & then he got wet he didn't have his jacket on either & now I had to stop off with my writing to get a hot water bottle to his thigh & give him an anison & cup of warm water, he's got easy & I hope he can rest, he's been having cramps in his bowels for 3 or 4 days, or a bad destress. & his bones have been aching in hands, back & legs. Well I have ask God to have mercy & take care of him & I trust He will. I thank Him & praise Him for all things, great or small. Glory, Glory to God in Jesus Dear Holy Name. I love Jesus.
Tue. June. 8. 1948./ 16 eggs today/ Elbert went to work this morning & he got in 8. hrs. he was inside, I was glad for it rained in sheets or poured down every little while all day, I rested untill noon, sort of got caught up on my sleep & rest, I can't rest at night to much noise in the Kitchn & his room, the door that goes down to the grade door has been pried off so many times, the paint is off all the way up & down on the back of it & greesy finger prints on the doors & casings & a very strange thing, but, the trap into the attic has finger prints thick all over it, & on the little cupboard door it's all smeary & I have cleaned it several times & it comes back again it sure couldn't get there by itself or the finger prints. I haven't done much to day been so damp & chilly, I got a pail of slack coal & keep the chill out alday. got dark early, been thick & gray all day. Wind was S.W. this a-m. Went N.W. & now backed up again to S.W. Nellie sent my DeHaan's book called that blessed hope, back by mail & never wrote a word. Well that's like her, but her head & eyes have been troubling her. Well it been a nice day but damp & cool & I thank God for All He has done for me & Pray I may do more for Him in Jesus Name.
Wed. June.9. 1948/ 24 egg today. / Well Elbert went to work & I rested untill 10-a-m then Nellie Bonney Bell & her Joe, Bonita & her 3. children came in at 11 or 11-30 & wanted to eat out doors & roast frankforters & Nellie had bought strawberries & Bonita ask me to make a short cake so I did & at
Wed. June. 9. 1948./ page 2155./ 24 eggs this day./ last they roasted the forters in the broiler oven & I made the short cake & they all ate & enjoyed themselves they looked at the flowers & about 3. oclock they started back home. Little Geo. is getting thin & his heart valve is bad yet. The first thing they ask was, Where is Uncle, they wre sorry he couldn't eat with them. It's been a nice day semi sunshine N.East breeze. I was just going to rub out a few clothes when they come, so I didn't get that done. I thank God & Praise Him for all my many blessing in Jesus Name & I thank Him for my healing's
Thurs. June. 10. 1948./ 21 eggs today./ Elbert work today 7. hrs. today & I did the washing & got done at 2. pm then I brought in most of them that were dry & went out & opened trap doors & south door, let hens in park & then took a bath & started supper Elbert got here little early, I went out & picked a few flowers & took them to Church to prayer meeting. Miss Clark came in & told me Harry Millers mother fell & broke her hip & brused hr up bad, so Mrs. Vaupel didn't get to the meeting. Mrs. Sprunk & Lindy & Dorthy & the baby, Mr. & Mrs. Smith Gracie Day Mrs Hambley's mother the Minister his wife & myself were all there were there, We had such a good blessing from the Lord, and everyone seemed filled with the Spirit. Praise God in Jesus Holy Name I love Thee Jesus Help me to be ever worthy, keep me covered with the blood, & help me to do Ty will always in Jesus Name. We got a bottle of milk & came home & a cat came in on the drive & ran out to the grainery some one has dropped it out I suppose, Elbert forgot to see if all the hens were in when he shut the coop, so he went out & I went & took the keys & he found one & put her inside, the cat came to me, I picked it up & put it in the grainer, so Elbert can take it to Lorain with him in the morning. I don't want any more than we have around here catching the birds & eating baby ground sparrows. It's been a fine day, fogy for two nights & now it's fogy again to-night & fog horn blowing now for 3. nights with tonight. I thank God for saving my soul for giving me strength for Elbert & for all He so Graciously gives to me. Amen.
Fri. June. 11. 1948./ 22 eggs today/ Elbert went didn't go work to day He went to Lorain & sold 5. doz. eggs for 65 cents & 4. doz. for 60. per doz. & 1 doz to colect for at 65 cents & 2. doz for 60. per doz. he got the
Fri. June. 11. 1948./ 22 eggs today./ gas/ grain $5.55 & had 10 cents left. there's the 1.85 standing out. he got some saucage & it was so salty we couldn't eat it & cost just 1.00 Well, Elbert spaded & hoed & cut some grass in my flower garden & spaded some in my garden, ground is still so cold, I don't see how anything can grow & so cold nights, We have had a nice day sky has been thick & gray then the sun would come through a thin spot for a little & then go behind the gray curtian again but tonight it broke up into big white biscuits showing the blue sky between & it's quite cool & a cool breeeze from N. East. We got a new tank of gas today & we now owe for (2.) tanks/ the oven is on the blink I don't know what's wrong with it. I cut quite a lot of grass & raked a lot of dead leaves & I'm to tired I got the supper but didn't wash the dishes, I started a little fire, house was so cool & damp. I thank God for all our & my many blessing in Jesus Name. Received card from Nellie, Bonita brought her good silver ware out on the re picnic dinner & the children. each had one with a straw berrie in it & left one on the table here in the house, I wrote a few lines & told them I had found it there & would save it for her. the young man that brought the gas said he was going to Cleveland to see his cousin married & he had to get a hair cut yet today.
Sat. June 12. 1948./ 24. eggs. today./ Elbert worked 6. hrs. & it's showered off & on all day with some sunshine, like May showers. I have only done what I really had to do today, felt punk after hacking off grass with the hoe yes-terday. I planted the glad bulbs Audrey sent to me, I haven't wrote & thanked her for them yet, I thanked her when she told me about them, before they had come. I didn't get my tube roses set out either, & some of the packages of seed I got of the little Brode boy are missing & several others from my seed box. Elbert came tonight & had a little screw driver clear through one of his new tires & iner tube, he had to stop & change tires at oak point, he said, he must have been at Vermilion when Bill & his siter & cousin passed him for, they were over at Bessies place looking at that trailer when he came by & he had only got here when they drove in here, Bill's thinking of buying it.
Sat. June. 12. 1948./ page. 2157./ 24. eggs this day./ he took Elbert over to look at it inside & out & sort of figure on how to move it & what to pay for it. Bill's sister is nosey & she talks so much she tires me all out & I so glad when they go, she lonesome since her mother died & that was this last Jan. she loved her mother dearly I don't know if her mother was as rough talking as she or not, but, Elbert says she can ripe off the cuss word equal to that sort of man, she hasn't done it here & I pray she wont. Elbert's terrible tired he's gone to bed & been sleeping. I picked a very few straw berries for our supper, Bill's sister insisted on picking she said she'd like a few of the small one's & then she flew on ahead of me & picked as fast as she could all the big ones & she kept them. We had enough for us each a small shortcake apiece, I had planed on having a few for tomorrow. The 2 men went into the small one & picked & ate them. Maybe they thought I'd ask them to supper, but, 3 hearty eaters would eat all we had & not had enough & I'm not going to ask them to eat I'm not able to work like that any more & I don't like that class, for company. I pray God will protect me & keep me safe. I thank Him for saving my soul & revealing His word unto me. I pray & thank Him for His love & all he has done & is doing for me God of love & Mercy please Keep me free from being anoied by those people, but, if you want me to do a work for Thee reveal it unto me, in Jesus Name, Amen.
Sun. June. 13. 1948./ 21. eggs today./ We went to Sunday School & church & came home & fixed dinner & it was 2.P.M. when we ate. then we rested a little & I went out & gathered flowers for Church & was just getting dressed, when I heard some one open & shut the screen door I came out & it was Armond. [Armond Bonney, Frank's son, Elinor's nephew] he came in & said his wife [Clara Isobel Street Bonney, Elinor's sister in law] was in the car so I told him to bring them in he did & by that time I had my dress on & my hair combed We visited a few minutes & then she'd like a few flowers, so, she & I went out to gather half or all most half as many as I 'd gathered for church she put them in the car & brought the baby in they have 2. baby's, one, Bruce Earl 16 months & the baby Cora ____ [added to Ancestry.com MHS]
Sun. Jun. 13. 1948./ page. 2158./ 21. eggs this day./ 2 bright looking children & very quite cheldren Well it was late whn they left & we were late getting to church I like to get there early, when I take flowers. We had a wonderful sermon this morning & were blessed with the Spirit of God & again tonight, we were filled & I Praise His Holy Name. They anoited several & prayed for them tonight me included & I do feel better. I thank God in Jesus Name Glory Glory Glory to God, Hallulejah, I thank Thee Jesus &K give Thee all the praise. It's been a nice day, a little to cool for crops, but like & early Spring Day, Praise the Lord.
Mon. June. 14. 1948./ 23. eggs today./ Elbert went to Lorain, but his back was so bad when he got there he couldn't work, so he went to the garage & got the brake fixed & the springs greese & paid them all he owed them & he paid the 3.00 he owed Roberts in Vermilion & Moore & Myer 5.00 so he still owes 9.29. & he never got his shirts, socks, handkerchifs or shoes. & he owes John Werner 45.00 yet & we owe for 2 tanks of gas. & I do hope & pray he will be able to work & get all paid up before winter & help pay for the coal for winter. he came at 2. o'clock I was just cutting the shirt pattern over the old one was torn so bad, then I stopped & made coffee & fried two cakes of saucage & boiled 2 potatoes & we had a lunc, took me so long to wash up dishes & tet thing straightened up this morning & my feet hurt untill the sweat dripps of my chin & I don't know what's wrong with Jackie, but, for a week he has yelled all day & to-day he got on my nerves along with my feet & it was hard to try to work, but I got the dress cut out & hope I have luck & get it together quick & that it will be O.K. for I only have one whole one left to wear & this old one all patches, that I have on. I thank God for my blessing, & pray he will except my thanks & help me for He see's & knows just how miserable I am & how much I really need His help spiritual & phyically, I thank Him more than I can tell in Jesus Holy Name & pray He will endure with me & help me- I'll give Him all the Glory for ever & ever Amen.
Tue. June. 15. 1948./ Page. 2159./ 23. eggs today/ Elbert's back is so bad, it hurts him to get up or down or to walk. We went to Huron & got a little piece of boiling meat & liver to fry & I got my shirts 3. & one pr. stocking 79cents & 1.00 a piece for shirts, then, I got a piece of house dress goods for a dress & 2 spools thread. $3.74 cents then I got a head of lettuce bunch of carrots & a few apples & got a nice bunch & tax stamps for Church. It's been a fine day, not very warm, & lots cooler tonight so we had a little fire in the heater to take out the chill. I stitched my dress partly together, that I cut out yesterday & cooked 2. meals & done the daily doz. I hope to get it all done tomorrow, it's hard to sew & have to be hoping up & down, but I got it done, it gets my nerves, bad of late & Jacky just fusses so he wanted a mate & this thing Hauffman brought here isn't any good only to keep a confussion going all day. I'm going to get rid of it, if I have to give it away. Received a card from Bonita, she said they were so glad I found the spoon & to hear from us, said she & Mom were writing letters & that she & her children went to Sun. school, it was childrens day & it was a nice day & Mrs Boman & her little girl Lois Jean called on them Sun. & that Nelson "Bonita's little son" had a bad fall & hit the back of his head & cut it, but that he was going to be O.K. She said the School buss took all 3. children to Penfield junction to bible school 3. days last week & expect to go all this week. Well, that sure is fine gives them "Nellie & Bonita" a little breathing spell. & they ought to get some work done while the children are gone. I'm tired tonight but Praise God I'm able to get about & help myself & do some for Elbert I'm so sorry he feels so bad. I thank God for my many blessing in Jesus Holy Name, Glory to God, He is worthy. .
Wed. June 16, 1948./ 19. eggs today./ Well, Elbert'\s back hips & legs have pained him all day, he can hardly get up or down. I haven't felt any to good & only did what I had to do. I gathered the bottom of my waist on to the belt & then put it aside, I was out in the sun a little while & cut my dahlia bulbs & cleaned glad bulbs & now I can put them in the dirt, I don't feel able & so don't have any desire to get at it. I ought to get my dress done I need it but have just been to punk to work, but I thank the Lord I can do the necessary things I need a good sleep, but although I got up & dressed I laid down & tried to sleep &
WEd. June. 16. 1948./ page. 2160./ 19 eggs this day. / Elbert was in & out of doors & then Bob Snyder came over with a baby wood chuck & then set down out side near my bedroom window & talked for half an hour or more so I got up & washed & prayed & then got dinner. We got a card from the chicken hatchery, they don't sell started chick & so we haven't any chicks yet for next year. I still hope we can get them. I thank & Praise God for all our many blessing in Jesus Name, I Love Thee & give Thee all the praise & Glory. Wind has been N. east all day sort of dying out to night just a while before dark, nice hot sun but shivery cool in the shade & to cool tonight. We really need a little fire to take out the chill.
Thurs. June. 17. 1948./ 20. eggs today./ Well, I washed my washing & Elbert's & then we had what soup there was left with some noodles added & a can of Campbels soup added for more flaver, it was fairly good, Then I took a bath & dressed for prayer meeting & we left at 7-30-p-m. I took a few tea roses "they are a very pretty red & smell so nice" for the preachers wife. Rev. Sharein's brother came to Church for prayer meeting, tonight. they look a lot , like each other only he's a lot younger. We had such a good pray meeting & pray service & Gods power came into the meeting & we are blessed & fill again with His Holy Spirit, I Praise Thee Jesus, Glory to God in the Highest, Glory, Glory, Glory, I Praise Thee Jesus. Then after exchanging greetings we de-parted for home & Jesus came with us all the way. Elbert got a pt. of ice cream & we had a biscuit with it & a cup of hot tea, Now he's gone to bed & I will read my bible & then I'll go & talk to Jesus & get to bed. Elbert's going with the eggs in the Morning & I may go with him. It's been a fine day cool N. east wind, or breeze, hot sun & the sun went down white as a cake of ice & a big circle like a rainbow around it, lots of wind scuds in the sky.
Fri. June. 18. 1948./ 18. eggs today./ Well, I haven't done much today, I raked 2. big hay cocks & planted one row of dahlia bulbs, sun was so hot it burned my neck, I done part the house work, bed & cooking, & left the dishes, so I should get up & wash dishes wipe up floor & iron my house dress.& sew a
Fri. June 18. 1948./ page. 2161./ 18. eggs this day. / little on my dress. Well I had to wait to finish this for we are having a real thunder & lightening storm & puffy wind. The house felt as if it rocked North east then back again, it hailed a little & turned some of the leaves on the flowers brown. I set up untill it eased up, then finished cooking the mutton shoulder I had begun be-fore it got so bad out side, the lights went out to, so after the meat was done. I went to my room & prayed a while, for, I couldn't read the bible.
Sat. June. 19. 1948./ 21. eggs today./ Well the wind back up from S.east to N east & back again several times & it thundered & lightened & poured rain, we need some, I guess it wasn't to much, every thing was wet this morning & still, wet at 4-p-m. sun only came out a little now & again, but not strong, or perhaps I should say, not hot as yesterday. Elbert cleaned up the balance of the hay before dark last night. & today, he felt rather bum. I swept & did dishes & got the dinner then had to rest a little, then I picked 3 jars of flowers for church & we went to Vermilion, Elbert wanted to see about some shoes at Tommy, shoe shop, so I took the flowers, thought the preacher got to church at 5 or 5-30-p-m. but we waited untill 7-p-m & then left the flowers with Mrs. West & ask her to have the Minister call there for them. I hope it will be O.K. it's a lot of effort to pick them & put them in jars of water & take them 7 miles to church & I don't get to church with them early enough for the ministers wife to make them into bouquets some times, so since Elbert was going, I thought it would be nice to take them. Weather turned quite cool & the N.east wind is cold. We have a wood fire tonight. I do thank God in Jesus Name for saving my soul & for all & understand His ways in Jesus Name, I love Jesus.
Sun. June 20. 1948./ 24. eggs today/ We went to Sun School & church, West's brought the flowers over, that we left last evening, they Kept quite well & tonight they gave one bunch to mrs. Smith & the preachers parents were there & his little sister 5 yrs old a flaxen haired chubby little girl & they took one bunch & left one big bunch on the piano. We had a good prayer service after church tonight. Oh, Glory
Sun. June. 20. 1948./page 2162./ 24 eggs this day./ to God in the Highest, I Praise Thee Jesus. I'm tired & Mrs. Sprunck is coming at the end of the week & I have to wash & scrub up the floor & wash my blankets & sew some on my dress. I pray God will help me get it all done. Yesterday, last night, today & tonight have been nice but very cool. Oh I Praise God in Jesus Holy Name for all things.
Mon. June. 21. 1948./ 21. eggs today./ Elbert got up & ate & went to Huron he went at 8 or 8-30-a-m & was back at 10-a-m with a big pk of fish, I had just got to the place where I could sleep & he woke me when he came in, I got up half awake & unlocked the door, then I dressed & after prayer I washed shook up beds & opened the windows & then got some potatoes on to cook & by that time he had the fish done, I got the mail also, the light card 80, cents. then I went out & got enough fish for 2 fry pan full & washed & wrinsed, salted & fried them, as he came in I made the coffee & pealed the potatoes & took up the fish, so we ate & I packed 10 for us for tomorrow & the rest I put in a pan to take to Audrey, Gertie, & Nellie, & family, then I cut three big bouquets & put in crocks & put some likllies of the valley roots in a basket for Audrey & we took a pail of dirt she wanted, but, we went to Nellies first Knowing she & Gertie wouldn't be home untill about 5-p-m. Nellie's as well as Audrey's face lit up when we told them we had brought the fish. Nellie had put them in the ice box so they were nice & cold, we had a little visit with Nellie, but it's hard to visit the children yell so loud at times, I had to plug my ears once. I don't think I could stand that screaming although we endure a lot when we think we can't, sometimes. Bonita made us some tea & we went to Audrey's & she had supper ready she was waiting for Gertie & we got there just as Gertie did, she didn't speak just went on into the house Audrey came out & seemed glad to see us she went in while Elbert took the flowes in & made us each a good big hamberge sandwitch hot, & then brought them out & wanted a doz. of eggs & she paid for them, the hamberges would cost us as
Mon. June. 21. 1948./ page. 2163./ 21. eggs this day./ us as much as the eggs, but she would pay for them & then wanted to give us some money beside that. we didn't take it though, at least I didn't & I don't know if Elbert did or not he went into the house & talked & left me in the car, I didn't want to go in, for Audrey would want us to eat & they had there supper ready & are so tired when they get home & she says Gertie don't talk untill after she has had her supper that it tires her so bad to ride to town on the buss & work all day & ride back on the buss, & so she said I'm sorry for her & I don't believe I could do it any more, Well, Gertie is 60. yrs. old this last May 13th 1948. she's never worked as much or as hard as Audrey or Elbert & I, but most every one feels tired out after adays work, at that age, some more than others. I'm sorry for them both & wish I could help them, but can hardly do the most necessary things here & it tires me all out to go over to Nellie's & Audrey's I ment to have washed today, but, we had to take the fish for we have no ice box. cost us $3.00, Elbert stopped & got gas 1.00 & hamberge on the home $1.00 & when we stopped the front left tire went flat & we were close to Baker's Garage thank the Lord so he didn't have far to go, but he isn't fit to change tires or travel on foot, his back has been so bad all last week & it's most as bad this week he's in bed & snoring already, it hard to clean & scrape & wash all those fish, then go to Elyria 27 mi. back to South Lorain & then back home & I got the supper & did the dishes, he cultivated ppart the ground he had spaded for the rain & hail had it beat flat & he loosened the dirt for the glad bulbs, he put in a row of dahlias after I got in one row Sat. I'll have to give up that sort of work for it hurts me so bad it makes me sick all over. We put some cabage, tomatoe & peppers in, at the south end of coop last week & they are up & stand & in. or more high, I do wish we had put in some sweet corn but he wasn't able when it was time & it's so cold nights things don't grow very fast, so I've noticed in other folk's gardens. Well I have to do my reading & go to bed.
Mon. June. 21. 1948./page 2164./ 21. eggs this day. / Johny Harnish birthday- he is ___ yrs. old. It's been a fine Spring day partly cloudy & heavy shower for a few minutes this after noon not much out this way the nearer home we got the less wet the ground was. sky looked as if we are going to get some wind it looked as if it come from the N. east & S. east, it looked as if it was blowing from both directions at once, Elbert paid light bill today. I thank God so much for the fish & that He took us & brought us safe. I thank Him for saving my soul & that He loves & cares for us & He touched me on the way home & I thanked Him & Praised Him Glory to God in Jesus Blessed Name.
Tue. June. 22. 1948./ 21. eggs today./ We sold 1. doz. Eggs to nellie & 1. doz. to Audrey & 2. doz. to Mr. & Mrs. Addam the couple from Buelle Beach & they went to Florida & worked eight months & now are back here for the summer. they seemed so glad to see us & they are such friendly sort of people, but I hope there wont be anything to stir up trouble again for they talk to Miss Clark a lot & even the truth seems to be fixed in such a way as to make some one out a terrible person & since they are Miss Clark's friends & they talk about every one it's hard to know just what to say & I have to do a lot of thinking to try not be missunderstood. However the Lord helped me, by telling me to keep quite each time I felt as if I'd like to straighten things out. Miss Clark said a while ago in Sunday school class that she hoped we didn't have to start the revivil in our own hearts, before we had one in Church, for she would have to many things to straighten out to get right with God, but I pray it does have to begin in us & that God will clean up the ones in the church first. They had quite a visit & gave us some ocean schells 3 of small ones & one larger one they picked up on the beach on the Mexican Gulf. simeral to our sniel schells only much larger & a larger one about 5 in. long shaped like a big periwinkle; They are coming back in the morning she will stay with me & he & Elbert will try to get some fish, for they are craving lake Erie fish. Well
Tue. June. 22. 1948./page. 2165./ 21. eggs this day./ we took in 2.40 on eggs. / I received another letter from Mrs. Sharp today she's working for a society woman & says she wishes she had a home by herself & she wants me to write so she can tell me all her troubles, I pray God will talk to hr & teach her his ways, in Jesus Name, it's hard to learn sometimes, but I thank Him for teaching me. I washed & dried 4 wool blankets today, it rained hard after I got one washed, but I prayed God would help me dry them & that they would be fluffy & nice & they are. I love Jesus, He loves us & cares for us. & we are so unworthy, but I pray he will purify me & help me to be able to be with Him. I Praise & Glory in Him. Elbert picked a good qt strawberries & 2 qt's cheeries & I stemed & pitted. he helped me wring out the blankets & he carried the water, we got a lot from the down spout. sun was terrible hot & we both felt over heat. I thank & Praise God for my healings & blessing in Jesus Name.
Wed. June. 23. 1948./ 20. eggs today. / Elbert got up early & was ready to go to Huron when the Adamson's came the Lord told me last night, that she would go with to Huron, but I told Elbert to call me when he got up, but, he didn't & they came & I was sleeping when they knocked I got up & went to the window & she said don't get up for I decided to go to Huron & shop a little, I thanked her & when they were gone I dressed & heat water & had most of the washing done when they came back they came back early or I would have been all done & cleaned up, but, they bought fish & gave us 2. pike & we had about 5 or 6 all fried, but they left them any way & they talked a few minutes & went home so I finished the washing, all but Elberts heavy shirts & I rubbed them with soap & let them soak while we ate hot soup then Elbert washed them sudsed & wrinsed & hung them up & there was a good south breeze it rained in the night. a good south breeze & hot sun & they were soon dry, everything dried good & quick today Yesterday & today has been terrible hot & we both got to much sun. yesterday. I darned 3. prs. socks & made 2 petticoats for everyday wear, of mash bags. no mail to day. Elbert put a new screen on my south window & I opened it to let the wind in. Now I read & pray take a bath & go to bed, Praising God in Jesus Name.
Thurs. June. 24. 1948./page. 2166./ 23. eggs today./ It been a nice day hot all morning & light misty showers this after noon Elbert spaded some this morning & I was going to sew on my dress insted instead I fixed the top of my under slip & let the hem down & faced it & cut out the skirt to an-other house dress & then we had supper. "Elbert got the supper," & I did the dishes & we dressed for prayer meeting & went, & Jesus met us there & blessed us I Praise Him for His salvation Love & Power, He's a wonderful Jesus to me & I love my Jesus. Glory to God, Glory, Glory, I praise Thee Jesus & love only Thee.
Fri. June. 25. 1948./ 19. eggs today./ We went to Vermilion & picked up Mrs Sprunk & went & sold the eggs in Lorain & then went to Nellie's we took bread meat potatoes, chillisauce, lettuce & coffee & I helped Bonita get the dinner while Nellie & Elbert went for there food they wanted to get from the store we had quite a nice visit & then as we were leaving little Geo said Uncle Johny don't like you anyway, he said so, Now I'm wondering what I ever done to hurt him I had never intended to hurt any of them, but if they don't love me after all the yrs. I've loved & done for them, I can't understand. I thank God for taking care of us going & coming & Praise His Holy Name.
Sat. June. 26. 1948. /21. eggs today/ And it rained in heavy showers all morning so we didn'\t get out in the yard untill this after noon everythings so wet. We've had a good visit & I'm glad mrs. Sprunk came & now I must read & go to bed & Praise God, for our many blessing in Jesus Holy Name. Amen.
Sun. June. 27. 1948./ 21. eggs today./ We got up took a bath "mrs. Sprunk & I" & got ready for Church Elbert took his bath & shaved & dressed & we went to Sunday school & church We had a wonderful church service & prayer meeting & we receive such a blessing from the Lord & then we come home had dinner & rested a while & then at 7-25 we left for eveing service Rev. Gurney & his wife were there & our preacher & his wife & they have a recording machine & it also plays the record, they brught several records along 3 of little Lolitta singing church hyms & corous & one of Rev. Gurney & Gary singing together. I've prayed so strong & so have several others for the Day family they have been slipping back ward & I have
Sun. June. 27. 1948./ page 2167./ 21. eggs this day./ prayed earnestly for Harry, for since Garry left, he has lost interest most of the young people has dropped out & sort of left Harry all alone to night he knelt at a front seat as the alter was full & I prayed God would give him a new Victory & I got up as the Lord said & went &K sat in the next seat behind thre Harry was crying & talking to Lord & I prayed untill God gave him the Victory again he cried as if his heart would break & I beckoned our Minister to come & pray with him & then Rev. Gurney came also & they prayed also & then God sent the power & victory Harry smiled his Victory smile & thanked & Praised Jesus, it was just wonderful Glory to God I Praise & thank Thee Jesus. I gave sister Scharein a linen handkercheif with a green crocheted edge & a green thimble holder made with a hen's wish bone & (apple green) thread, she was over joyed with it, & Sister Gurney said she wanted to send me some handkercheifs to crochet on edges for her but he had told her, he didn't think I was able to do it. but I told her I'd do it, they are learning lots of leasons & are good Children I thank God for our many blesing saving my soul & taking care of us in all the ways we need. Blessed Holy Jesus.
Mon. June 28. 1948. /20. eggs today./ While we were to Church Johny & Marcie & baby & Nellie, Bonita & children came & sat in there care in the yard in a heavy rain I don't know why they came so late. I was terribly sorry we missed seeing them; I didn't think of there coming that late. I wrote a card to them but, didn't catch the postman as he went past this morning & we didn't get any mail today. I helped Elbert a little by telling him which limbs to cut off he cut some out of the big apple tree out by the path. & then he trimed up the limbs he cut off & saved some to burn & then carried away the brush he didn't get it half done "the triming" I came in just in time to save my beets from burning, then I sewed my dress skirt together &, onto the belt I had the waist sewed on & & basted in one sleeve I can try it on in the morning before I dress & perhaps get it done tomorrow I'm badly in need of it only have the one I have on, for everyday wear. I got the supper & did the dishes. been terribly hot today, but a good breeze part of the day & this evening breeze got stronger & we had a
Mon. June. 28. 1948./page 2168./ 20. egg this day./ couple or three showers. & now the breeze is cooler. I thank God in Jesus Name for my healing & all He has so graciously done for me & for us both & pray He will save Elbert. I give Him all the Praise and Glory, He is Worthy.
Tue. June. 29. 1948./ 17. eggs today./ Well, I didn't sleep all night just too tired, so, I sleep this morning & then got up & got the dinner, then washed out most of my dirty cloths & got most of them dry. We then went to Huron & I got 4 shirts for myself & a piece of good for a shirt, for Elbert for a good dress shirt, now I owe for them $6.25; It rained before we went, a heavy rain & some more when we got home then cleared enough with the sun shining so I dried several towels & part the rags & tonight it's raining again in heavy shower & wind backed up to S. east & it's so cool tonight, been terrible hot days, for a week or so. I bought 2. cans tomatoes, 8. frankforters 4. lemons & 2. bunches carrots & Elbert got me a bottle milk & 1. bottle certo. & a 5 lb. bag of sugar. so I haven't much change left. I got my tax blank this a-m $5.83, so I wont have much out of my check 5.83 for taxes $10.00 for coal & 3.00 for Church, that's $19.00 & 6.25 for shirts & good dont look as if I can eat this mo. However , I thank God in Jesus Name for all my many blessing.
Wed. June. 30. 1948./ 25. eggs today. /635 this mo./ Well, I made a cheery, elderberry & lemon pie & 2 doz. cup cakes in Cookie form by dropping them on the cookie sheet & baking them I washed dishes looked after beds & rooms & Elbert killed & dressed a hen so I fixed some noodles & made the rest of the dinner, for supper we had potatoes & gravy balance of frankforters & tomatoe pickles & we had the lemon pie it was only a small pie & we ate half for supper & rest couple hrs. later. I'm to tired to do supper dishes, & I want to read DeHaan's book that came to day on "The day of the Lord" or, Armageddon. I thank Gkod for my & our many blessings & I Praise God in Jesus Holy Name for saving my soul.